Gay Promise Rings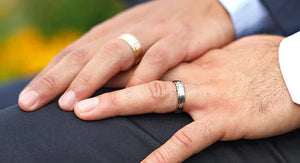 Of course, you have heard of engagement rings. However, you may be less familiar with the increasingly popular old tradition of giving a promise ring to your significant other. A promise ring is simply a ring gifted and worn as a physical symbol of your fidelity and commitment to your romantic partner.
TABLE OF CONTENTS
Promise rings have been exchanged since around the 2nd century BC. This practice began when Roman law instituted a waiting period prior to marriage. the style of promise rings people preferred changed, like most things, with the period of time one lived in. Those in 15th-17th century England often exchanged posy rings that sprouted an engraved poem or romantic sentiment. This fashion gave way to the gifting of Acrostic rings during the Georgian and Victorian eras.
Although generally seen as a sign of loyalty and commitment, promise rings have become an increasingly popular sign of all sorts of romantic intentions between people. While still given as a pre-engagement symbol of commitment, promise rings are increasingly seen as an alternative for couples who though committed prefer not to marry. As many couples wait longer to marry and/or prefer to remain a couple without the legal commitment of marriage, promise rings are entering a renaissance of sorts.
Promise rings are being exchanged with increasing frequency between a diverse population of lovers and romantic partners as a sign of their personal commitment to one another. As more people grow in their acceptance of love as a universal truth binding a variety of couples together, the popularity of promise rings is also growing. Gone are the days in which only women received rings as a sign of commitment and affection. Modern couples are expanding the limits so far as the exchange of jewelry as a symbol of love and affection is involved. A promise ring is one way in which modern couples are expanding the symbolization of love and expressing themselves with a physical bond.
Since the gifting of promise rings is a personal choice, so should be your sharing of this symbolic romantic gesture. The promise ring, or rings, you and your partner choose should be a reflection of who each of you is as an individual as well as who the two of you are as a couple. Some couples may be open to the idea of buying and exchanging promise rings together as a solidifying act in their relationship, while others may cast the gifting of a promise ring as more synonymous with an engagement ring. Some couples will wish to design a pair of promise rings as a matched set, while others may prefer to gift one another rings that invoke the uniqueness of each individual.    
Just as there is no set-in-stone guide to what a promise ring must be or what it must signify for a couple, there is also no specific way in which one must wear their engagement ring. Some gay couples may choose to wear a promise ring on a different hand or finger than that upon which most people wear an engagement or wedding ring. While one would traditionally wear a promise ring on the ring finger of the left hand, there is no rule that says you must do this. In fact, you may prefer not to do this if you feel that such a move mimics a tradition that doesn't resonate with who you and your partner are. Other options are to wear your promise ring on the right finger of your right hand. You may also wish to wear your promise rings on a non-ring finger that you and your partner mutually agree upon as a sign of your individual commitment as really this symbol is a shared statement between the two of you and need not have any significance to anyone else.
If you and your partner are concerned about finding the best promise ring style for a gay couple, you will want to consider that you are really just talking about the best promise ring style for the two of you. Jewelry isn't differentiated by sexual preference. Whatever style speaks to the two of you is the perfect style for the two of you. You and your partner should feel confident in choosing jewelry that fits your personal taste and individual styles.
Some much sought-after promise ring styles are
Plain Metal Promise Rings: If you're looking for a simple yet sophisticated jewelry statement, you may want to consider opting for a plain metal band. For example, a low-dome metal band similar to a traditional wedding ring is an understated yet traditionally classy way to proclaim your commitment. If you are looking for a little jazzier style while sticking with a simple statement, you might want to consider a two tone metal band. The third option for a plain metal promise ring offers even more personalization for you and your partner. A plain metal band promise ring with milgrain detailing allows you to add an understated design to your band.
Sparkling Diamond Solitaires: If you and your partner are looking for a more elaborate promise ring, consider one of these sparkling options. A three-stone ring offers a romantic sparkle to your promise ring. This setting signifies the past, present, and future you and your partner are committed to spending together. Another shining option is a diamond-embellished shank. While this design maintains a fairly minimal look, it is dreamily romantic while avoiding being overly flashy. The solitaire with a bypass shank offers a hint of motion with a slight twist in your ring's band without being overdone.
Choosing your Metal
Of course, each of these designs is available in a variety of metals that not only allow you to further personalize your promise ring but also allows you to gain a better match to your and your partner's individual style.
Yellow Gold is one of the most sought-after traditional metals for promise rings. Although this metal is attractive on most skin tones it can be prone to scratches. So if you have an occupation where your promise ring may be scratched, this may not be the metal you want to go with.
White Gold is another of the metals traditionally chosen for promise rings. This budget-friendly option to more expensive platinum can often be found in a wider range of styles than platinum. However, as with yellow gold, white gold will show more wear and tear than a more expensive platinum ring.
Rose Gold is a romantic favorite for traditional promise rings. Less likely to scratch than white and yellow gold rings, you will need to be aware that rose gold may cause allergic reactions due to the inclusion of copper. You may also have more difficulty finding as wide a variety of ring styles set in rose gold.
Platinum is a more expensive choice for those who like the look of white gold. If you are looking to maintain a set stone, you may prefer this more rigid metal despite the fact that it is more likely to scratch than white gold. However, either white gold or platinum is less likely to scratch than yellow gold.
FAQs
What does a promise ring symbolize?
A promise ring sometimes referred to as a pre-engagement ring simply symbolizes commitment. Many people in modern society prefer not to marry. Therefore, we are seeing many people move away from the traditional engagement ring preferring instead an expression of their love that isn't tied to the institution of marriage.
Do both partners wear promise rings?
Although engagement rings have historically been gifted to a woman as a commitment from her heterosexual partner, in today's enlightened social environment, we are seeing an expansion in the gifting of promise rings and engagement rings between same-sex couples. Just like some couples who wish to wear matching wedding bands, you and your significant other may wish to sport matching promise rings. However, there is nothing that says you and your partner must be limited in your choice of rings. These rings are a symbol of your love and should express the coming together of two unique people who may not share the same taste in jewelry.
Can any ring be a promise ring?
Of course! There is no prescribed style of form that a promise ring should take. Just as you and your partner are unique individuals who have come together in a one-of-a-kind relationship, you should feel free to express the commitment of your love in the way that best fits your unique identity as a pair.
What's the difference between a promise ring and an engagement ring?
Although any ring can be used as a promise ring, most people select a less flashy ring design for a promise ring than those often sought for an engagement ring. The true difference between an engagement ring and a promise ring is what they symbolize. While an engagement ring generally symbolizes a promise to marry, a promise ring covers a wider array of situations in which a couple seeks to bind themselves in a committed relationship with a physical symbol.