Everything You Need to Know About 'The Purest Gems In the World'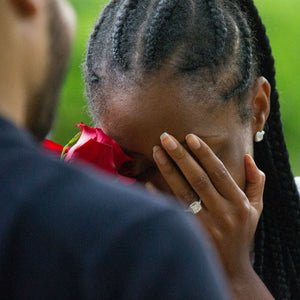 Canadian diamonds are diamonds that are somewhat similar to other types of natural diamonds, except for their origin. Canadian Diamonds are free from conflict, which is why it is sought after even more than regular diamonds. Their atomic build-up is also somewhat different as they have a lower level of internal irregularities. These irregularities result in improved light flow through each stone. Canadian diamonds are considered to be the purest gems in the world. That is the reason why the popularity of Canadian diamond rings with fiancées' the world over is great, and even more so with brides and grooms.
What is the history of diamond mining in Canada?
The mining of Canadian diamonds are fully in line with strict environmental laws of Canada. These laws are more rigorous than any other laws, worldwide. Buyers of Canadian Diamonds are often curious to know and often ask jewelers where are Canadian diamonds mined, but the answer lies in the process by which the high standards that are in place in Canada to protect wildlife and other types of sustainable development are taken into consideration during the mining of these precious stones.
Each mine in Canada has shown commitment to the aboriginal people who reside there. The Canadian diamond mines promote sustainability through monitoring of the environment, labor training and agreements with the Canadian Government, as well as local groups. As a result of this sustainability, the output of Canadian diamonds yields quality deposits, in comparison to other countries' outputs. Categorized by low levels of fluorescence and high grade clarity and color, Canadian ice diamonds are a scarcity, which comes at a high price in the diamond market.
What are some current diamond mines in Canada?
The current diamond mines in Canada are: the Ekati mine, which was the first to be opened in Canada in 1998; the mine is currently being run by Dominion Diamond Corporation. The second mine is the Diavik mine, of which 40% is owned by DDC and was opened in 2003. At a lifespan that is estimated at 20 years, the gem quality of the diamonds at Ekati has depletion expectancy for the year 2020. Dominion has an aim of developing another operation nearby.
Diavik has the largest rate of production in Canada. Four other mines are Jericho mine, which lays dormant since 2008 because of financial difficulties, even though they tried to resuscitate it in 2012. Victor mine, Snap Lake and Gahcho Kué were opened by De Beers. Snap lake was closed following operational issues, but Gahcho Kué is expected to produce approximately 54 million carats from its 12 year expectancy.
What are some of the benefits in purchasing a Canadian Diamond as opposed to a diamond from a typical source?
The 'blood' diamond has tainted the reputation of diamonds that are derived from a typical source, but for ethical consumers, the squeaky clean reputation of the Canadian diamonds is a great alternative. A Canadian diamond is conflict-free, as there are no rumors of conflict in Canada. These diamonds are manufactured in environmentally-friendly conditions. Before companies are allowed to mine diamonds in Canada, they have to first comply with the laws of the purest ecosystems that exist in Canada. The country has placed stringent rules on Canadian mines and the effect they have on the communities in Canada. Employees and miners are made to take responsibility for the environment and this includes water, air, Flora and wildlife.
Are Canadian Diamonds typically more expensive, and if so why?
Are Canadian diamonds more expensive? The cost of the Canadian diamond is slightly more expensive than regular diamonds, which are mined in other countries. Jewelers will decide if the premium should be passed on to their buyers, or absorbed by them. Ethical business practitioners consider it a small cost to pay for the ability to offer their customers conflict-free, traceable diamonds. In as much as twenty years ago, Canada was not named as a likely diamond source. Prospecting had occurred there before, but it was on a small scale and it was from 1960 that derived discouraging results. Following a mining expedition that occurred in 1991, the outlook was changed as deposits bearing diamond was discovered. Approximately 6 months following Canada's launch of the first mining company, they discovered one million carats of diamond and five years later, Canada became the third-largest diamond producer in the world.
Additional reasons why Canadian diamonds are more expensive are: the fact that they are mined under harsh climate conditions, using special machinery and equipment, which are costly. The remote areas in which they are mined have no roads that lead there, so their logistics are done on icy roadways and in dangerous weather conditions. In addition to that, tariffs and duty concessions, as well as high taxes are imposed on mining companies. High labor cost and even higher employee benefits result in a higher operating cost. Additional cost is factored in certification and tracking processes and these steps are necessary because of auditing requirements.