With Clarity vs. KATKIM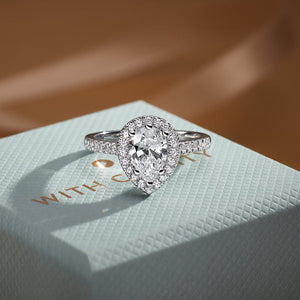 If you're looking into buying fine jewelry, you've likely begun to check out your options. Both online and in-person, there's no shortage of amazing retailers. Whether you're looking for lab-grown diamonds, natural diamonds, or gemstone jewelry, there are enough options of where to buy to make your head spin!
While you've undoubtedly stumbled across retailers like KATKIM, we're here to let you in on a little secret. They're not the only brand in the industry worth consideration. With Clarity is a wonderful choice that deserves a closer look, and here's why!
TABLE OF CONTENTS
A Brief Look at KATKIM
We would be remiss if we didn't talk first about KatKim. Kat Kim is the child of LA-based designer Katherine Kim. Many of the jewelry designs follow her style of clean lines and unique silhouettes. As a sustainable retailer, all of their diamonds are conflict-free, and they use recycled gold whenever possible. Additionally, all of the pieces are produced in Los Angeles, where they are handcrafted by artisans using materials from local businesses as much as possible. If you're looking for gorgeous, celebrity-approved bespoke jewelry, KATKIM is certainly a fantastic option! However, if some of those adjectives have you envisioning large price tags, you wouldn't be wrong.
What's in Store for You at With Clarity
We admire KATKIM's devotion to conflict-free materials and their use in stunning designs. Similarly, With Clarity knows that jewelry (especially engagement jewelry) is unique to each individual and couple. Pieces can be used to tell a story, yet they should still have elements that make them timelessly beautiful. With Clarity was started with the vision that finding the perfect piece should be comfortable, convenient, and full of choices! We were where you probably are now, our minds boggled by all of the options and some of the high price tags that when with them.
So, we decided to shake things up a little bit. We're still committed to creating elegant, chic, and gorgeous jewelry designs. As well as using ethically sourced natural diamonds and sustainable lab-made diamonds. However, we don't value any of those things over customer satisfaction and affordability. Our pieces are of excellent quality and always set at reasonable prices.
Whether you're looking for loose diamonds or already set jewelry, we have the perfect piece waiting for you! Simply use our intuitive and simple online search to narrow your options by specific categories tailored to your choosing. Browse through gems, jewelry, and diamonds with high-quality pictures and thorough descriptions, so you'll know exactly what you're getting.
But the With Clarity experience is much more than amazing quality jewelry at fair prices. We want to go behind offering you breathtaking pieces and partner with you on your jewelry journey. Here's how.
Home Preview Option for Engagement Rings
With Clarity's Home Preview is the ultimate try before you buy. We know that shopping online can be daunting sometimes. There's nothing like seeing your jewelry in person and trying it on, especially if it's an engagement ring. Our Home Preview lets you test out two rings of your choosing. We box them up carefully and ship them to your house. When they arrive, you can show them off to loved ones, take them for a test drive on your finger, and capture a photo to see how they look from various angles. Then, when the trial period is over, send them back and let us know how you truly feel about your selection!
Personalized Consultation with Diamond Experts
We want to ensure you love your jewelry, which is why we offer consultation with diamond experts. Our experienced team of gemologists and designers is there to offer gentle guidance and answer questions. Trying to decide between natural and manmade? They can help fill you in on the details of both. Hoping to incorporate sentimental elements into your ring? Let our designers suggest meaningful details. You can schedule an appointment with a diamond expert to help you choose your perfect lab diamond. A senior gemologist is also available to tell you more about your diamond selections and allow you to view them. Booking an appointment is simple and quick!
Excellence in Customer Care
Gemologists, design consultants, and a care team work together to ensure your experience is comfortable, educational, and convenient from beginning to end. Whether you want to craft custom jewelry or search our expansive options for just the right piece, we are here to help! We never want our customers to feel like we're too high-class or unapproachable. We're a husband and wife team that has been where you are and decided to use the experience to craft a dream customer care team.
| | Returns | Shipping | Warranty | Financing | Resizing |
| --- | --- | --- | --- | --- | --- |
| With Clarity | Free within 30 days | Free shipping | Lifetime warranty | With Clarity Credit Card & Affirm | One free resizing with 30 days |
| KATKIM | Free if unused and within 7 days of delivery. 10% re-stocking fee. Engagement rings excluded | Shipped for a fee | None | Not available. Accepts all major credit cards | All pieces made to order and sales are final |
With Clarity is designed to ensure a hassle-free experience. A wide selection of both earth-mined and lab diamonds makes it effortless to find something that suits your preferences, style, and budget. Craft an original piece or select from our expert designs; it's up to you. Then, try it on so that you can be confident in your jewelry choice.
Even after you've committed to a piece, we're still committed to providing the best jewelry shopping experience possible. Contact us about policies, warranties, resizing, and returns. We're more than happy to work through questions with you, providing you with quick and helpful answers. Every item that is produced in our New York location is something we're proud of, and we just know you'll be in love with our process and the perfect jewelry piece too.
FAQs
What's special about the With Clarity brand?
Premium, fine-quality jewelry in all price ranges, along with an unbeatable shopping experience. With Clarity blends the best of online convenience and in-person care.
What does With Clarity sell?
With Clarity sells premium engagement rings, fine quality jewelry, and loose earth-mined and lab-grown diamonds.
Does With Clarity have diamonds?
With Clarity has loose and set diamonds. You can choose from natural diamonds or lab-grown stones.
Is With Clarity a good brand?
With Clarity is one of the fastest-growing fine jewelry companies in the country that stands out for its gorgeous designs, authentic and certified gems, and excellent customer experience.