With Clarity vs. Vrai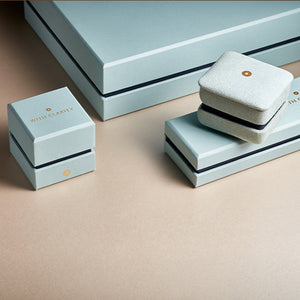 There are so many jewelry options out there, both online and in-person. Whether you're purchasing a necklace for your mother or an engagement ring for the love of your life, it can be hard to decide who you should trust with your special jewelry piece.
You've likely heard of brands like Vrai, but we're here to tell you that many other brands are worth a second look. With Clarity, for example, is undoubtedly a company that you should consider. We'll dive into why it can be an excellent choice to choose another company of the big, brand-name retailers. But first, here are some details about Vrai.
TABLE OF CONTENTS
Vrai
Vrai and Oro, now just Vrai, was founded on the idea that beautiful jewelry should be sustainable and affordable. Additionally, they believe that the buying experience should be simple and painless. The primary way in which they made their dream a reality was by focusing only on lab-created diamonds. Offering a gorgeous diamond at a much lower price than natural gems. When they were acquired by Diamond Foundry, all their lab-diamond processes were changed to be carried out entirely by renewable energy. Vrai strives for sustainability, which has gained them a large following with today's eco-conscious mindset. However, their streamlined and lower-cost approach also means that they have a slightly smaller selection, fewer loose stones, and a focus on engagement rings versus other jewelry.
With Clarity
With Clarity began with a very similar mission. The husband and wife team desired to make the engagement ring designing and buying process easier, more enjoyable, and affordable. They knew from first-hand experience that the journey to find the perfect ring could be overwhelming and filled with mind-boggling prices.
With Clarity wanted to offer fantastic quality at reasonable prices, and they have. The best part is that you can shop, design, customize, and chat with professionals from your home. In our online store, you'll find breathtaking lab-created stones and natural gems. They are available loose and pre-set to suit various tastes and styles. Each one has been tested to meet stringent grading standards, and you can even talk with an expert gemologist to learn more about each gem. Regardless of your cut, carat, color, and clarity specifications, you can be assured whichever diamond you pick will be offered at an amazingly fair price.
| Loose Lab Diamonds | 1 ct | 1.5 ct | 2 ct | 3 ct | 4 ct |
| --- | --- | --- | --- | --- | --- |
| With Clarity | $775 | $1,300 | $1,739 | $2,734 | $5,649 |
| Vrai | $1,334 | $1,468 | $2,006 | $3,599 | $8,773 |
Having trouble choosing between earth-mined or lab-created, or maybe one-carat versus two-carats? Our diamond experts are ready and waiting to consult with you! They're well-trained in a lab and natural diamonds, providing you with lots of insight. At the appointment, you can also view your diamonds up close to be sure you're choosing the perfect stone.
Once you've chosen "the one," Home Preview will ensure that you're doubly sure it is perfect before you commit. Choose two rings and have them shipped directly to your home. It's an opportunity to try them on, see how they look in different light settings, take a picture, and solicit feedback from friends and family. After three days, send them back and let us know if you want to change something or are in love. Try, browse, buy…what could be simpler?!
But the With Clarity experience doesn't end there. Once you've decided on a ring, our customer care team is there to help every step of the way. Just as our gemologists were ready to help you choose a stone and our design consultants were available to offer customization, our staff is never out of reach. Chat with us, call us, or email us! From browsing diamonds on the website to answering questions post-purchase, With Clarity desires to show you our customer care team actually cares. Purchasing jewelry is a personal experience; we understand that and want to make you feel as comfortable and confident as possible.
| | Returns | Shipping | Warranty | Financing | Resizing |
| --- | --- | --- | --- | --- | --- |
| With Clarity | Free within 30 days | Free shipping | Lifetime warranty | With Calrity Credit Card + Affirm | One free resizing within 30 days |
| Vrai | Free within 30 days ($200 recycling fee for engagement rings) | Free US standard delivery | Lifetime Warranty | Installment plans and monthly financing available | One free resizing up to one full size up or down |
Like Vrai, we're committed to sustainability, simplicity of the shopping experience, and offering spectacular jewelry at affordable prices. Whether you're looking for earth-mined or lab diamonds, our loose stone selection and gorgeous designs have something for everyone.
But we believe our expansive offering and quality customer care set us apart. These things have also led to thousands of happy customers and five-star reviews. Vrai has made waves in the realm of sustainable diamonds, but so have we, being featured as one of the fastest-growing diamond jewelry companies today. We won't let it go to our heads; however, crafting jewelry that helps you confidently celebrate your moment, thanks to a compassionate team, is always our mission!
FAQs
Is With Clarity a legitimate brand?
With Clarity is a legitimate brand with an expansive selection of natural and lab diamond jewelry at affordable prices in a convenient online setting.
Does With Clarity have certified diamonds?
With Clarity, GIA-certified diamonds and IGI-certified lab diamonds of the highest quality in various grades to suit all price points.
What kind of jewelry is available on With Clarity?
With Clarity has an expansive offering of jewelry, from everyday pieces to stunning engagement rings.