2020 Winter Engagement Ring Trends to Lookout For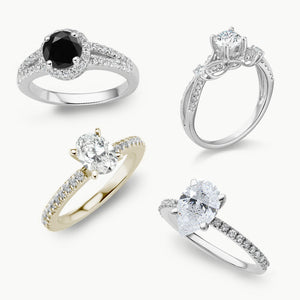 Now that Labor Day has passed, most of us are returning to our fall routines. Especially in the wake of COVID-19, fortunately, the return to life gives us another opportunity: thinking about our future. Since families gather during winter holidays, it's a popular time for couples to get engaged. Also, think about it this way: many of us want the family's opinion about the person we intend to marry. Or, see how our future spouse interacts with the family. These moments give the perfect opportunity to pop the question. However, once decided to get engaged, there's a very important consideration: engagement rings. Here, we will help you think about the perfect ring by discussing upcoming winter engagement ring trends. Whether it's a vintage-inspired engagement ring or something very modern, we're here to help you make it perfect.
Reasons to Shop Online
1. Bigger Inventory
Especially since it has been so hard to buy anything in stores due to the pandemic closures, it's a great time to consider buying the ring online. For one thing, online retailers like With Clarity can carry a much larger inventory, since we don't have a series of storefronts to pay for. Instead, our money goes towards producing great rings for a great price.
2. Convenience
For another, you won't have to use more effort to go to a physical location and wear a mask when buying an engagement ring online. Just browse the website, and, if necessary, make some phone calls. Then, place the order and wait for your ring to arrive.
3. Less (ring style) limitations
Let's look at the issue another way. When you shop at a brick-and-mortar jeweler, you have more limitations. For instance, you might find that the perfect diamond engagement ring isn't in the jewelry case. It might be that your sweetheart is partial to rose gold, and the jeweler can't order the design you like in that color of gold. Or, you might be looking for something that looks like a vintage engagement ring, and the jeweler only carries basic styles.
4. No overhead & inventory costs
Finally, you might find that the rings carried are too expensive. You'll be paying for the extra jeweler overhead. Whatever the issue, there's a good chance you will walk away from the store disappointed. Buying online reduces these risks.
Winter Engagement Ring Trends to Watch
This year, stylists think people are looking for designs inspired by nature. That probably isn't surprising, given that many of us were limited to indoor activities outside the home during COVID-19. To that end, here are some trends.
Asymmetrical stone clusters
Who says that all cluster rings have to look the same on both sides? These days, some unique gemstone rings have stones placed in irregular positions. For instance, a large center stone might have three smaller ones on one side, and a single stone attached to the shank at the other side. If you want an example of how this might work, think about the ears on Mickey Mouse: they only attach to the top of the head.
Dark-colored diamonds
We're including two colors in this category. Brown diamonds are something we don't carry at With Clarity, but we do carry black diamonds. Brown, champagne, or chocolate diamonds get their unique tint from light absorption during formation. Whereas, black diamonds get most of their pigment from flaws or inclusions during formation. Chocolate diamonds are more common than black, so if you want a truly unique ring, pick a black diamond gemstone. Speaking of black diamonds, they are an excellent choice for men's gemstone rings.
Elongating shapes
Although the round brilliant diamond is always a classic, modern brides are looking for something different. In fact, diamond shapes that make fingers look longer are common, such as pear engagement rings. Other popular choices for both diamond and gemstone engagement rings are oval , princess, and emerald cuts. All of these are lovely for diamonds, but also an excellent choice if you prefer gemstone engagement rings, with or without diamond accents.
Discrete details
For some couples, a unique engagement ring involves unusual details. For instance, "discrete halos" or hidden halos, are a thin ring of pave diamonds below the top of the main stone in a ring. You can't see them from the top, but look at the ring from the side and something beautiful appears.
Yellow gold settings
For a long time, white gold settings were the most popular. After all, white gold and platinum helped the color of a diamond appear whiter. However, for the past few seasons yellow gold has been making a come back! Especially for colored gemstone wedding rings, the gem's color can be enhanced better with yellow gold settings and give an endearing vintage look. Yellow gold is also popular for pairing with a blue gemstone like Blue Sapphire or London Blue Topaz.
Nature-inspired details
Since we've been denied access to nature so much these days, it's not surprising people are looking to nature for ring inspiration. For an example of this, look at With Clarity's Flora collection. Here, you'll see little details like gold leaves peeking out from the main stone.
Sustainability
This last winter engagement ring trend isn't one you can particularly see, but we hope over time this becomes less of a trend. For a modern and eco-conscious couple, check out sustainably-sourced engagement rings. While most jewelers track their diamonds to ensure they're conflict-free, this isn't the only option. For example, what kind of metals do they use? What are their diamond and jewelry making processes? Here at With Clarity, we are also committed to using eco-friendly sources of metal.
Sustainable engagement ring: going vintage
Think about a vintage gemstone ring, or upcycling a family heirloom ring setting with a jeweler. At With Clarity, contact our gemologist team to get started on a customized ring. Simply send an image and description of your desired jewelry to service@withclarity.com and we will provide you with a complimentary quote. We will then confirm that we can execute the design for you.
On a Budget?
If you're on a budget, there are some things you can do besides purchasing that ring online. This is because the type of ring chosen can reduce costs.
Consider gemstone engagement rings. At With Clarity, we carry so much more than diamond engagement rings. For instance, we carry very affordable amethyst, peridot, and London blue topaz rings. Gemstone rings cheap can be everyday presents, but they're also lovely affordable engagement rings. This is especially true if combined with small diamonds.
Don't forget smaller diamonds and preset rings. Smaller diamonds and "off size diamonds" are less expensive, but group them together and you can get the major sparkle. They even can be added to gemstone engagement rings to show off the color of the other stone. Preset rings are economical because they're mass-produced and have predictable costs.
Affordable Engagement Rings Guide
With Clarity Gemstone Engagement Rings
Ready to buy? At With Clarity, we carry gemstone engagement rings of all shapes and sizes. In addition, we offer both lab created and mined diamonds. Give us a call at +1-844-234-6463 for personalized advice and more insight on 2020 winter engagement ring trends. We are available on call from Monday-Friday, 10AM-5:30PM ET. Or email us at service@withclarity.com.