Amid the Coronavirus Outbreak: Love Is Still Here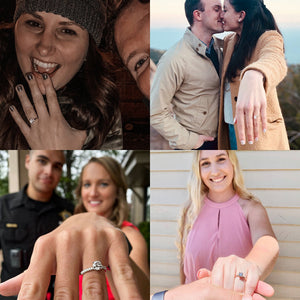 COVID-19 has swept the globe and has put many things at a complete halt for several months now. Even people who were planning to marry this summer and fall are having to postpone and/or cancel their plans. It's made some people wonder if there's any point in getting engaged since their loved ones can't join their joyous moment. Moreover, and their wedding plans being so uncertain. However, we come to know that there are couples going about their original plans, even during quarantining!
Keep reading if you, or someone you know, has been considering getting engaged during this pandemic. Or if you want to get good vibes with these love stories!
How the Pandemic Has Changed Weddings and Engagements
As we mentioned above, the pandemic has put a serious damper on wedding and engagement plans all over the world. Couples have had to push back their wedding dates. Some indefinitely and others have grown so discouraged that they simply canceled.
After all, shelter-in-place orders and social distancing make it rather difficult to have the wedding ceremony of your dreams…or, to even have a wedding at all! It is no wonder why people are seeking advice for proposals during COVID-19. Get some inspiration from these With Clarity coronavirus proposals below!
True COVID-19 Love Stories & Coronavirus Proposals
We said that we know a few secrets about COVID-19 engagement proposal ideas, and here they are! Below are some short, sweet stories about couples who found a way to keep the pandemic restrictions from impeding their romantic occasion!
Bobby and Stephanie:
This couple had been together for ten years. Bobby had ordered the ring some time back, and it arrived, as luck would have it, smack in the middle of the COVID-19 pandemic which, as you might imagine, messed up any plans he had for the perfect proposal. So, on April Fool's day, Bobby took Stephanie for a hike, and proposed! Of course, Stephanie thought he was just pulling one big (and mean!) April Fool's Day prank… but, he wasn't, and she said yes!
---
John and Kasie:
These two had been work friends for about 12 years… until one day, about three years ago, they got together at a bar for happy hour, and… the rest is history! Unfortunately, John's proposal was ALMOST history, as well… but, just before the shelter-in-place order hit their area, John took Kasie to a lovely spot in the country, built a romantic campfire, and proposed!
---
Blake and Hannah:
Hannah, a journalist, and Blake, a law enforcement employee, met about two years ago. They had a lot in common, including love for traveling. Of course, with the pandemic, they haven't gotten to do much of that. They've been spending much of their time at home together, enjoying each other's company and bonding. Despite the lack of ability to travel, Blake found a way to make his proposal special! He invited over some friends, had them distract Hannah while he romanticized the house, and proposed to her right there!
---
Jay and Michelle:
This couple met via Bumble, a popular dating site for millennials, in December 2017. After a five-hour-long first date, and three weeks of more incredible dates, they became inseparable. They both enjoy the beach and long drives along the coast. Those trips were always special to both Jay and Michelle, so she did not suspect a thing… until Jay suddenly made a big fuss about reaching a nearby outlook and had them pack up a perfect picnic really early. Romantic music was playing as they reached the outlook, where Michelle found a rose and a note. The note read, "I have been wanting to ask you something for a while…" When Michelle turned around, Jay was on one knee, ring in hand! AND, as an added surprise, his friend had been streaming the entire thing, so that they could share their special moment with their loved ones, despite the pandemic! They even got to celebrate with a virtual engagement party!
These are just a few of the beautiful COVID-19 proposals that have occurred. What we hope you take away from these stories is that love IS still in the air, and romance and excitement are still very much possible, even during this unsettling time! And, with luck, you'll also walk away with a few proposal ideas! And, don't forget… you can always order engagement rings online for minimal contact! (Hint, hint!)
Pluses for Couples Quarantining
For couples who got stuck at home together during all the quarantine stuff, it may seem dull and boring. But think about it! You get to spend so much extra time together! You can look for creative ways to make your own fun at home on Google or YouTube, or you can immerse yourself in activities you already know you enjoy.
Being quarantined together really can be a blessing. Many people are all the way across the country, or the world, from their significant others, until quarantine ends and restrictions ease. So, be sure to not take any of the time you get to spend together for granted! Stay well and safe, and remember: Love never stops!
Follow us on Instagram for more #MyWithClarity proposals!