Engagement Ring Trends from the 2010s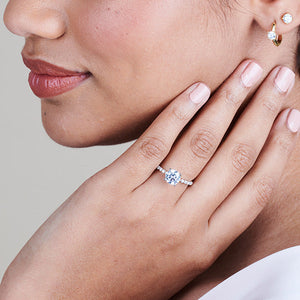 Notable fashion trends of 2010 include logos, athleisure and a more casual look. Online shopping continued to grow and made more retailers accessible for consumers. Every year in the 2010s, more and more consumers purchased goods via online shopping. Another major trend in the 2010s was the popularity of social media. More apps gained popularity and users began to share more of their daily lives - including their outfits of the day and jewelry trends.
Royal adoration was another popular trend and the media closely watched style trends within the royal family. Kate Middleton and Prince William got engaged in October 2010, and many admired Kate's style. Her engagement ring was Princess Diana's famous blue sapphire engagement ring that featured a 12-carat blue Ceylon sapphire. The large sapphire is surrounded by 14 sparkling diamonds and is set in white gold. Along those same lines, Meghan Markle's engagement ring she received in 2017 sparked a trend. Prince Harry designed a three-stone engagement ring for Meghan. The three-carat cushion cut center stone is from Botswana - a special place for the two. The two diamonds on either side of the center stone are from Princess Diana's collection. It's set in yellow gold - Meghan's favorite metal.
TABLE OF CONTENTS
Past Engagement Ring Trends
In terms of jewelry trends from the 2010s, there were some emerging design looks, including:
Revival of gemstone accents: Kate Middleton's engagement ring renewed the interest in using gemstone accents in engagement rings. Colored gemstones can add a touch or a lot of color depending on whether the gemstones are used for accents, the center stone, or both.
Cushion cut engagement rings: A trend from 2010 that is still around today is the popularity of cushion cut diamonds. This faceted cut is a square with rounded corners that looks like a pillow (this, its name). It reflects light so it features fire and brilliance.
Double halo: The popularity of a large center stone in 2010 allowed the double halo to become more popular. It placed more emphasis on the center stone and added additional sparkle and enhancement around the center diamond.
Three stone ring: This popular ring setting continues to be popular today. The three-stone ring trend emerged in 2010 because of its beauty and its symbolism of the relationship's past, present, and future.
Popular Engagement Ring Trends from 2010
If you like the 2010 jewelry trends, then keep reading. We compiled our top engagement rings inspired by the 2010 era.
Some popular engagement ring trends emerged from the 2010s that remain popular today. Three-stone rings, double halos, cushion-cut diamonds, and accent gemstones emerged in the 2010s and continue to be popular engagement ring looks today.
FAQs
Are double halo rings still in trend?
Halos rings have been in style for centuries, and while double halos are a more recent design trend, they continue to be popular. A double halo features two rows of diamonds (or another gemstone) surrounding the center stone. Bold center stones continue to be a popular look for engagement rings and a double halo adds glitz and sparkle to the center stone. It also makes the center stone appear bigger.
What's special about a cushion cut diamond?
Cushion-cut diamonds have facets like a round brilliant diamond, so it has plenty of brilliance and fire (in other words, it reflects white and colored light very well). Because it has rounded edges, it's durable so you won't chip at the stone's corners.
Do engagement rings with gemstone accents look nice?
Gemstone engagement rings with gemstone accents look amazing! Accent stones offer a touch of color and design that makes the engagement ring unique. Select colored gemstones that represent a birthstone or a favorite color. Some settings feature a hidden colored gemstone for a touch of color. Whether you want subtle or bold, you'll see engagement ring settings with a variety of colored gemstones.