The Best Engagement Rings for Chefs That Withstand the Demands of the Kitchen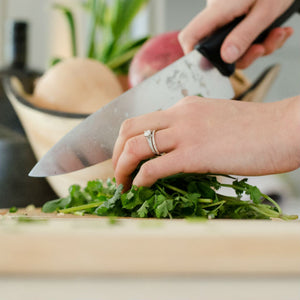 We know that all ladies deserve the perfect engagement ring that they never want to remove or stop ogling, and every woman can have it! However, some selections require more forethought and consideration before making that big (purchasing) commitment. Women who work a great deal with their hands – chefs, for example – wouldn't get as much enjoyment out of a large, high-set diamond engagement ring as a bookkeeper, especially if it spent more time in her apron pocket than it did on her finger!
Reasons why a chef's engagement ring selection requires extra TLC
If you've been a chef, or dated a chef, for any length of time, you know that many of them wear little or no jewelry, especially on their hands and wrists. Not for the sake of being sanitary; it's hardly unhealthy to touch or prep food with bejeweled hands. However, can you imagine trying to remove stubborn, crusted food particles from every crease and space of some jewelry pieces? How frustrating, especially if it became a daily event!
What if a chef gets the most beautiful engagement ring she's ever seen, only to leave unraveled destruction in the wake of her left hand's every movement? Some diamond cuts and ring settings can snag delicate fabric threads, apron pockets, and even some foods, and ruin them in a second. She'll go from glowing fiancé to glowering and fed up quickly!
Then, there's the issue of safety. A ring with spaces or large prongs can catch on something at any time during the process of food prep or cooking. While usually it's only a minor annoyance, occasionally, a caught ring causes serious harm if it can't be untangled from the trap in time.
Of course, the chef could always choose to remove her ring during working hours, but who wants to hide something so brand new, and so beautiful and life changing? Chefs deserve engagement rings they can wear with glee, too, especially while they proudly ply their trade!
Tips for choosing an engagement ring for a chef
Not sure which bases to cover when shopping for an engagement ring fit for a chef? Here are a few pointers:
Count the spaces. Where there are spaces, there are food hiding spots. As we mentioned, it's a pain to remove lodged food particles, and exhausting to attempt after a long day at work.


Think machinery. Would the ring you're considering be 100% safe around any tool or utensil? If in doubt, keep looking.


Snags = rags. Chef's uniforms aren't cheap, and replacing a perfectly good one puts a damper on any spirit (and any budget). Look for rings that lack large prongs and sharp diamond edges.


Diamond security. Is there a chance that the ring you want could lose a diamond and wind up as a dinner garnish? Be sure each diamond in the engagement ring is snug in its setting, and will remain as such.
Engagement ring selections
While these rings may not have been created solely with chefs in mind, these are examples of some of the most popular engagement rings for chefs, or any woman who works regularly with her hands!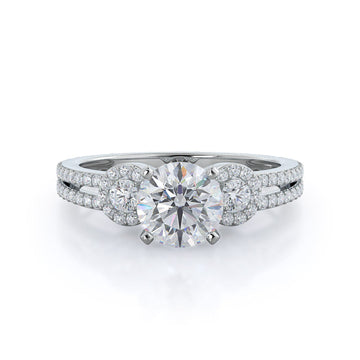 ---
The halos on these side stones sit flush, which means there's less space for any number of ingredients to work their way into this ring, keeping it utterly dazzling day after day.
---
Simple but stylish, the accent diamond covered band and small, elegant twist design creates a terrific balance between the beauty she'll love flashing to her co-workers and the practicality she needs to get the job done.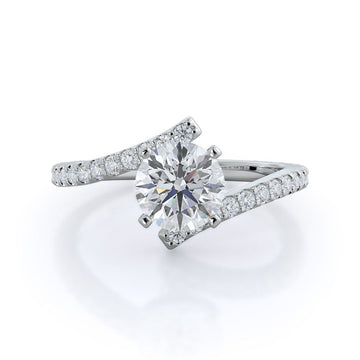 ---
The smooth edges of the groove into which the small accent diamonds shine like angel tears, while preventing uncomfortable setting prong pressure as your chef works. The "reverse" set halo also leaves no room for unwanted, stubborn food particles at the end of the day!
---
Mess in the kitchen? Not a problem. This ring, and your diamond, stay glowing thanks to a bezel setting that wraps your stone in a secure embrace. It also happens to be very difficult for dirt, germs, and messes to work their way into this setting.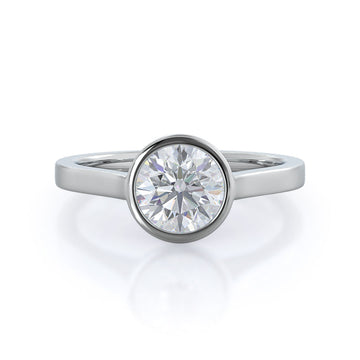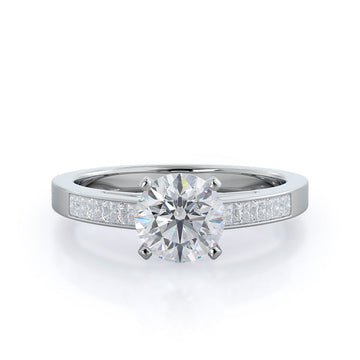 ---
Princess cut accent diamonds fit perfectly together, edge to edge. While, yes, that makes clean up a breeze it also means the band of your engagement ring looks like one long ribbon of sparkle, and who can say no to that?