Guide to Ring Sizers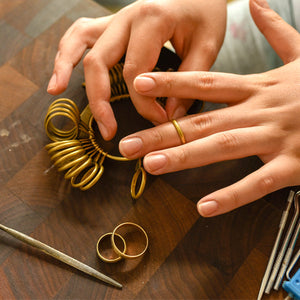 When you want to surprise a loved one with a stunning ring, it's helpful to have the ring size. But how can you keep it a surprise but get an accurate size? Believe it or not, there are several strategies you can use. Keep reading for ways to measure ring size, factors that impact the size of your fingers and some helpful tips to determine your partner's ring size.
How to Determine Ring Size?
Consider using more than one ring size method for a "measure twice, cut once" approach to ring sizing. It's much less trouble if you carefully measure the ring size initially to avoid resizing in the future. Whether you're shopping for an engagement, wedding, everyday or fashion ring, it's important to measure carefully if you can. Here are some helpful tips to determine ring size:
Measure another ring that fits the same finger: Take one of your other rings, measure the inside diameter, and compare it to the size chart below to find the approximate fit.
Use a Paper Strip: Use the paper strip at the bottom of this printable chart. Cut out the ruler and wrap it around your finger. Ensure it's a snug fit. Use the line demarcations to see what your ring size is.
Use string or dental floss: Take a piece of string or floss and wrap it around your finger (but not too tight). Mark the place where the string or floss meets and measure against the With Clarity size guide to get the approximate size.
Get your finger measured professionally: You can visit a jeweler who will use a mandrel (aka ring tool) in-store to determine your ring size. These are metal or plastic rings in different sizes that you'll try on to find the perfect fit. You can also order a ring sizing kit online to find your ring size from home.
Here's a band size chart for reference and here's a printable ring sizing guide:
Inside Circumference
US/Canada
British/Irish/Australian
Japanese
French
German
Inches
MM
1.840
46.8
4
H
7
46 1/2
15
1.890
48.0
4.5
I 1/2
8
47 3/4
15 1/2
1.940
49.3
5
J 1/2
9
49
15 3/4
1.990
50.6
5.5
K 1/2
10
50 1/4
16 1/4
2.041
51.8
6
L 1/2
11
51 1/2
16 1/2
2.091
53.1
6.5
M 1/2
13
52 3/4
17
2.141
54.4
7
N 1/2
14
54
17 1/4
2.192
55.7
7.5
O 1/2
15
55 1/4
17 1/2
2.242
56.9
8
P 1/2
16
56 1/2
18
2.292
58.2
8.5
Q 1/2
17
57 3/4
18 1/2
2.342
59.5
9
R 1/2
18
59
19
2.393
60.8
9.5
S 1/2
19
60 1/4
19 1/2
2.443
62.1
10
T 1/2
20
61 1/2
20
2.493
63.3
10.5
U 1/2
22
62 3/4
20 1/2
2.543
64.6
11
V 1/2
23
64
20 3/4
2.594
65.9
11.5
W 1/2
24
65 1/4
21
2.644
67.2
12
X 1/2
25
66 1/2
21 1/4
2.694
68.4
12.5
Z
26
67 3/4
21 3/4
2.744
69.7
13
Z 1
27
69
22
2.795
71
13.5
Z 2
29
2.845
72.3
14
Z 3
31
2.895
73.5
14.5
Z 4
32
2.945
74.8
15
Z 5
33
2.996
76.1
15.5
Z 6
3.046
77.4
16
Z 7
3.096
78.6
16.5
Z 8
3.146
79.9
17
Z 9
3.197
81.2
17.5
3.247
82.5
18
3.297
83.7
18.5
3.347
85.0
19
3.397
86.3
19.5
3.448
87.6
20
What Influences Ring Size?
Some factors can influence your ring size and make it fluctuate:
Temperature: if your hands are colder, then your fingers will be smaller. Your fingers change size depending on the weather, so keep this in mind when you measure.
Diet: Salty foods and processed foods with higher sodium levels will make your fingers swell.
Pregnancy: Sometimes pregnancy can make your fingers swell, which makes measuring more challenging.
In addition to factors like temperature, there are a couple additional considerations to keep in mind:
Finger shape: take a look at your partner's finger shape. Do they have larger knuckles but smaller fingers? If so, you'll need to size to get over the knuckle.
Band width: Wider bands tend to fit more snugly than narrow bands, so the width of the ring sizer will affect the size. Generally, if sized with a narrow ring sizer, you would want to size up 1/4 size for rings 5-6mm wide and 1/2 size for rings 7-8mm wide.
When to Measure?
Measure your ring size at the end of the day when your fingers are warm. Finger size changes depending on the time of day and the weather, and your fingers are actually smaller in the early morning and in cold weather. Also, keep in mind that fingers on your dominant hand are usually larger.
Sizing Tips
We'll wrap up with a few helpful tips on getting the right ring size for your partner:
Discreetly work on figuring the ring size while your loved one sleeps by tracing a ring
Ask for help from others (mom, friends, your friends, a jeweler)
Playfully ask just for fun to see if you get an answer
Select a ring in an average ring size
Try a larger size and resize it later
Buy a costume ring for your loved one to see if you can determine the correct size.
Frequently Asked Questions
Is it better to size a ring up or down? It's better to size up. If you do have to get it resized in the future, then it's easier to do that with a bigger ring.
Can I measure my ring size at home? Yes, there are several methods to measure your ring size at home (measure a ring you already own, use paper or dental floss to measure your finger, purchase a ring sizing kit).
How can I find out my ring size online? Measure your ring size and compare it to an online ring chart, like the one above. Or, print out this guide to help.
How tight should your ring be? A proper fitting ring should slide over your knuckle with a little friction and fit snugly on your finger, but not too tight. You should feel resistance and need to apply a little extra force to remove the ring backwards over your knuckle.
Do ring sizers and sizes differ in the UK, USA and Canada? The US, Canada and Mexico have the same ring sizes and use numerical values with quarter and half sizes for ring size measurement. UK, Australia, New Zealand, Ireland ,and South Africa have the same ring sizes and use the letters of the alphabet with half sizes for ring sizes. Most women's rings in the USA and Canada are between sizes 3 and 9, while men's rings are usually sized between 8 and 14. The most common average women's ring sizes are from size 6 to 7.