What You Need to Know If You're Considering a Simple Sapphire Engagement Ring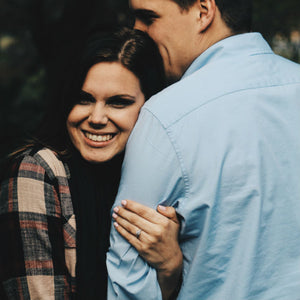 When extravagant and trendy options are on every engagement ring website and in every store, it can be hard to look past the show-stopping rings to go for a simple engagement ring. One way to get around this is by choosing a non diamond center stone. A simple sapphire engagement ring doesn't need anything else to stand out in a crowd of diamond engagement rings.
TABLE OF CONTENTS
Simple engagement rings may not make the biggest statement in the world from the setting, but they will never go out of style. Just like clothes, jewelry trends change and flow suddenly which can leave a buyer of the newest and coolest ring in a lurch. So opting for classic setting that you love, and making your statement with a center stone, can be the perfect compromise between individuality and timelessness.
Popularity of sapphire engagement rings
Today, colored engagement rings or non diamond engagement rings are a popular style. It seems as if in every magazine you open, a new celebrity couple is engaged and showing off a sapphire, ruby, or emerald engagement ring. Big names like Katy Perry, Heidi Klum, Zoe Saldana, and even Jackie O have been tied to gemstone engagement rings.
Recently, sapphires have surged over the other two options — a big part of that has to do with Kate Middleton's engagement and her stunning ring — making the blue a popular choice for engaged couples. With that being said, how can a buyer choose a sapphire ring that is still stunning, but that never goes out of style?
The benefits of keeping things simple
With a simple sapphire engagement ring, the wearer has all of the benefits of a timeless ring mixed with the trendy sapphire look. Although not quite as popular as diamonds, simple sapphire engagement rings make up a close second on the popularity scale; many buyers opt for this color to complement the ring's simple style and structure.
Want to work with us on the gemstone ring or non-diamond engagement ring of her dreams? We do custom work so you get the attention from a gemologist that your special project needs and deserves.