Tips for an Eco-Friendly Engagement Proposal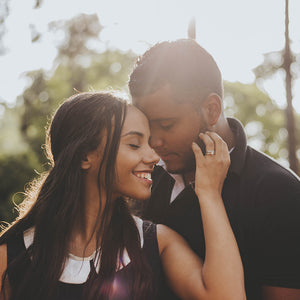 Have you found your special someone and are ready to take your relationship to the next level? If you and your bride-to-be love sustainability as much as you love each other, our tips for an eco-friendly engagement proposal will have her swooning. From planning a perfectly romantic and eco-conscious proposal to finding a gorgeous and ethical diamond engagement ring, proposals have never been easier.
How to make your proposal environmentally friendly
When it comes to proposals, your options are endless. Narrow down your options with our favorite environmentally-friendly proposal ideas:
1. Ditch carbon emissions
Rent bikes to go through your favorite park with your partner. Take a break and enjoy a cozy homemade picnic with an engagement ring box nestled inside for her to discover.
2. Visit your local nursery
Pick a meaningful spot to plant a young tree. As you and your loved one are planting your tree (you'll already be on your knees!), reveal the engagement ring beside the tree whose beauty and strength will grow with your love.
3. Dine at a farm-to-table restaurant
Proposals don't have to be held at Michelin Star restaurants. Better yet, dine at a nearby farm-to-table restaurant to support your local farmers. Waiters are always ready to help sneak engagement rings into glasses of champagne or desserts.
Are diamond engagement rings eco-friendly?
To complete your proposal, having a gorgeous engagement ring that symbolizes your eternal love and commitment is a must. There is no better way to commemorate an eco-friendly proposal than to propose with a lab grown diamond ring.
Lab grown means less impact on the environment, which means the diamond passes through fewer hands. A shorter supply chain could guarantee more transparency on the creation of your diamond. In addition to all that, imagine also saving more than 30% on the cost as compared to a natural, earth-mined diamond. Not to mention that a lab diamond has the same chemical and visual properties as a natural diamond, so you will still achieve the same sparkle and look that a traditional diamond engagement ring has.
Shop Conflict-Free Lab Diamonds
What are eco-friendly engagement ring options?
Lab Grown Diamonds:
Lab grown diamonds are one of our favorite eco-friendly engagement ring options. Did you know? Lab created diamonds are visually, physically, and chemically identical to natural diamonds. Lab diamonds look so much like their natural counterparts. Sometimes to tell the difference, special equipment needs to be used!
Instead of forming deep within the earth for billions of years, these man made diamonds are manufactured under the same intense conditions as natural diamonds. However, these diamonds do not contribute to environmental and social conflicts since they are created in lab-controlled conditions.
Lab diamonds are incredibly versatile and can be crafted into any shape, such as rounds, ovals, and pears. These man made stones can be cut and have shapes like natural diamonds, making them a perfect alternative for environmentally conscious couples. Not only are lab grown diamonds stunning and guilt-free, but it is also a good choice for an affordable diamond engagement ring.
Shop Eco-friendly Diamond Rings