KEEP HER SMILING YEAR AFTER YEAR WITH A YELLOW GOLD OVAL ENGAGEMENT RING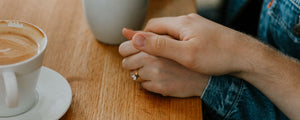 Yellow gold constantly ranks near the top for most popular metals for diamond engagement rings. The reason is simple: It's a timeless style that both fits in with today's trendy setting styles — and yesterday's classics. Pair yellow gold with another timeless piece — an oval cut diamond — and you get a beautiful ring that she'll be as proud to show off in 30 years as she is the day you propose.
Popularity of oval engagement rings
Round cut diamonds might be the most popular diamond shape, but oval diamonds are experiencing a renaissance of sorts with more and more people opting for the oblong shape over a perfectly round diamond.
The reason? Celebrities might have something to do with it.
Kate Middleton might have the most famous oval ring of all. Though it's not a diamond, the oval-shaped sapphire given to her by Prince William once belonged to his beloved mother, Princess Diana.
Serena Williams also rocks a huge, sparkling oval diamond — offset by two side diamonds — thanks to her now-husband, tech entrepreneur Alexis Ohanian.
Katharine McPhee, Blake Lively, Julianne Hough and Karlie Kloss all rock oval diamond engagement rings, too — and there are plenty more.
Things to consider with yellow gold oval engagement rings
While oval engagement rings might be popular with celebrities, it's important to weigh your options before deciding if it's the right choice for you. Specially, when it comes to yellow gold oval engagement rings, you should:
WATCH OUT FOR THE BOW TIE EFFECT
A bow tie typically happens on oval, pear and marquise diamonds and is a dark area that extends over the body of the diamond, much like a bow tie. While it's almost impossible to avoid a small bow-tie effect on these diamonds, a larger one is indicative of a bad cut and will affect the overall sparkle of the stone.
DECIDE ON ORIENTATION
Traditionally, oval diamonds will be mounted lengthwise in the setting, but you can also opt for an east west setting to change up the look. With Clarity offers a couple styles of settings with oval diamonds positioned this way. It's an elegant twist on classic designs that makes your ring unique but also timeless.
UNDERSTAND THE EFFECT OF YELLOW GOLD ON YOUR DIAMOND
Yellow gold settings can make high color grade diamonds look a bit yellow, but they'll actually make lower color grade diamonds appear white. They do this because a lower color grade diamond might have a hint of yellow that contrasts a lot with white gold but blends in more with a yellow gold setting. But tread gently when choosing your diamond's color grade — oval diamonds can show color more easily in their tapered ends.
Top yellow gold oval engagement rings
So, you've decided on a yellow gold oval engagement ring. Now what? We get that shopping for the perfect diamond engagement ring can be overwhelming, so we rounded up a few of our favorites to help you get started.
---
Classic Four Prong East West Engagement Ring
The Classic four prong east west engagement ring in yellow gold has a simplistic beauty with the simple stone-and-band look, but the east west orientation gives it that extra something that few others will have.
---
Swaying Split Shank Halo Diamond Engagement Ring
Your engagement ring will be the statement piece of the century when you wear the Swaying split shank halo diamond engagement ring. Alternating between smooth metal and pave diamonds, the split shank comes together to create a stunning halo around the center oval stone. Even better: The halo makes it possible to get a smaller center stone, but keep the illusion that it's a larger-than-life size.
---
Sleek Cathedral Solitaire Engagement Ring
Make your oval cut diamond that center of attention, thanks to the lifted style of the Sleek cathedral solitaire engagement ring. The addition of the yellow gold creates an engagement ring that'll look as fresh in 50 years as it does now.
---
Vine Diamond Engagement Ring
Smooth yellow gold and pave diamonds create a vine-like twist effect in the Vine diamond engagement ring. Even better: the pave diamonds add 0.19 carats to the overall weight of the ring.
---
Milgrain Diamond Engagement Ring
Add a bit of handiwork — and a lot of vintage appeal — when you opt for the Milgrain diamond engagement ring. The delicate detail borders the accent pave diamonds down the side of the ring, meeting at the center stone. The yellow gold just adds to the antique appeal.
---
Petite Three Stone Diamond Engagement Ring
Prefer the look of a smaller ring and thinner band, but also want plenty of bling? The Petite three stone diamond engagement ring gives you the best of both worlds. The thin yellow gold band is simple and elegant, but makes the center stone look larger by default. The two accent stones placed on either side of the center diamond also add 0.20 carats of weight to the ring.
---
Oval Gallery Halo Diamond Ring
Get a different kind of look when you opt for the Oval gallery halo diamond ring. The underhalo of pave diamonds face outward — instead of up — giving this ring a blinged-out look from all angles. The halo — plus the pave diamonds that run down the sides of the band — add 0.24 carats of weight to this beautiful ring.
---
Vintage Leaf Diamond Engagement Ring
The milgrain detail on the Vintage leaf diamond engagement ring adds a subtle vintage appeal to an already beautiful design. Each of the leaf designs that flank the center oval stone add a bit of romantic appeal, while the generous amount of pave diamonds on the band give it a timeless you'll be proud to wear now — and 20 years from now.
---
Five Stone Diamond Engagement Ring
Four large pave diamonds — two on each side of the center stone — add a hefty 0.60 carats to the beautiful Five stone diamond engagement ring.
---
Enchant Diamond Engagement Ring
You'll feel like a princess when you opt for the Enchant diamond engagement ring. The band — adorned with .09 carats of round accent diamonds — tapers as it nears the center stone, bringing all the attention to the main attraction.
---
Paved Halo Diamond Engagement Ring
Love accent diamonds? You'll love the Paved halo diamond engagement ring. This stunner features 0.30 carats of pave diamonds that span the entire ring, from the band to the halo around the center oval diamond.
---
Princess Diamond Engagement Ring
Delicate princess cut accent diamonds fit perfectly together end to end as they lead up the band to your stunning center oval diamond. The effect is irresistible. It diminishes the look of metal in your setting to create the appearance that your band is just a long ribbon of diamond and sparkle.
The settings we selected only scratch the surface of our collection of yellow gold oval diamond rings. So if you don't see the style that's clearly "the one," never fear. We have 5 full collections of settings in this diamond shape and precious metal combination to browse through.