Most Gorgeous Jewelry Designs for Your Little Black Dress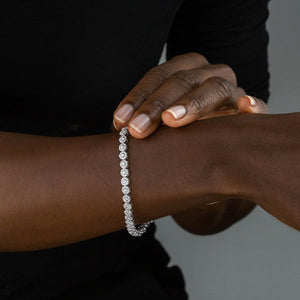 The Little Black Dress (LBD)--it's classic, timeless, elegant, and versatile. The best part of the LBD is that you can dress it up or down with the accessories. Jewelry completes your LBD look.
If you're looking for some jewelry inspiration, we've got you covered. We gathered our top eight picks that will level up your LBD. Plus, they're versatile pieces that will get plenty of wear.
TABLE OF CONTENTS
Dainty Necklaces
This halo-set cushion diamond necklace is stunning, and would definitely make a statement when paired with a LBD. Diamond solitaire pendants and LBD look stunning together! Select either 14K white or yellow gold. It's simple, yet elegant and will become a versatile piece of jewelry that will get plenty of wear.
This style necklace is both popular and elegant. It features periodic diamonds that add some subtle sparkle to your neckline. It can be dressed up for a night out by adding some additional jewelry, or kept casual by keeping your other pieces subtle.
Statement Rings
Elegance meets romance in the Braided Twist Diamond Engagement Ring. This stunning ring features a captivating intertwining band, meticulously crafted in 14k gold, showcasing a brilliant diamond at its center. The intertwining design symbolizes the union of two lives, making it a timeless and enchanting choice for a symbol of everlasting love.
Adorned with opulent elegance, the Three-Row Round and Princess Studded Bevel Edge Eternity Ring is a captivating masterpiece. Featuring a harmonious blend of round and princess-cut diamonds set in three rows, this ring exudes timeless glamour. The beveled edges add a modern touch, creating a stunning piece that stands out on a LBD.
Versatile Earrings
A LBD and these earrings would look exquisite! These timeless lever-back earrings feature round in an attractive kite-setting for a classic and feminine look. The addition of diamond accents on the piece further amplifies the charm of brilliance. This pair can be worn with a casual LBD for day, or dressed up with a slinky LBD for night.
These bespoke earrings allow you to curate a personalized statement, featuring exquisite pear-shaped diamonds set in a classic martini-style setting. Crafted with meticulous detail and secured with a sturdy post-back closure, these earrings are a dazzling expression of individual style and sophistication.
Chic Bracelets
Tennis bracelets are a versatile piece that will get plenty of wear whether it's dressed up for a night out in a LBD or dressed down for a picnic. This classic tennis bracelet features a single row of sparkling, brilliant-cut diamonds set in four-prong baskets.
This stunning cuff features a delicate band embellished with a sparkling array of pave-set diamonds, creating a timeless and luxurious accessory. Crafted with meticulous detail, this piece effortlessly combines modern elegance with classic glamour, making it the perfect complement to any ensemble.
LBD Jewelry Tips
Black is a color that can be worn by everyone no matter your age, hair color, body type, etc. A LBD is another classic look that can be dressed up or down. You'll see casual LBD worn for a day or running errands and more formal LBD worn for a theater outing. Regardless of the occasion, you'll find endless LBD options. Similarly, you can accessorize your LBD with jewelry to glam up your look or emphasize the casual look. A general rule when picking a necklace is to choose a necklace that matches the neckline of your dress. If you have a black dress with a low neckline, try either a long necklace or a choker.
Our list is only a small sampling of some ideas to help you brainstorm. Diamonds and a LBD are a timeless pair, and withclarity.com has thousands of jewelry ideas. And they have collections or pieces that match if you have a glamorous night out coming up. Be sure to browse items and find the perfect accessories for your LBD.
FAQs
Which is the best type of jewelry for the LBD?
The best type of jewelry is one that reflects your own style, and the occasion that you're attending. Jewelry can dress the LBD up or down depending on what you choose.
Does colored gemstone jewelry look good on a black dress?
Yes! Colored gemstones definitely pair well with a black dress. Gemstones let you add a pop of color to your ensemble, and black looks amazing with all gemstones.
Can I wear gold jewelry on black outfits?
Yes, black outfits go well with all metal options. Gold definitely looks good with black. If you like rose or white gold rather than yellow gold, they go well with black as well.
What earrings look good with a black dress?
You have plenty of options when it comes to earrings. You can choose something more minimal like diamond studs or some diamond drop earrings. Consider the overall look that you're going for and the occasion.