Wedding Hairstyles and Matching Jewelry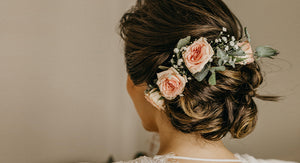 For most brides, the season between engagement and their actual wedding is a flurry of activity. This is unsurprising when you consider how much work goes into making your wedding a success. And for most brides, one of the biggest decisions is what dress they want to wear. When you consider that brides will be heavily photographed in their wedding dress, this is unsurprising. The memories of how a bride looks last much longer than an impression of how good the food was or how much fun everybody had dancing.
Of course, there's a lot more to a bride's overall appearance than the dress. While dress shopping is often more complicated, wedding hairstyles and jewelry are also critical. Brides want to look radiant at their wedding, and hairstyles for a wedding are an important part of this. In addition, your wedding jewelry can help make or break an outfit.
Let's take a look at how the perfect wedding jewelry for brides can really compliment the right hairstyle. Then, you can be much more confident that your overall look will have you feeling like a princess on that special day. 
Messy Low Bun 
As the saying goes, sometimes less is more. And when it comes to wedding hairstyles for long hair, elaborate styles can take a long time to create. In addition, a messy bun is great for destination in weddings because the bride and her attendance can easily create it themselves. Then, nobody will feel like their hair is too fancy for the reception, or that they need to touch it up constantly. overall, this look is very effective with a simple down, because of the informal vibe.
Jewelry Suggestion: The best with this style is chandelier earrings. The uncomplicated hairstyle, with its soft lines, lets these stunning earrings stand out from the hair. In addition, chandelier earrings helped to highlight the face because they hang down from the ear. This also creates an elongated silhouette that can be very becoming. 
Open Hair with Partial Soft Braids 
If you like the idea of wedding braid hairstyles, think about the partial soft braid. These differ from more formal braiding techniques like French braids, in that they don't incorporate all of the hair. In addition, some versions of the style use an underhand braid whereby the hair appears tucked in. consider securing the braids to the back of your head, and then pinning your veil where they joined together. The options for these cute wedding hairstyles are endless.
Jewelry Suggestion: Does this sound like your kind of style? If so, think about a pendant necklace. This accessory features a simple focal piece suspended on a chain. It's a lighter look that lets your lovely hair be the star of the show. Often, simple wedding jewelry is the best. 
Open Waves 
If you're looking for medium length wedding hairstyles, then maybe open waves is your choice. These are fairly easy wedding hairstyles, which you can often create with a curling iron and some texture spray. Like the messy bun discussed above, it's also great for destination weddings. Consider adding flowers or a nice hair clip to your messy waves.
Jewelry Suggestion: To compliment your free-flowing hair, think about some simple drop earrings. Because your hairstyle looks so glamorous, you want something relatively understated without being plain. Plus, you can wear those dangle earrings for other formal occasions, like a fancy dinner or cocktail party. For extra glam, consider wedding jewelry sets that include a pair of drop earrings and a matching pendant. This is also a great way to wear something blue, such as sapphire earrings, or wear something the color of your bridesmaid's dresses. This way, you can add a pop of color without ruining the bridal vibe. 
High Updo with Flowers 
Let's be honest: updo hairstyles for weddings are incredibly traditional. And for most of us, this is the first option we think about. However, that doesn't mean that our hairstyle needs to be fussy. Instead of adding a lot of crystals, think about incorporating real or silk flowers. This can be something plane like babies breath or, perhaps, your favorite flower or even something from your bouquet. By adding flowers, you can have a hairstyle that is rich with tradition without being overdone.
Here's the other consideration. If you're getting married in the fall, then it's a time of special warmth. There's a chill in the air and everyone feels closer to nature. Flowers in your hair are a great way to harness the spirit of the season.
Jewelry Suggestion: If you opt for a formal updo, one of the most traditional jewelry options is pearls. Pearl wedding jewelry has been a tradition for decades, even centuries. In addition, because pearls are so timeless you might decide to wear your grandmother's pearls. Alternatively, consider one of the lovely pearl wedding jewelry sets on the market. You can choose them in a variety of styles, necklace lengths, and earrings. Best of all, unless you borrow the pearls, you can wear them just about anywhere. Pearls are a beautiful accompaniment to many formal and semi-formal outfits. 
Choosing Your Jewelry for Wedding 
If all of this sounds overwhelming, that probably isn't surprising. After all, there's lots of information out there. However, perhaps the biggest thing to keep in mind is that you want everything to look nice together. besides esthetics, here are a few simple shopping tips.
First, never overspend. You don't want to spend so much money on your wedding jewelry that you don't enjoy the rest of your party. This advice holds especially strongly with something that you are less likely to wear frequently.
Second, think about the metals that your jewelry is made of. For instance, you may find that yellow gold jewelry complements your dress better than the white gold or platinum of your ring. In this case, it really isn't that big of a deal. Besides your rings, it's best to make sure that your wedding jewelry looks nice together. In other words, if you mix metals, do so tastefully.
Third, colored gems come with special considerations. For wedding jewelry, where there will be a lot of pictures, it's usually better to choose a high-quality stone over a large one. Besides, this jewelry will hold its value better over time.
Finally, make sure you purchase everything from a reputable jeweler. It's no good to get yourself scammed or find that you can't return a piece of jewelry that ends up looking awful with your dress. Instead, make sure that it's easy to return your jewelry if you are dissatisfied for whatever reason. We wish you the best of luck in your wedding planning and your new life.
FAQs
What is the best hairstyle for your wedding dress?
You should always choose something that looks nice with your dress and works well with your hair. For instance, if you have a formal dress you probably want a formal updo.
Which hairstyle complements an off-shoulder dress?
A lot of women prefer a half up half down look, especially if they have long hair. The neckline of the dress and the long strands of hair can complement each other beautifully.
Which is the best gemstone for a wedding?
It totally depends on you. However, pearls are some of the most traditional options, along with diamonds. Colored gems, particularly sapphires, are becoming more common.
What kind of jewelry is best for a wedding?
Whatever makes you feel beautiful, complements your dress, and suits your style is always the best option. Ultimately, you are only limited by your creativity and your budget.