Unique Anniversary Jewelry Gifts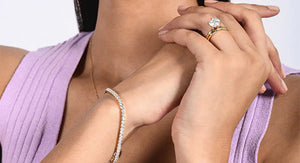 Anniversaries are a celebration of the love shared, hardships faced together, and promises kept. Whether you're celebrating the day you met, said those three beautiful words, made up after your first argument, or your first or 50th anniversary, celebrating an anniversary can be a truly special experience.
An anniversary gift can be a timeless and thoughtful representation of your love, something your better half would cherish for a lifetime. For a gift that special, you want it to be unique and curated especially for this special person in your life.
TABLE OF CONTENTS
Whether you are looking for anniversary gifts for him or anniversary gifts for her, we at With Clarity have a curated collection of unique anniversary jewelry. Here's a guide to help you choose the perfect anniversary jewelry gift.
Choosing Diamonds for Your Special Occasions
When you want to mark a special occasion, there is hardly a better gift than diamonds.
Diamonds have always been traditional anniversary gifts and are a beautiful way to celebrate any milestone. And while they definitely are a girl's best friend, diamonds also make amazing anniversary gifts for men.
But, just like buying any other jewelry, buying diamonds is not easy. There are different types of diamonds and various styles and designs of diamond jewelry to choose from.
Here are some important factors to consider when hunting for the perfect diamond.
Lab or Earth Mined?
Born through very distinct methods, lab-grown and earth-mined diamonds look identical when seen with the naked eye. Only experts can spot the difference.
While it takes millions of years for natural diamonds to form, lab-grown diamonds are made in a lab in just a few weeks.
Despite the difference in how they are made, both diamonds are essentially the same and have the same shine, sparkle, clarity, and scintillation.
Pros of Earth Mined Diamonds
They hold a greater resale value than lab-grown diamonds.
They're synonymous with love and romance
Diamond mining has evolved in recent times; it now costs less energy and is easy on the environment.
Pros of Lab Grown Diamonds
They are less expensive than earth-mined diamonds of the same size, clarity, and color.
Mining, which is hazardous to the environment, is not required.
Since they have the same atomic makeup, their popularity has risen a lot in recent years.
Diamond Price
The diamond you choose will determine the price of your anniversary band. Typically, a lab-grown diamond will cost you 30-40% less than an earth-mined diamond.
Diamond Shape
The right shape of a diamond can perfectly complement the personal style, personality, and beauty of the wearer.
Some popular diamond shapes include round, princess, cushion, pear, heart, oval, emerald, marquis, Asscher, oval, radiant, baguette, and trillion. Each of these cuts has its own unique beauty. Take a look at some of the most popular diamond cuts.
A favorite among brides, this is the most popular cut for engagement rings. A round brilliant cut has incomparable light reflection, high brilliance and fire, and a classic, elegant shape.
Another popular diamond cut, the princess cut can be considered a modern version of the round brilliant cut. It has high brilliance and unique and distinct color, especially in the center and around the sharp edges.
Giving an art deco esthetic, the emerald cut is characterized by a perfectly symmetrical rectangle with measured steps and cropped corners. Often considered a cheaper option, this cut is for those who love to don a larger diamond.
An elongated version of the round cut, the oval cut has an elegant and contemporary look. It has exceptional brilliance that emphasizes the style, perfect if you want to stand out from the crowd.
Type of Jewelry
Once you've zeroed in on the type of diamond and the cut, the next step is to decide what type of jewelry you wish to give.
From earrings and pendants to rings and bracelets, there are pieces of jewelry that make the perfect anniversary gift for husband, and pieces like a sleek band can be wonderful anniversary gift ideas for him. When looking for anniversary gifts for wife, you'll want to take into account whether she prefers earrings or has a love for rings and bracelets.
Consider their preferences and sense of style when making your decision.
Metal
All of the above pieces as well as the others on our site are available in a variety of metal options. Choosing the right metal can accentuate your stones and make them look ethereal. Here are some common jewelry metals and what makes them stand out:
The preferred metal since time immemorial, yellow gold symbolizes wealth and is the most popular metal. A favorite of many and great for first anniversary gifts, it's the perfect choice for those with a classic sense of style.
This rare metal is more valuable than gold. It is for people aiming for sophistication with style and is the preferred choice of people suffering from metal allergies.
Yellow gold mixed with nickel and zinc, white gold is a great alternative to platinum. It's an ideal choice for people who prefer a radiant silvery-white shine over the yellow of pure gold.
A mixture of gold and copper, white gold is gaining a lot of popularity due to the stunning colors and the strength of the metal. Available in different gold concentrations, the metal has a warm pink hue that increases with increasing copper concentration. Rose gold is used in most modern and delicate designs.
Tips When Buying Jewelry Gift
Buy from a reputed brand to avoid the risk of being duped. They also offer easy returns in case you're dissatisfied with the product.
Buy only certified diamonds. Whether you are buying a natural or a lab diamond, look for GIA or IGI certifications.
When buying gemstones, always have a preference for quality and color over carat size.
Before finalizing the product, consider your budget, your partner's likes and dislikes, and their allergies (if any).
FAQs
What is the best gift for a marriage anniversary?
While it largely depends on your partner's likes and dislikes, a classic piece of jewelry like diamond studs or a ring would be a great marriage anniversary gift. You can also choose the stone and metal based on the year of marriage, like gold for first anniversary gifts.
Is diamond jewelry a good gift for an anniversary celebration?
Diamond jewelry is an excellent anniversary gift that emphasizes your love and affection. While many would consider diamonds a 10-year or more anniversary gift, don't let that stop you.
Is the 5-year anniversary a big deal?
Every single milestone in your relationship is a big deal, as is a 5-year anniversary. By this time, your relationship has gone through a lot of ups and downs and your bond has only strengthened through it all.
What is the stone for the 5th wedding anniversary?
The gemstone for the 5th wedding anniversary is sapphire