How To Choose Between Oval and Pear Cut Diamonds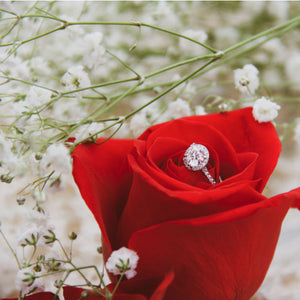 Although seemingly similar in shape, oval and pear cut diamond engagement rings have a few key differences which clearly set them apart from each other. So how do you even begin to decide when you're debating oval vs pear cut? That's where we come in.
A pear cut diamond was rightfully named because of it pear shape, but it can also be referred to as the teardrop diamond because of the fact that its shape also resembles a teardrop. This shape features an enlarged rounded bottom with a smaller pointed top.
Origin of pear cut diamonds
The pear cut diamond dates back to the mid-1400's, when it was created by a polisher named Lodewyk van Berquem. While the pear diamonds are successful today and popular as pear cut diamond engagement rings, they were originally disliked. The shape was not the problem because people were actually intensely attracted to the shape, but rather, many people had an issue with the amount of rough diamond lost and wasted in the process of creating a pear-shaped diamond.
Pear cut diamonds were made famous by Elizabeth Taylor. She not only knew all about diamonds, but she had a particular attraction to the teardrop shape. Allegedly, Taylor was once found by her husband, Richard Burton, in a pile of her collection of diamonds. Her excuse was that she was playing with her diamonds. Although Burton gifted Taylor with many different diamonds over the years, the most famous was a pear cut diamond. This diamond was named the Taylor-Burton diamond and measured a whopping 69 carats.
Experts agree that buyers looking to purchase a pear cut diamond engagement ring should look for a more rounded base and even shoulders to the stone as these aspects will allow the stone to have a more consistent shine. Buyers should especially be wary of elongated pear cut diamonds. While they may make the fingers appear even more slender, these shapes may appear to simply be faulty cut oval cut diamonds. While oval cut diamonds have many different options for ratios (as explained later), the pear cut diamonds are typically most valuable with the very clearly rounded base and pointed top. However, whatever diamond is chosen depends on the wearer. If she is seeking a certain elongated pear shape, there are no rules against that; in fact, the stone may even be cheaper to purchase. As with any diamond, it is completely up to preference.
Origin of oval cut diamonds
As a mixture between round and marquise engagement rings, diamond oval engagement rings give an updated look to a traditional stone. Although its origins began in the 1960's, the oval cut feels classic and timeless. The oval's length makes the ring more flattering as it gives the illusion that the fingers are elongated and slender. However, the "perfect" oval cut does not exist; the length to width ratio is completely subjective to personal taste and preference. Oval diamond wedding bands and engagement rings remain perfect for buyers who lead an active life, as chipping and wear are much less likely to occur without any pointed edges. The softness of the curves allows for a gentle, but romantic declaration of love. Additionally, compared with other engagement rings, diamond oval cut engagement rings appear larger, meaning the buyer can purchase a larger diamond for less money!
Almost all oval cut diamond engagement rings have a dark spot in the middle of the gem resembling a bowtie. This effect occurs because the light is not able to bounce back into the middle of the stone, leaving the center darker than the rest of the stone. This bowtie may make the oval cut seem "imperfect," but many buyers rave about how the bowtie is the most interesting feature on the whole ring; it is all up to personal taste! However, experts say that the bowtie effect does distract from the overall beauty of the ring. Therefore, most people opt for a slight bowtie effect that adds to the beauty of the stone, but they steer clear of a bowtie effect that is too severe to avoid compromising their shine. Because there is no way to accurately gauge a bowtie effect on paper, it is highly suggested that any buyer looking for an oval cut diamond should visually investigate any oval diamonds before buying.
Diamond shape comparison: oval vs pear cut
While both the pear cut diamonds and the oval cut diamonds are relatively elongated, the oval is symmetrical in its style while the pear cut is larger on the bottom than it is on the top. These two rings both produce a slimming effect on the wearer's finger, but due to the symmetry, the oval cut is the prime choice to create this effect.Browse Engagement Rings
Although both shapes are popular and readily available as the center stones of engagement rings, both pear and oval cut diamonds are also commonly found flanking a round or square center stone. The versatility of these diamonds makes them a viable option for almost any engagement ring. Additionally, both of these shapes are perfect for other options of jewelry. As pendants or earring sets, both pear cut and oval cut diamonds offer an elegant and complete effect.