Round vs. Cushion Cut Diamonds
When you first begin shopping for engagement rings, you're likely to see two diamond styles more than any other: round cut and cushion cut. Both are traditional and popular choices, and each has different characteristics to recommend them. For example, if you're going for maximum sparkle, there's one style you might prefer. Read on for a complete look at the features and benefits of round and cushion cut diamonds.
An overview on each shape
A round cut engagement ring adds a classic element to any engagement. Pretty and simple, these engagement rings stand the test of time. Round cut diamonds also give off more light than any other cut of diamond, making the ring shine brighter. Round diamond engagement rings are also versatile: This cut allows for the diamond to fit into any setting easily. Aesthetically speaking, this traditional engagement ring rests beautifully on any bride's hand, while other rings are more suited for brides with certain features, such as longer fingers or smaller hands.
A cushion cut diamond is a squared shape with rounded corners. The shape resembles a pillow, which is how the diamond got its name. This classic cut has been around longer than most other cuts of diamonds — for 200 years, the cut has remained one of the most popular choices. If you're looking for a halo setting, the cushion cut works especially well and is extremely popular.
Although both round and cushion cuts are very popular, the cushion cut is slightly more popular at the moment. However, this has not always been the case; this cut fell slightly out of favor in the past, but in the last decade, it has surged in popularity to be more popular than ever. But rounds still hold their appeal; they do a fantastic job at hiding imperfections, plus they are also the shiniest cut of diamonds.
Round vs cushion: How the shapes compare
The round cut is the most popular shape for engagement rings because its cuts maximizes the reflection of light, along with brilliance and brightness. The round brilliant cut diamond has 58 facets. Its 58-facet cut, divided among its crown (top), girdle (widest part) and pavilion (base).
Cushion cuts blend the energy of a round brilliant with the symmetry of a radiant cut. Their 58 facets are larger, so they're slightly less sparkly than round cuts. Larger facets can show clarity inclusions, so evaluate the location of inclusions by examining the certificate's diamond plot. But if you're set on a cushion cut and need to hide an inclusion, you might want to consider a crushed ice diamond, which features more imperfection-masking facets.
Round vs cushion: How choosing a diamond is different
Although your bride-to-be's tastes should be the primary concern when choosing a diamond shape, sometimes two truly are tied. When that happens, it helps to consider what each of these diamond shapes does best and compare that to her priorities for her diamond. Some shapes and cuts are best at maximizing how bright the stone is (clarity and brilliance), while others look whiter than the others (color). Here are some hints about which shape does what if you're debating round vs cushion:
Don't forget to select a style (solitaire, tri-stone, side stone, halo, etc.)


Because they have more facets, round cut diamonds hide inclusions better than cushions.


With a round cut diamond, you just need to look for an excellent cut. But cushion cut diamonds come with more considerations — you'll need to choose between the different cuts (brilliant, modified brilliant, hybrid) and also whether you want a crushed ice diamond or not.


Round cut diamonds also hide color a bit better than cushions, although regular cushions hide color better than crushed ice stones.
Round vs cushion: How different is the price?
Cushion cut diamonds tend to be about 25% less expensive than their round cut counterparts. When jewelers cut a rough stone, more is lost in shaping a round diamond, so the cost of each carat retained is higher.
Here are some of our favorite round cut and cushion cut engagement ring styles. As you can see, these cuts are incredibly versatile, lending themselves to more minimalist styles as well as more artisanal designs. As you shop, remember: as long as you follow your personal taste, there's no such thing as a wrong choice!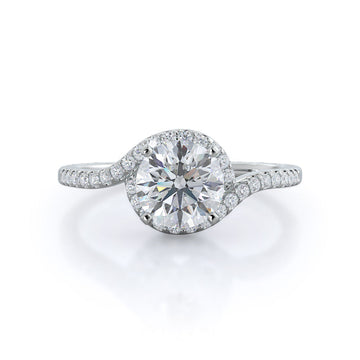 ---
Trendy petite halo setting with 1/6 Cts of accent diamonds that twist around your center stone.
---
Split shank diamond band creates more sparkle on your finger and connects with a trellis design.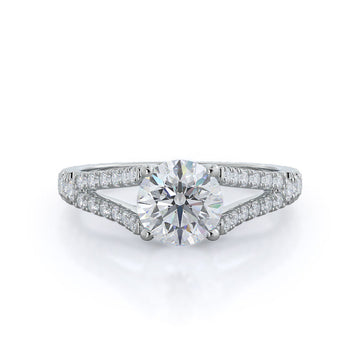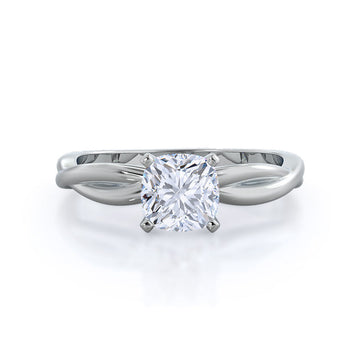 ---
A modern twist on a simple solitaire that rises up to the center stone in a criss crossing pattern.
---
Petite French set pave diamonds that accentuate your center stone with 1/5 cts.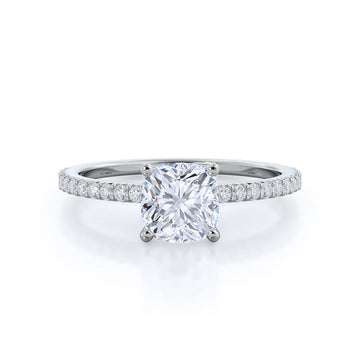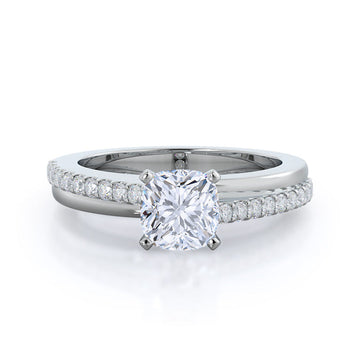 ---
Elevated rows of 1/5 cts of accent diamonds rise toward your center stone.
Average prices for Round and Cushion natural diamonds
G color, VS2 clarity, excellent cut.
| | 0.50 carat | 1.0 carat | 1.50 carat | 2.0 carat |
| --- | --- | --- | --- | --- |
| Natural Round Diamonds | $1,300 | $6,400 | $13,900 | $22,800 |
| Natural Cushion Diamonds | $8,500 | $3,600 | $10,500 | $12,300 |
Average prices for Round and Cushion lab diamonds
G color, VS2 clarity, excellent cut.
| | 0.50 carat | 1.0 carat | 1.50 carat | 2.0 carat |
| --- | --- | --- | --- | --- |
| Lab Round Diamonds | $630 | $2,300 | $3,800 | $6,300 |
| Lab Cushion Diamonds | $490 | $1,800 | $3,100 | $5,200 |