A Guide to Art Deco Engagement Rings
You've likely heard the term "Art Deco ring" but might not be sure of what that means. In this blog, we'll review the history of Art Deco engagement rings, dive into the details about choosing a ring and highlight some example designs.
So what is an Art Deco ring? Art Deco engagement rings stand out because of their bold, geometric shapes with a large stone in the center and uniquely placed smaller diamonds or gemstones to frame the center stone.
TABLE OF CONTENTS
History of Art Deco Engagement Rings
Art Deco refers to a movement in architecture and visual arts that gained popularity in the 1920s and continued into the 1930s. It was a time of modernist trends, rich materials, and detailed craftsmanship that spread to architecture, automobiles, fashion, and jewelry
Prior to the Art Deco period, Edwardian engagement rings were popular with intricate, elegant, and romantic design elements. As the Art Deco movement gained popularity, designs, including jewelry, showcased luxury, glamor, and success. Art Deco engagement rings are characterized by geometric patterns, a liberal use of symmetry, and linear shapes. They often feature colorful gemstones like sapphires, rubies and emeralds in addition to diamonds.
Vintage art deco engagement rings were derived from (Exposition Internationale des Arts Décoratifs et Industriels Modernesv), which saw the style first exhibited in Paris in 1915 to 1930. It gained popularity, following the ending of WWI, which was around the year 1920. Art deco, and more specifically, art deco engagement rings, was dominating trends and this lasted until WWII began. The look was characterized by clean, geometric designs and bright colors with patterned details as ornate as they could be during the movement. The aim was to demonstrate modernity and focus on culminating the elements of minimalism. The main characteristics of art deco antique engagement rings were filigree, white metals, repetitive geometric motifs, and enamel, to name a few.
Vintage Versus New
If you're shopping for an Art Deco engagement ring you can either purchase an actual vintage ring from the era or a modern engagement ring setting that's inspired by the Art Deco era. Antique Art Deco engagement rings are unique and timeless, but you'll need to consider a few potential cons. One, while the designs are timeless, the vintage rings need worn prongs repaired and careful hand cleaning to maintain its sparkle. Two, diamonds were cut differently and less emphasis was placed on diamond color, so the vintage ring might not sparkle as much as a modern Art Deco design and the diamond might have a darker hue than modern diamonds.
Art Deco Engagement Rings
Modern engagement rings have customizable options in terms of metals, center stones and gemstones to create the perfect ring. Plus, these options make your ring as affordable or extravagant as you prefer!
The diamond accents that add to the sophistication of art deco engagement rings are the smaller diamonds that are strategically placed around the larger diamond that is the center stone of the ring. These stones are not valuable by themselves, but are added to the overall value of the ring itself. The placing of these stones will enhance the beauty, brilliance and value of the piece it is being used with. Diamond accents are genuine diamonds as they have all the c's, clarity, cut, color and carat, of a real diamond. Even though the additions of diamond accents are a personal preference, the overall picture is one of elegance and class.
Stones
You have plenty of options in terms of diamonds including lab diamonds and natural diamonds. Mined from within the earth, natural diamonds are one-of-a-kind and take millions of years to form. With Clarity natural diamonds are vetted to be conflict free, ethically sound and always of the highest quality. They're GIA graded and hand-picked by our gemologists.
Lab grown or lab created diamonds are identical in every way to natural diamonds. The only difference is that they are not mined within the earth. Instead, they're created in a laboratory. Lab grown diamonds sparkle in the same way, have IGI certifications and are also graded on the same characteristics as natural diamonds. The major benefit is that they are 1/3 the cost of natural diamonds and 100% ethical and conflict-free.
For a non-traditional route, you can select gemstones as a center stone, such as a ruby, sapphire or emerald. The customization options for engagement rings are endless.
In addition to the type of center stone, you have options for the center stone's shape as well. Cut options include round, cushion, princess, emerald, oval, marquis, radiant, pear, and asscher.
Perhaps the biggest characteristic of art deco engagement rings is the shape. It can be a huge center stone, an architecturally designed one, or its bold shape. Diamonds are not the only stones used in an art deco design. When it comes to creating a modern art deco engagement ring, some of the other gemstones that are used are sapphire, green emerald, ruby, coral, and turquoise, jade, black onyx, among other stones. It is entirely based on the preference of the owner, but it can be custom made to order.
Metals
Here are some breathtaking engagement ring settings that have availability in a variety of metal and center stone options: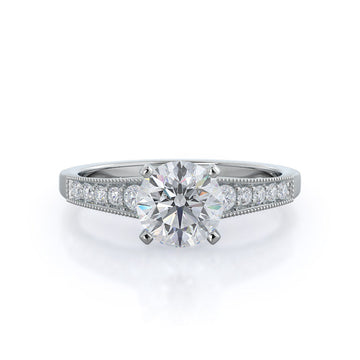 A cascading flow of diamonds are accompanied by vintage handwork milgrain design as they rise toward the center diamond.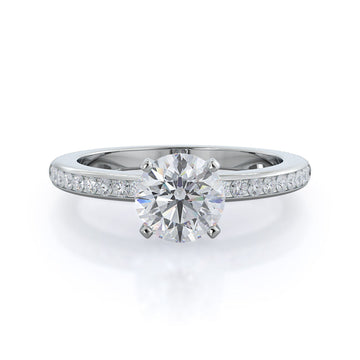 Petite side stone setting with channel set accent diamonds covers the full view of your engagement ring.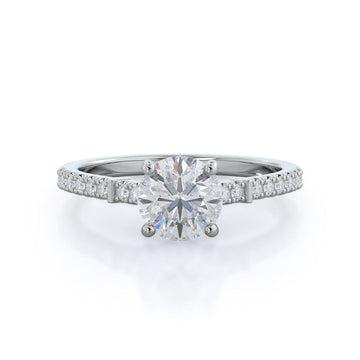 The unexpected style has two sleek metal accents paired with pace set accent diamonds.
If you've spotted a few designs that you'd like to see up close, create two customized rings (metal, shape and carat) that you can preview from home. Take a couple rings for a spin to help you find the perfect, customized ring for you.
FAQs
What is an art deco engagement ring?
Art Deco rings stun with bold, geometric shapes with a large stone in the center and uniquely placed smaller diamonds or gemstones to border the center stone.
How popular are art deco engagement rings?
Art Deco rings continue to be popular, and have been for more than 100 years.
What are the most common metals used to craft art deco engagement rings?
Popular metals for Art Deco engagement rings include white gold, rose gold, yellow gold and platinum.