All About Kim Kardashian's Engagement Ring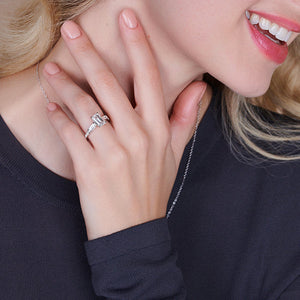 For centuries, celebrities have been one of the biggest drivers of current fashion. Whether you're talking about people in power, those involved in the performing arts, or simply pop culture icons, celebrity fashions are consistently imitated.
Although most of us think about fashion in terms of clothing, shoes, and similar accessories, jewelry items are also heavily influenced by the fashion world. If you look at vintage engagement rings from different time periods, you will see that they match well with Lou clothing styles and, in many cases, home décor trends. For example, you will see many of the same Clean lines in art deco glass that you see in art deco engagement rings.
Of course, when it comes to engagement rings, part of the appeal of Celebrities is that what they receive is often every girl's dream ring. Unfortunately, very few people can afford to buy something with similar specifications. But that doesn't mean that celebrity rings, like the one given to Kim Kardashian by Kanye West, aren't inspirations for more affordable designs.
Let's look at him Kardashian's engagement ring and how we can see echoes of her design in modest rings from With Clarity.
Kardashian's ring is consistent with her personality, and high quality.
If Kim Kardashian is famous for one thing, it's making a splash. She is known for going over the top with her fashion, from her jewelry all the way down to her shoes. For this reason, she is a major fashion icon in contemporary society.
Likewise, Kardashian has the personality to match her splashy style. For one thing, she loves to wear sometimes controversial fashion. Unlike many other women who try this, her confidence and personality are the best possible accessory for any bold outfit.
Therefore, it's unsurprising that when Kanye West proposed, he chose a statement piece. Specifically, a high-quality 13-carat cushion cut diamond. And not just any cushion cut — this is the elongated style rather than the square. This way, the diamonds would show off Kim's long fingers.
What's almost as stunning is the quality of this beautiful stone — it is a D-colored flawless diamond, making it one of the highest-quality stones you can find.
An impressive center stone isn't the only feature of Kim's engagement ring, however. Designer Elaine Schwartz crafted the setting out of platinum, which is ideal for such a flawless white diamond. Then, she puts smaller stones onto the band for a classic pave finish.
The ring, therefore, is a classic design that primarily distinguishes itself by the size of its enormous center diamond.
With Clarity Alternatives
Sadly, most women can't have a 13-carat diamond engagement ring. Kim Kardashian's prized rock is extremely rare and expensive. However, that doesn't mean you can't bring the design elements of her sparkler into your life. At With Clarity, we love to make designs that imitate celebrity styles but at an everyday price.
Let's look at a few of these…
---
While Kardashian's ring features round pave diamonds, this lovely version with baguette diamonds on the shank is a classic. Depending on your taste and budget, this semi-mount will accommodate a cushion-cut diamond as large as 5 carats. And you can get this mounting in platinum, just like Kim's.
We love the fact that you get the overall aesthetic at a much smaller price tag. Plus, the use of cushion and baguette diamonds together makes a lovely fashion statement.
Not a fan of Platinum or cushion-cut diamonds? You can pick any of our other metals and switch to several other cuts for the center diamond.
---
Here's another solitaire engagement ring option that imitates Kim Kardashian's ring while being more understated. In this case, the cushion-pretzel to is accompanied by a lovely Hidden Halo. We've also put pave diamonds on the band, but with a twist — rather than going down the front of the shank, the diamonds are clustered on the side one closer to your finger. In other words, if you want to see all the extra diamonds you just have to look down at your hand.
This setting features half a carat of accent diamonds, and you can choose a center stone of up to 5 carats.
---
Just because you like Kim's pave shank doesn't mean that you must be limited by it. This ring features channel set diamonds, and they're a bit bigger than typical pave stones. In fact, despite there only being eight side stones in this stunning ring, they still total half a carat. Then, you can choose a cushion cut stone of up to 5 carats. This combination creates a bold look that's every bit as stunning as Kardashian's ring.
We love the fact that this setting adopts her style without completely duplicating it. Go with platinum metal, or pick any of our gold options.
---
While less is more, sometimes too little doesn't appeal to the person who will wear it. And at the same time, not every girl wants a pave setting. This ring option is for her. With Milgrain metalwork on an otherwise plain shank, this setting can showcase a cushion-cut diamond up to 5 carats.
Want some sparkle with that? Consider pairing this with a pave diamonds wedding band. This lets her have the sparkle without it being overwhelming.
Final Thoughts
Although Kim Kardashian's engagement ring is stunning, you shouldn't limit your self to a style like curse. Not only does the average girl not get a marble-sized sparkler, but the ring should always be something that suits her style. You should also consider the potential significance of any ring design to your relationship. Remember, this is a sentimental piece of jewelry that she will cherish forever.
Also, if you don't see the right ring here, we can do custom work. With Clarity's experienced gemologists can help you pick the perfect diamond and design the perfect ring setting. Just give us a call to start the process.
Finally, never buy an engagement ring from a seller that you can't trust. You will pay a lot of money for this, and there's always the chance that she won't like what you get. On the other hand, you can be confident that With Clarity's flexible return policy will ensure that you get the right ring for the right price, hassle-free.
FAQs
How much does Kim Kardashian's engagement ring from Kanye cost?
It's often difficult to predict how much a celebrity engagement ring costs. However, experts estimate it cost between $7 and $8 million.
How many carat diamond is Kim Kardashian's engagement ring from Kanye?
Her first ring is 15 carats, and it's set in platinum. Kanye later gave her a 20-carat diamond as a present, but this was stolen.
What's special about a cushion cut diamond?
Its rounded corners and elongated shape are a lovely alternative to both oval and emerald cuts. Plus, cushion cuts have a unique look that many women love.
What does a solitaire engagement ring symbolize?
A solitaire engagement ring symbolizes that she's your one and only.