Best Engagement Rings for First Responders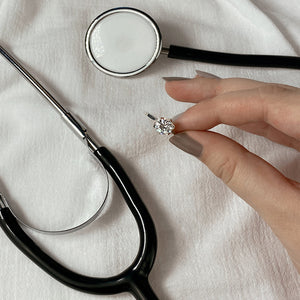 Dedicated first responders often spend their time dealing with challenging and harrowing situations. Wearing a diamond or colored gemstone engagement ring isn't prohibited, but some thought needs to be given to the style and design of the item.
Bulky, high profile diamond or gemstone engagement rings can cause problems, ultimately getting in the way, snagging, and catching. They are also more exposed to wear and tear and damage. Thankfully, there is a solution. First responders can opt for a low profile (or low set) engagement ring. These types of rings feature a setting lower in the band, with the head of precious stones sitting nearer to the finger.
Preview Engagement Ring Catalog
Introducing The Best Low Profile Engagement Rings
There are a number of low profile engagement ring designs you can go for. For example, some of the most popular designs include prong, bezel, and halo settings. You will also find a range of cuts, shapes, and stones. Diamonds are synonymous with engagements and weddings, but there alternative options such as sapphire halo engagement rings, or how about a There are a plethora of designs available, how about a or a rose gold emerald cut ring?
With Clarity provides a wide range of designs perfect for first responders. Our gemologists on staff recommend the round stone shapes or shapes where the points are covered with a prong. Let's explore some of the best engagement rings ideal for any first responder:
Top Tips on Buying the Best Engagement Ring
Opt for a ring with fewer accent stones: Choosing a ring with fewer accent stones will help to prevent snagging. For example, As a first responder, you don't want to risk snagging your ring on machinery, tools, or sutures. Wearing a low set ring reduces the chance of this happening.
Pick a solitaire center diamond / colored gemstone with round edges: If you go for a solitaire ring with a round or oval center, you won't have to worry about the edges. If you really want an emerald, pear, or marquise shape make sure prongs are covering the tapered tip. As first responders, you have to wear gloves and work with your hands. The last thing you need is a snag or stone chip from your ring.
Understand different stone shapes: When it comes to picking out a ring, one of the major decisions that need to be made is the shape of the stone. Popular shapes include round, princess, oval, and pear. Cushion, emerald, and marquise are less popular, but are just as beautiful, and can really make for a unique setting. It is also important to note that the stone shape can also influence the price of the ring, so doing your research is important!
Choose the material of your ring wisely: Metal strength varies from metal to metal, and as a first responder, you need something strong and robust. Read more about our metal setting recommendations in our next section.
Explore your options: You don't have to play it safe! Classic diamond-encrusted engagement rings are beautiful but why not consider something a little different? e.g., blue gemstones, pear engagement rings, emerald cut engagement rings, black diamond engagement rings, etc. These gems make for some of the best gemstone engagement rings!
Research Lab Created Diamonds vs Natural Diamonds: When purchasing a ring today, you also now have the option to go with a lab created diamond or a natural diamond. Natural diamonds are stones that formed in the earth, while lab created diamonds were created in a controlled lab. These lab diamonds have an identical physical, visual, and chemical makeup. However, lab created diamonds come at a cheaper price tag. Understanding the difference between these types of precious stones can make it easier to pick the perfect ring suited for you and your partner! Start your lab vs natural diamond research here.
All About Metal Settings
Silver or gold?
Silver is quite weak (you could end up with scratches and dings). Surprisingly, white gold can also be slightly weak too (in comparison to rose gold and yellow gold). However, you can alleviate this problem by ensuring your white gold ring is rhodium plated. This makes the ring stronger and more resistant to wear and tear). Fortunately, With Clarity's white gold engagement rings are all rhodium plated for strength and sparkle.
Platinum
Another alternative could be platinum. This dense metal that tends to be more resistant to scratching, however, will feel heavier on your finger. Platinum engagement rings are robust, and therefore are pricier than gold metal settings.
Titanium
Titanium is strong yet feels more lightweight than platinum. Moreover, this metal setting requires little to no maintenance. Titanium is another option, but might not be as resistant to bacteria as gold, silver, or platinum. However, we must stress that no metal can resist all bacteria. That's why first responders should take the time to clean their engagement rings carefully.
Rhodium
With Clarity adds rhodium plating to their white gold engagement rings. This provides added strength and a touch of sparkle too. The coating doesn't last forever, but With Clarity will dip your ring for free, re-coating it with rhodium as needed.
With Clarity Would Like to Thank First Responders
Above all, With Clarity would like to thank our community heroes for their continued efforts to keep us all safe and healthy. We would like to show our appreciation by offering an on-going discount to first responders, nurses, members of the military, and armed forces. The discount is valid towards necklaces, earrings, our Made For You Collection, wedding bands, and rings from our diamond, gemstone, preset, or custom ring collections. Therefore, upon checkout, the discount is taken off the total order value in your cart. More about ID.Me x With Clarity.
Start Your Ring Buying Journey