Best Engagement Rings for the Virgo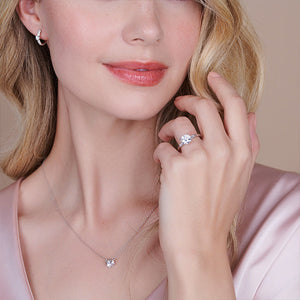 Know your zodiac sign? How about your loved one's sign? Sometimes your zodiac sign reveals clues about your personality. If you're in love with a Virgo, keep reading!
Virgos were born between August 23 and September 22. Virgo is an earth sign, and typically represented by the goddess of wheat and agriculture. This image speaks to Virgo's deep-rooted connection to the material world. Virgos are logical, practical, and systematic. Virgos are perfectionists at heart, so they're willing to improve skills through diligent and consistent practice. Virgos focus on every detail, and approach life to looking at the parts that make up the whole.
In terms of style, Virgos meshes well with their character traits: sophisticated, humble, and practical. They prefer color coordinating while wearing colored separates and classic silhouettes. Also like their personality trait, they want their style to be perfect and flawless. More simple than anything, virgos like a timeless, classic look.
Engagement Rings for Virgos
Now that you know more about Virgo personality and style, you might wonder how their style preferences translate to jewelry. We gathered some stunning ideas for the Virgo love in your life. Some of these settings also allow customization so you can select the carat size and cut of the center stone as well as the setting's metal (platinum or 14K or 18K yellow, rose, or white gold).
---
This ring has a fresh, nature-inspired look with delicate lily shaped petals curving up to cradle the center diamond. It's perfect for a Virgo earth sign with touches of nature in its design. This ring is practical, simple, and logical, just like your virgo. Customize with your choice of metal (platinum or 14K or 18K yellow, rose, or white gold) and the size of your center stone (0.3 to 10 carats).
---
The Virgo in your life will love this setting because it's classic, timeless and showcases a touch of nature. The center stone of this sparkling setting is held like a beautiful flower by the classic four-prong setting and leaf-shaped motifs. It features milgrain embellishment on the shoulders of the ring as well as pave diamond hemisphere rows which form a knife-edge along the tapered band. Select the cut of your center stone (oval, cushion, round, radiant, or emerald) in 0.7 to 5 carats. The setting has an additional 0.17 carats.
---
This detail-oriented ring is ideal for your detail-loving Virgo. This engagement ring is inspired by the Gerbera flower petals with its striking marquise-shaped, lab-created blue sapphire. The ring features a tiny detail that any Virgo would adore–a blue sapphire under-halo that adds a little extra touch to make this your must-have engagement ring. Available in your choice of metal (platinum or 14K or 18K yellow, rose, or white gold) with 0.10 carats in the setting. Select your center stone (oval, cushion, or round) and the size (0.5 to 5 carats).
---
This Star Halo Sapphire Ring would make a bold and beautiful engagement ring for your Leo. It features a shining circle of diamonds that surround the center blue sapphire gemstone. Each diamond is in an alternating size, forming a pattern that resembles a gorgeous star shape. The 0.35 carats of accent diamonds add both size and sparkle to this ring. It's a perfect and unique halo style.
This engagement ring would suit a Leo because they're usually social butterflies who thrive on appreciation and attention. This blue sapphire ring will be sure to ensure exactly that!
Virgo Engagement Ring Tips
As you shop for the perfect ring for your virgo, keep the following points in mind:
FAQs
What ring style would be best for a Virgo?
Virgos appreciate classic silhouettes, timeless looks, and simple styles. Rings that have delicate details would be good, but nothing that is overly dramatic or adorned.
Are vintage style engagement rings popular?
Vintage engagement rings, both replica and actual vintage rings, continue to be popular. They offer unique details and have character. Vintage-style rings are classic, timeless, and adored.
What kind of ring should you choose for a Virgo?
Virgos are an earth sign, so a ring with a touch of nature would be lovely. They like details, so rings with vintage details, such as milgrain, or settings with delicate details, would be perfect.
Which is the most practical engagement ring style?
Round, cushion, or oval are the most practical diamond cuts for engagement rings. Simpler styles, like a three-stone ring or a classic solitaire, are timeless, practical ring styles. Look for settings with delicate, simple side stones like marquise or baguettes.