Dinner Proposal Dos and Don'ts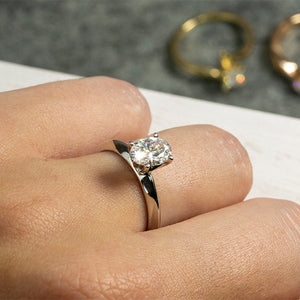 Even though you know this person and have been with them for a while, the prospect of spending your life with them can be both a nerve-wracking and exciting experience. You have been together for a while now and you know what you want, what you are feeling, so the next natural step is a proposal. A dinner proposal is one of the most common ways to propose to that special person in your life. You have bought the engagement ring; you have thought about it long and hard and have decided that you would rather do a dinner proposal. You have made up your mind, checked out romantic dinner ideas, but the next big question for you is "should I propose before, or after dinner."
TABLE OF CONTENTS
Proposing Before Dinner
A good idea would be to have a marriage proposal before dinner as it will remove every bit of worry and anxiety. Many have decided to "bite the bullet," and enjoy their dinner after the proposal, basking in the anticipation of what is to come later. Others choose to wait until after, but this comes with some amount of nervousness and anxiety. It takes away from the enjoyment of the food, because it comes with doubts, and wondering if the person will say yes, or no. If you decide to look at marriage proposal ideas, there are a few things to keep in mind. It is important to pay special attention to the timing and know at exactly what point in time you would like to propose. Some ideas that may work well:
Choose your location wisely; the place you first met can be a great choice.
You have the option of hiring a chef for your special date.
You can get live music and a photographer.
A dinner proposal does not have to be difficult. You have an idea of what to do, just ensure that you choose an intimate setting, make it beautiful and meaningful by adding your personal touches throughout.
Proposing with Dinner at Home 
Whether you choose you, or your partner's favorite restaurant, or an at home meal, you can make it special and intimate by adding a few personal touches. You can hire a personal chef, or cook the meal yourself. If you have never cooked before, just the effort you put out will be pleasing to your partner. The date you propose will be important, because it will go down in history. Whether that date is the anniversary of the day you met, or the day you first fell in love, make it meaningful by adding touches from that time. You can also add lights, candles or flowers to make it personal.
Including Family and Friends at the Proposal
Keep your friends and loved ones close- including them can make it a happy occasion.
If you plan to propose at home, ensure that they have the correct time you plan to propose. If they are unable to attend then you have the option of setting up a video call so they can partake in your joyful occasion. Including a family member or friend in the occasion will allow them to capture moments that would not otherwise be caught on camera. This is especially a good idea if you are proposing at a restaurant. Try not to rush your plans. Things don't always go as planned when there are multiple people involved. Take it slowly, savor the moments and if needed, postpone your plans to allow for additional planning. Be flexible, find alternative options if anything changes during your planning of your surprise. Enlist the help of close family and trusted friends who won't reveal the surprise. You can even get their help in choosing the optimal diamond engagement ring or even creating a custom diamond or gemstone ring.
Tips on Proposing
In addition to getting the correct ring size, you should also take into consideration, her personality and style preference.
When you choose the gem, ensure that it is the correct one. If your partner is conscious of the environment, then gifting them a lab diamond engagement ring is a great idea.
Getting an engagement ring with her birthstone, diamonds or sapphire can really add class to your choice.· Shop and propose with confidence by buying the engagement ring from a trustworthy brand that will offer a lifetime warranty and easy returns.
FAQs
Do you have to kneel to propose?
Whether or not you kneel should not make a difference, but women love the excitement that comes with kneeling.
Can I wear hoop earrings to work?
Yes, hoop earrings can be worn to work. Typically smaller or medium-sized earrings are more work appropriate rather than larger, more dramatic hoops.
Should the ring be in the box when you propose?
No the ring does not have to be in a box. Some of the best proposals include rings in cakes, flowers, drinks or food.
How long should you date before you get engaged?
There is really no time limit on how long you date before the proposal. It depends on what you are feeling and how well you connect with your significant other. There are people who date for a week to three weeks before a proposal, while others wait longer. It's entirely up to you to know when you feel ready.
Is it ok to propose at home?
You can propose anywhere you feel like, but an outdoor setting, or a more formal setting usually works best.