Diamond Engagement Ring Budgeting & Planning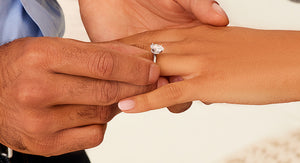 So you have finally decided to go ahead and tie the knot, or get married. There is an intimidating list of things to do, and chief among those things is securing the diamond engagement ring, because let's face it, every girl wants a diamond ring. There is something special and traditional about getting a diamond ring, however, there are lots of other options, including rubies, emeralds and sapphires that are also growing in popularity and are just as beautiful and classy. The ultimate choice depends on your own personal taste, sense of style, family traditions and most importantly… budget.
TABLE OF CONTENTS
The good news is that a diamond engagement ring is an investment. It represents a major expense in your life and is right in line with a car, a home, or college for the kids. It is also a significant part of the wedding journey and your lives together. It is as iconic as the question, will you marry me? So you don't want to get it wrong.
There are so many questions to answer:
What type of engagement ring should I get?
What type of stone would look best?
What about the design? Should it be contemporary or traditional?
Should I try to custom design one?
What's the average price and how much should I spend?
What type of engagement ring should I get?
Will I be able to afford the ring?
Average Prices For Engagement Rings
These are all reasonable questions and believe it or not the process does not have to be intimidating or difficult as long as you take it one step at a time. Unless you are uber rich, an engagement ring is not an impulse buy, it is something that you have to plan for in advance, so it is important to establish a budget before you decide to purchase one. On average, brides and grooms are both of the opinion that $5,300, or less is an acceptable amount to spend on a diamond engagement ring. $5,300 is the average expenditure, but that takes into account outliers as well (celebrity rings, etc.). Most couples spend substantially less and have stunning rings. You should take into account your finances, that is your expenses and your income, to arrive at a figure that you can comfortably afford. You can put in a little over time, depending on the time that is available to you. If you plan ahead then you will have more time and can save a smaller amount for a longer period of time. Proposing for marriage isn't something you plans for years, therefore, once you've decided, it is important to begin saving up and maintain discipline so you're not breaking the bank. It takes on average between 2-3 months to make an engagement ring purchasing decision. That's how long you should try and save for to accommodate your budget.
It has been said that an engagement ring should cost about two or three months salary, this really came about as a marketing idea that folks adopted and some people still use it as a guide today. It also answers a difficult question with a simple answer, even though the answer may not be so objective. The truth is there are no rules, it depends on what you can afford and of course your personal preferences. There are individuals who wish to splurge on their big buy, they want to sacrifice a lot and the extra cost and effort is worth it to splurge on their dream of giving, or receiving a diamond engagement ring. In order to be less ambiguous, we'll say you should spend about 10% of this year's post-tax annual salary on this lifelong heirloom purchase. The value is in the commitment, mostly.
In order to arrive at a reasonable budget for your diamond engagement ring, you will need some basic knowledge, so it is important to shop around and have an idea of the prices and the options that are available. Details such as the setting, the size and color of the diamond, as well as the type of metal and the overall style and size of the ring, can make all the difference in the final cost.
Designing Your Own Ring
You might have a family heirloom that can be reinvented or updated. The setting can be changed and your ring will look as good as new, but still have tradition and history behind it. This can also be an excellent opportunity to save some money on your engagement ring. If you have ideas, then you can work with your jeweler. If you have to save towards that perfect diamond engagement ring then it will well be worth it.
Halo Settings
A larger diamond in the center with a sprinkling of smaller diamonds surrounding it is known as the halo effect. This setting tends to be more traditional or vintage. It really augments the visual appeal of the center diamond by making it look substantially larger than its carat weight may depict.
Prong Setting
A smaller diamond can be showcased by using a prong setting or a stunning diamond emphasized and put on display. This can be a solitaire ring setting where only a diamond sits above the band as a standalone piece. It can also be a ring with accent diamonds on each side of the center stone located on the band itself.
Colored Diamonds
A new trend that is growing in popularity among the wealthy, is colored diamonds, but these can be very expensive. If you are working with a budget, the same effect can be achieved by using colored gems. Another cost saving option is enhanced color diamonds, these are treated in a lab to enhance the clarity and color of the stone and can give great value for money.
Metal Alloys
Gold is still a very popular option and has many different alloys and colors, the most popular being yellow gold and white gold. 24 karat gold is pure gold and is the most expensive, but is usually mixed with other metals for it to be durable and strong. Next in line is the 18k, 14k and 10kt. The cost goes down according to the amount of karat. Other options, include platinum and silver.
Armed with knowledge and proper planning, you are ready for the real deal, it is time to visit the jewelry store. Be prepared for an amazing display of the shine and brilliance of a jewelry store, as it can be overwhelming. There is a very good reason why they say diamonds are forever and diamonds are a girl best friend. Take it all in but don't get too distracted, remember your budget and what you are shopping for.
FAQs
How much does a diamond cost?
The price of a diamond depends on the cut, color, clarity, and carat of the stone you select. A natural round diamond of about 1-carat weight in a round shape would be around $5,000 while a lab grown diamond of about 1-carat weight in a round shape would cost around $1900.
How much does a 1 carat diamond ring cost?
A 1 carat diamond ring in a round shape will cost around $5500 dollars if it is of a natural origin while a lab grown diamond ring with the same parameters will cost approximately $2400 dollars.
What is the budget for an engagement ring?
An engagement ring budget depends on an individual's personal tastes and preferences but to offer a ballpark, many opt for the rule of 3 months salary. However, it is a myth that there is any set budget around engagement rings and diamonds. Start by thinking about carat size and work your way into a budget from there, adjusting as needed.
Are lab grown diamonds less expensive than natural diamonds?
Yes, lab grown diamonds are about 40% less expensive than mined diamonds simply because they are grown inside a lab, which cuts down the labor, supply chain and transport around the world.