Settings That Look Amazing As Yellow Gold Pear Shaped Engagement Rings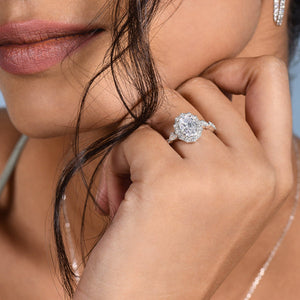 If you believe that fortune favors the bold, you'd might be drawn to a yellow gold pear-shaped engagement ring. A pear-shaped central stone has a number of beautiful qualities, chief among them its ability to turn heads on an engagement ring. (Just ask Elizabeth Taylor and Victoria Beckham, two style icons who attracted headlines for their pear diamonds.) The distinctive shape makes for a truly unique ring, and it's especially flattering on the hand: Many brides-to-be love the pear because it elongates the fingers.
Pairing the stone with a yellow gold band is a natural combination. Pear-shaped diamonds can read as both modern or vintage; likewise, yellow gold's main feature is that it lends an antique vibe, so you can combine modern styles with old fashioned elegance in one setting. And the variety of available settings might surprise you.
Read on for the most important things to remember when shopping for yellow gold pear-shaped engagement rings, and browse ten of our favorites.
Shopping for a yellow gold pear shaped engagement ring
Diamonds are often described as "icy" or flowing like water. The pear cut is a perfect representation of that concept. Because of its unique shape, the pear reflects the light a particular way; when it comes to the four Cs, you'll want to pay a bit more attention to this diamond's color. In fact, it's the most important consideration when shopping for a pear-shaped engagement ring, because color will saturate in the diamond's point.
When shopping for a pear cut engagement ring, look for a more rounded base and even shoulders to the stone. Those aspects give the stone a more consistent shine. Be wary of elongated pear cut diamonds; although they may make the fingers appear even more slender, particularly long shapes might be faultily cut oval diamonds. Not that there are any rules against it! As with any diamond, it's all about your personal preference. For more information, check out our comprehensive guide to shopping for pear-shaped diamonds.
Choosing between 14K and 18K yellow gold pear shaped engagement rings
If you've settled on a yellow gold band, you have one more decision to make: Do you go with 14K or 18K gold?
Many people don't realize they're different shades, and the choice is an easy way to personalize your ring. An 18k yellow gold engagement ring will have a richer and deeper gold look than 14k, which has a tendency to look whiter.
There's also a difference in durability. Strength-wise, 14k is stronger than 18k because it's made with a heavier mixture of metal alloys. 18k gold is also more likely to scratch than 14k gold, because it's closer to the softness of pure gold. That's not necessarily a bad thing; the effect is called "patina," and many brides-to-be love the vintage look it creates. Read more about how to choose between 14k and 18k yellow gold for your engagement ring.
Top yellow gold pear shaped engagement rings
Pear shaped diamonds have undeniable romance. But that doesn't mean every yellow gold pear shaped engagement ring is the same style. Check our 10 of our favorites below. You'll see that even with this same diamond shape and metal combination, one ring can look dramatically different from the next. And that means you can find the perfect ring to suit your style.
Diamond Basket Solitaire Engagement Ring
This stunning pear-shaped engagement ring is held in a "basket" studded with accent diamonds, along with diamond studded prongs, which beautifully highlight the center stone's sparkle and shape. The band is domed but straight on the sides for a modern edge that keeps the simplicity from feeling old fashioned.
Cathedral Pave Diamond Engagement Ring
A traditional cathedral setting, accented with 0.16 carats of pave-set diamonds, rises to meet the pear-shaped diamond, securely held with elegant prongs. The band is wider, though not one of our widest band engagement rings, for a sturdy setting you know will always cradle your center diamond with care.
Vine Diamond Engagement Ring
Vine-shaped bands are known for their romantic vibe, and this is no exception. One gold and one diamond-studded vine intertwine to create a stunning look. We have similar settings with bigger accent diamonds (some people prefer that look), but we love how these delicate bands flow gracefully around each other.
Coil Accent Diamond Engagement Ring
A slim coiled band achieves maximum impact, courtesy of more than two dozen inlaid accent diamonds. You're going to love the top and profile of your ring with this band that lends a different look from every angle for visual interest that doesn't go over the top.
Rising Accents Diamond Engagement Ring
In this truly unique design, elevated rows of accent diamonds (measuring 0.20 cts) rise toward your center stone. Accented indeed. You'll want to examine your ring from every angle with this one. From the top the diamonds look inlaid, but you'll see their magestic rise upward toward your center stone from the side.
Widening Solitaire Engagement Ring
Minimalist style, maximum elegance: This sleek, polished band widens near the classic solitaire setting for a sophisticated look. We think this band pairs particularly well with a pear shaped diamond because the subtle curve emphasizes the curved shoulders of the glimmering stone.
Five Stone Diamond Engagement Ring
Four fiery accent diamonds flank a central pear, creating a distinguished look and a field of sparkle. Three stone engagement rings might be classic, but brides-to-be who love a bolder look shouldn't settle for less sparkle than they've dreamed just because of tradition. For them, only the five stone setting will do.
Pear Pave Halo Diamond Engagement Ring
A central pear-shaped diamond gets a romantic boost from pave set diamonds in a sparkling halo, and a diamond-accented gold band. The look isn't just an elegant classic. We also love how the halo gives your central diamond, with its delicate point, protection so it stays as perfect as the day you propose for a lifetime.
Twisting Vine Diamond Engagement Ring
Intertwined bands — one metal, one diamond-accented — rise like a ribbon up to a central pear-shaped stone. Think of this setting as the cousin of the previously mentioned Vine setting. On this one you'll find thicker bands, larger accent diamonds, and a greater arch as the bands flow around one another.