GMA3 | With Clarity Surprise Proposal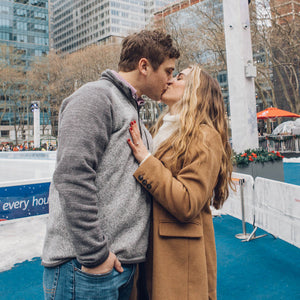 Before we wrap up 2020, we want to share this special collaboration we did with GMA3. Without giving away too much, we helped pull off a surprise proposal for a very well-deserving couple.
Read more about this #MyWithClarityStory proposal below.
Backstory
Corinne and Casey have been dating for six years. Actually, for the past year, Corinne has been dedicating all her time to working on the frontline as a healthcare worker. As a nurse, Corinne has seen and cared for numerous covid-infected patients during the pandemic. At one point, Corinne tested positive and quarantined with her now fiancé.
After three and a half weeks of being symptomatic and quarantining with Casey, Corinne thankfully healed. Throughout these past months, Casey ultimately realized that Corinne's generous nature is something he would want for a lifetime.
How the Surprise Proposal Happened
How did Casey ask? Watch the GMA3 segment here! Hint, hint, Casey chose their favorite place to go during the holiday season.
The Engagement Ring
Corinne and Casey's proposal featured our Poise Basket Diamond Engagement Ring. This ring style from our Solitaire Collection is a popular choice. Solitaire engagement ring styles are classic, versatile, and have been worn for centuries. Read more below about the details of Corinne's gorgeous engagement ring:
1.28 cts round diamond
J Color
VS2 Clarity
Excellent Cut
Platinum metal setting
Here's to new beginnings! Thank you to all those who have been working on the frontlines during the pandemic. Lastly, a huge congratulations to the happy couple Corinne and Casey. We are so grateful to have been a part of the start of your forever love.
Interested in getting featured? Email us at service@withclarity.com. Or send us a direct message to us on Facebook or Instagram.