Here's Exactly How to Buy An Engagement Ring Online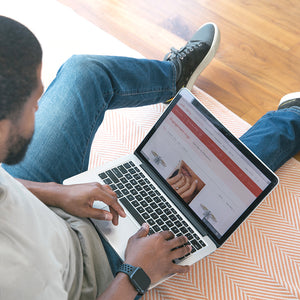 ---
Determine your budget
Before you start the adventure of researching a ring, determine how much you'd like to spend. In the average brick-and-mortar jewelry store, people spend about $5,000 on an engagement ring. First, you ain't at a brick-and-mortar store, wise one. Second, budgets and financial obligations vary widely. Maybe, for example, the two of you are looking to buy a house shortly after you get married. We don't expect you to ignore that because some antiquated engagement ring "rule" said you should spend a certain amount (more on that soon).
If you have an idea of what she might want in terms of size, shape and style, you can start your research there. Otherwise, think about a number that would be comfortable for you to spend. Weigh your daily expenses, and long-term goals to understand how much you should spend and how to align your finances.
Budget myth: Spend two months' salary
Your father or grandfather might have told you about the standard back in the day: Prepare to plunk down two monthly paychecks on your engagement ring. (That would be four biweekly checks; there were no loopholes.) They also walked to school in the snow two miles each way and still don't know how to send DMs properly. In other words, the two months' guideline no longer applies.
You should spend as much on an engagement ring as you (and your student loan balance or mortgage) find comfortable. Not quite sure how to figure that one out? We pulled together a guide for that. Read more here about How to Pick Your Engagement Ring Budget.
Buy the ring as a couple?
Here's something that'll really blow grandpa's mind (if you must tell him, sit him down first): More and more newly engaged couples are shopping for the ring together, and some are even splitting the cost. According to a 2017 survey by The Knot, a full one-third of couples are shopping for the ring as a team. And that number is growing. We're not saying you need to follow suite, only that you can. Thinking about it? Here are some helpful tips on How to Buy An Engagement Ring As a Couple.
---
How to get started: Know the 4C's
You could study diamonds for months, even years. Trust us, our expert gemologists have done it. But to make an informed decision and get a beautiful stone for your engagement ring, you really just need to understand the 4Cs of diamonds. (For all the nitty gritty, you have constant access to our team of expert gemologists.)
We have extended guides to each of these diamond characteristics, but it's important to know that you might have to do some compromising if you're working on an engagement ring budget. But that doesn't mean you can't get the gorgeous diamond of your dreams. A good place to start is ensuring that you find an online jeweler that's clear about where their diamonds are certified and provides the independent grading reports for you to review.
Once you understand the 4Cs and how they each affect the look and brilliance of your diamond, these reports are a great source of information. But a quick note because we can't resist: We suggest never compromising on cut. More than any of the other Cs, this one determines how your diamond bounces light around — simply put, it has the most control over how the stone sparkles. And when you think of a diamond ring, that's probably the first thing you have in mind.
---
Then, figure out her style
So how do you decide which type of ring will be the perfect match for her? Piece together what her style is like. Try to observe what she wears on a regular basis, what she wears on a night out and what her taste in jewelry is like. Check out her Instagram and Pinterest feeds for helpful hints. If she likes a particular metal color such as rose or yellow gold, you can consider getting a setting of that kind. If she's a fan of vintage and 50's inspired or Victorian designs, try a vintage-inspired style. If her personal aesthetic is understated, a classic ring with a few diamond accents might be perfect.
Use her hints and advice from loved ones to ensure that you understand her style. You can use With Clarity's Wishlist feature to save rings you're thinking about, then share them with close family or friends to get their opinions. Hint: Moms and sisters are generally good bets since they've been around your loved one, and seen her style develop, the longest.
---
Comparing styles
Browsing through sites and catalogs can help, but the biggest hurdle when buying an engagement ring online can be the try-on. With Clarity lets you see 3C printed replica rings in person and try them on with free Home Preview. You can see two ring styles at a time at home to compare, and decide which looks like a good match for her taste. (You're more than welcome to select two more once you return the first set. Sometimes these things take time, and we get it.)
When buying an engagement ring, we recommend going with styles that are timeless. The key is to determine which style elements she would love the most — sometimes it's an elegant cathedral head or a diamond accented band. Educate yourself on the varieties: Read more in our Rings 101 section to get started.
---
Make your selection
Once you feel comfortable with a jeweler and their selection, it's time to choose the ring. If you need help narrowing your diamond options, feel free to reach out and ask. Oftentimes, diamonds can be difficult to understand at a glance, so having an expert walk you through the GIA certificate can be a great way to feel confident about the look and sparkle of the diamond. Once you feel confident, make your selection.
Sizing and resizing
As for sizing, you can enlist the help of a friend or family member to find out her ring finger size. You can also measure a ring that she currently wears and gauge by the millimeter what her size might be. You can ask her, if subtlety is one of your strong suits. And you can choose a jeweler that offers free resizing, like with clarity. last tip: Don't rush it. Give yourself at least three weeks before you plan to propose, so you have enough time to get the ring shipped to you. Once you're done shopping, you can sit back and plan the perfect proposal to sweep her off her feet. Good luck!
FAQs
Should we buy the engagement ring as a couple?

Yes, there is no reason why you should not buy the engagement ring as a couple. It takes the stress out of buying the perfect ring, as both parties can weigh in and find the perfect one together. It will also set a base for all future activities you will perform together as a couple, making ring shopping a fun and memorable experience. 
How to buy the perfect engagement ring online?

It is advisable to shop from a reputed and trustworthy brand, such as With Clarity, where you can explore an extensive range of designs and even try Home Preview for two of your favorite rings. You can also consult with their team of expert gemologists to help you find the right piece within your budget. No matter which brand you pick, make sure to check the certificate of authenticity and the return policy to ensure a smooth and hassle-free online shopping experience.
How do I compare online engagement ring styles in person?
Opt for a
home preview service
to see 3D-printed replicas of the styles you have liked. Many online stores, such as With Clarity, offer a free home preview service where you can select two ring styles at a time to see, touch and feel before you decide.
How long will it take to get an engagement ring ordered online?

The ETA of your engagement ring varies from brand to brand. At With Clarity, we take about two weeks to deliver the ring to your doorstep with insured shipping.