Ring Resetting Guide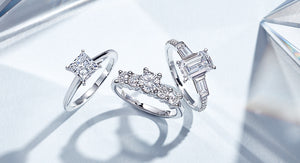 Although many people who reset their rings do it because the piece has become worn, there are a number of scenarios in which resetting is desirable. Perhaps the wearer inherited a setting that doesn't match her style, or maybe she's grown tired of the setting she originally chose. Most commonly, diamond rings are reset because of damage. If a ring can't be spruced up after being damaged, a reset engagement ring might be the only option.
TABLE OF CONTENTS
Reasons to Reset a Ring
Many women who get divorced or curtail an engagement may want to save their diamonds. They reset the gems in a new ring or pendant to save the diamonds but make them look completely different. However, once a diamond is reset, the value of resale goes down significantly. So it's suggested that if the wearer is not completely attached to that particular diamond that she sell it instead.
Before resetting a diamond, a company may require an appraisal. However, not all resetting companies require this paperwork, and it's recommended that every customer seeking a reset fills out this paperwork on her own.
Ring Resetting Options
What does a typical reset diamond engagement ring look like? There are a plethora of options. Commonly, women may choose to reset their center stone and add accent diamonds to the band. By switching up the setting, the ring is still a variant of their original, and accent diamonds simply add a touch of sparkle. Other women with a solitaire ring may decide to add more diamonds. With this option, it is common to see a reset with two more center diamonds to create a three-stone engagement ring that symbolizes all of the couple's love: past, present, and future.
Sometimes, as a marriage progresses, women gain the ability to afford a larger diamond. In this case, a reset usually entails keeping the same setting style, just adding the larger diamond; some women may add additional diamonds to complement their larger center stone. Another common reason for a reset is inconvenience: A woman with a higher set stone may find that it snags on clothing and and opt to lower it. Still another option for resetting diamond rings is to add a pop of color; colored gemstones are trendy today, and they can make a setting look up-to-the minute but still similar to its original style. But some women may not want to retain any aspects of the ring. In this case, many women opt to keep the diamond to make the ring more affordable, but add a more detailed band with several additional stones.
Cost of Ring Resetting
The cost of resetting an engagement ring varies depends on a number of factors: The choice of jeweler, the size of the diamonds, and any additional diamonds or changes the buyer wants. A wedding or engagement ring reset can cost anywhere from $80 to about $250. If you're looking to reset more simplistic jewelry, such as earrings, the job may only cost $125. (These are all estimates; there is no set price to reset a ring.)
Any ring can be reset, but some are more complicated jobs than others. More complex pieces of jewelry will likely cost more to reset. If you're thinking of resetting your ring, here are a few tips: First, get an estimate. Since there are so many variables involved in a reset, you may be charged more at some jewelers than others. If cost is an issue, seek out multiple jewelers before resetting.
One final tip: If the ring is an heirloom, unsetting the stone may cause damage, so it's a good idea to consider whether that possibility is worth resetting the stone.