Engagement Rings Inspired by the Art Deco Era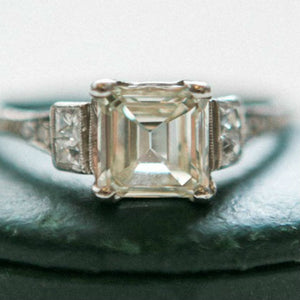 Art deco rings are valuable pieces of jewelry that are high in demand. They were made during an historical design period, which reflected a growing popularity, especially among the younger population. It depicts a surge in social freedom, optimism of the economy booming, modern technology and artistic times. Any type of ring that has an intricate design is suitable for an antique art deco engagement ring. If you are a fashionista bride, or just a bride who loves beautiful things, and rings, then a vintage engagement rings art deco is the ideal addition to any jewelry collection.
Having a few rings in different types and colors can accentuate any jewelry box and give the owner a choice of jewelry when she changes outfit. Having several rings is not an issue, because of the many types, sizes, colors and dimensions of rings, and especially in the genre of art deco. Many art deco emerald engagement rings are clean-cut and stylish, while the others have different patterns. The choice is ultimately yours and based on your ring choice. When you are in the market for art deco rings, you are getting rings that are from a period called the 'art deco' period. This was from the early part of the 1900 to the 1930.
France was the first country to introduce the art deco rings and this period began sometime in 1920. In the USA, the period began much later, but was soon made popular. Artists who specialize in art deco engagement ring settings are inspired by many things. Greek, Mexican, Aztecs, and Indians are some of the nations that their inspiration came from. From this inspiration, came art deco rings with huge diamonds, or replicas thereof, as this was solely dependent on the cost. Because of the volume of art deco style engagement rings, there is always a way to find an economical one that is well within your budget and your taste.
People who dislike large diamonds can get one with a smaller stone. Art deco rings come in different styles, so there is no distinct look. The makers choose what they want to make them look like. If you are especially interested in finding out about art deco diamond engagement rings, it is easy to find information to guide you as you purchase. Art deco engagement rings are especially beautiful and can be somewhat expensive, but for the bride who wants one, it will not matter to them in the least. As long as they are able to show off their art deco rings. Anyone can afford art deco sapphire engagement rings, as there is no limit on the amount of money one should cost.
Whatever your taste, you can get it in art deco rings. When purchasing your ring, you have to remember to stay within your budget and be disciplined. Art deco rings are available and are in line with any budget. No matter the cost, the sight of the art deco rings is enough to get anyone excited. These rings are by far, one of the most popular choice of rings for an engagement. These art deco rings are perfectly symmetrical, beautiful and elegant. Choosing this ring will ensure that the woman who is receiving it will remain happy until her wedding day and will be the envy of her friends.