Princess Cut Three Stone Engagement Rings That Celebrate This Angular Beauty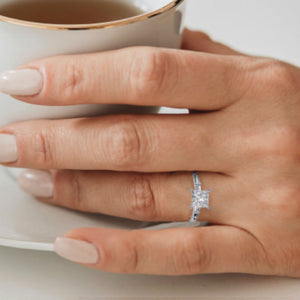 Are you the type of person who likes to cover all of their bases? If so, a three stone engagement ring — otherwise known as a "past, present and future" or eternity ring — might be for you. Three stone rings are trending right now, particularly princess cut three stone engagement rings. The classic princess cut (a square or rectangle shaped stone) looks beautiful as the central stone in a three-stone setting, a combination of classic, trendy and symbolic. There are some important things to know as you consider a princess cut three stone engagement ring. Here are the most important.
---
Things to consider as you shop for a princess cut three stone diamond ring
Although selecting a princess cut three stone ring sounds simple enough in theory, there are a couple factors that drastically change the look of the ring overall. We've outlined the biggest ones below, but keep in mind that our on-staff gemologists can help you figure out many of these things if it starts to feel overwhelming.
But before you dive into the nitty gritty of hunting down the right diamond ring, why not focus on something fun? Though three stone diamond rings are frequently called past, present and future rings, they need not stand for these exact things. What do you want your three stones to stand for? Although this style has a traditional meaning, the stones can stand for anything — and that might even be a good thing to work into your proposal.
Get picky about your princess
Although perfectly square princess cut diamonds are the most popular, other ratios are available. A princess diamond can also be rectangular (which has the benefit of seeming to elongate the fingers and hand). The "right" one to choose depends only on her style preferences. Just make sure you know what her preferences are, or have access to a really good source of information like her mom, sister, or Pinterest wedding board.
Know how she feels about stone size
Princess cut diamonds hold their weight in their belly, meaning that their measurements are smaller than other diamond shapes at the same carat weight. If you know she prefers a sizable stone, that's important to consider and budget for. You can compromise on some of the other 4Cs of diamonds in order to get a larger stone. We simply suggest keeping your standards for cut high, since this is the characteristic that has the biggest impact on sparkle.
Consider your diamond's sidekicks
To create the three-stone setting, you can match your brilliant cut princess diamond with either step cut or brilliant cut side stones. Some brides-to-be like to mix, opting for traditional baguettes, while others like them to match. Having a good idea of what she likes — minimal, uniform, eclectic? — can help you choose a setting. We even have multiple settings that use princess cut diamonds as side stones if your future fiance is a princess fanatic.
---
Top princess cut three stone engagement rings
The princess cut three stone rings below represent just a small part of our collection, but we wanted to highlight these since they're some of our personal favorites and top sellers. Even if you don't find the one within their ranks, you can use them as guides for figuring out which elements of different designs you like and want in your ideal setting.
---
Simply elegant. This three-stone diamond setting with accenting baguette side stones makes a clean, classic statement.
---
This ring sparkles with distinction: triangular brilliant cut diamonds and pave accents stylishly accentuate your center stone.
---
This classic three stone style perfectly accentuates the center diamond. The petite band is perfect for a focal stone of any size.
---
This elegant three stone setting features 0.28 cts of princess cut diamonds that complement a center stone of any shape or size.
---
Two beautiful pear shaped diamonds offer an elegant variation to a classic three stone diamond ring.
---
Truly unique. Subtle split shanks connect to side stone halos; the distinctive accents emphasize your center diamond.
---
This classic three stone style turns up the sparkle, with tapered baguette side stones and a band inset with round pave accents.
If you haven't found "the one" in our collection, but know your special someone wants a princess cut stone, browse our entire range of settings with princess diamonds. Some of our more modern styles skirt the line between three stone settings and other styles, making them hard to categorize. You might find that one of these more unique looks captures your future fiancé's preferences perfectly.