Guide to Chandelier Earrings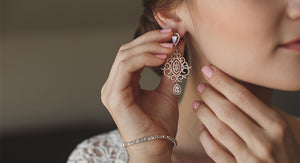 Chandelier earrings continue to be a popular choice because they're glamorous, available in many options, and go with everything–from day to night. Keep an eye out because you'll see them on celebrities and regular people–they're a popular style for everyone. Continue reading to discover popular styles of chandelier earrings, metal options for your taste and budget, and some helpful hints to select your perfect pair.
Examples of Chandelier Earrings
Like the name implies, chandelier earrings look like miniature chandeliers with tiers of eye-catching details and sparkling gemstones. They are wider than typical dangle and drop earrings. Diamonds are the gem of choice for chandelier earrings–whether earth-mined or lab created depending on your budget and preferences. You can pair larger earrings with simpler earrings if you have multiple ear piercings.
When selecting chandelier earrings, keep your style and occasion in mind. Then length and shape matter as well as the level of adornment. Larger and more sparkly earrings work well for special occasions and nights out. Simpler, smaller chandeliers can be worn both day and night.
Floral Chandelier Earrings: Delicate flower shapes and pearls add drama to these luxurious, long earrings. These would be great for a special occasion like a wedding, a date night, or a night out on the town.
Gold Vintage Inspired Chandelier Earrings: Vintage-looking earrings continue to be popular, and this is a timeless choice. Varying-shaped diamonds are stacked together to form these eye-catching chandelier earrings. These earrings are versatile and can be worn for day, night, and special occasions.
Teardrop Fringe Chandelier Earrings: These earrings feature a tear-dropped shaped wire with cascading metal fringe hanging from it. The length of the earrings make a statement! They would work well to wear to brunch, date night or a night out with friends. The fringe makes it a versatile style perfect for plenty of use.
Metal Options
Chandelier earrings are available in many different types of metals to suit your style and budget:
Yellow Gold: This metal is best for someone who has a classic sense of style. It's strong, durable, and classic, and typically is in 14K.
Platinum: If you're looking for a hypoallergenic option with a classic, sophisticated look, then platinum is an ideal choice.
White Gold: 14K White gold is a popular choice because it's a nice alternative to platinum, that offers a radiant silvery-white shine.
Rose Gold: This 14K metal has a warm, pinkish tint and has grown more popular recently. As a result, it's great for someone with a modern sense of style.
Sterling Silver: Sterling silver is more affordable than the other metal options and offers a high, silvery shine.
Helpful Hints for Selecting Chandelier Earrings
You have plenty of available options, but here are some helpful hints as you browse chandelier earrings.
Choose a style that complements the shape of your face. For example, broader chandelier earrings in a medium or short length look best with someone with a longer, thin face. And slim and long chandelier earrings will look best on broad, round faces because they elongate the face.
Choose a hairstyle that will draw focus to your chandelier earrings. You don't want your earrings to get tangled in long hair. While shorter hair doesn't need to be pulled back, long hair can be so that you can see the earrings better and your hair will not interfere with your dazzling earrings. For example, a messy bun or a high ponytail complement larger, longer earrings like chandeliers.
Keep your budget in mind and pick the metal and style accordingly, as this feature affects both the appearance and cost of the bangle. More adorned earrings will be more expensive, but simpler versions are more affordable. In addition, metal options like platinum can increase your budget as well.
For gifting, consider the person's personal style preference in mind. Observe what type of metals and styles of jewelry they wear most often. Do they attend a lot of special occasions and events, or tend to stay in?
Buy from a reputed brand that offers easy returns and exchange if you're dissatisfied with the product or have an issue.
FAQs
What is a chandelier earring?
This style of earrings are long, ornate, and dangling earrings that can feature gemstones, beads and a variety of tiered configurations. They're glamorous, luxurious and often feature gemstones like diamonds (earth-mined or lab-created diamonds). They draw attention to the face and are typically wider than dangle and drop earrings.
Are chandelier earrings in style?
Yes, chandelier earrings are a classic, elegant style that is always fashionable. They are versatile in terms of style options, go with everything and can be worn day to night. They complement facial features, draw attention to the face and bring glamour to any outfit.
Which is the best gem for chandelier earrings?
Chandelier earrings work well with a variety of gemstones. Popular choices include diamonds, ruby, aquamarine, amethyst, blue sapphire, moissanite, topaz, peridot, and black diamond. The most popular gemstone for this earring style is diamond.
Can I wear chandelier earrings with my bridal gown?
Chandelier earrings compliment your bridal gown–especially if your dress is strapless or features a sweetheart neckline. These earrings look luxurious and draw attention–especially if they're adorned with diamonds. If you choose chandelier earrings for your wedding day, your other jewelry can be more simple. You might not need a necklace if you wear larger, more dramatic earrings.