Bracelets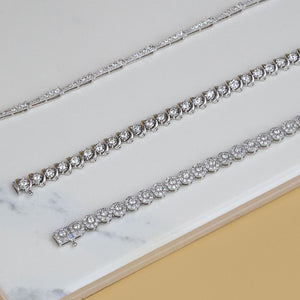 For many of us, that go-to piece of jewelry is a ring, pendant, or pair of earrings. However, over the centuries bracelets have taken many different forms and been very popular with both men and women. Let's take a look at the various types of bracelets, along with contemporary gold diamond bracelet examples.
History of Bracelets
Bracelets are an ancient form of jewelry. In fact, archaeologists have found examples of them which date from prehistoric times. Originally, they would have been made with simple materials. Iron, copper, bronze, and even stone formed the oldest forms of the bracelet. Besides being worn at the wrist, bracelets have been designed for the upper arm and sometimes went up the arm in one piece. Some were decorative, while others served a variety of functions from spiritual or ceremonial all the way to ownership for slaves or status symbols in elite levels of society. From this, we can see the huge diversity of bracelets throughout history.
History of Diamond Bracelets
Why diamond bracelets did not exist before the 16th century
Diamonds were first found in India in around 800 BC, then exported starting in 300 BC. Ancient Egyptians and Indian cultures wore fancy bracelets, but we don't have examples of a diamond bracelet that early. In fact, Until the modern era, diamonds had a distinct disadvantage over other gems: they were difficult to cut into facets. As a result, they were less popular than their colored gem counterparts. This changed, of course, with the development of more advanced diamond cutting equipment. Prior to that point, we don't have much evidence that diamond bracelets were a popular option. Fortunately, this would change in the 16th century.
Who first wore diamond bracelets
Once diamond cutting became more sophisticated, people started putting them in bracelets. In fact, the British and other European royal families have been regularly seen wearing a gold and diamond bracelet. Combined with a necklace, ring, and earrings, a real diamond bracelet can be considered part of a "suite" of jewels. Queen Victoria wore plenty of these, as have her successors and their wives. In India, royals are known to wear a men's diamond bracelet.
Modern-day Diamond Bracelet Popularity
Of course, now that it is popular to wear a 14K gold bracelet with diamonds, you can see them everywhere. For instance, in the 2010 Oscars, various actresses wore a wide variety of these bracelets. Mariska Hargitay wore a chunky white gold diamond bracelet fashioned to look like large links. Sarah Jessica Parker also wore a bezel diamond bracelet, which was stacked with others to make a bold statement. And, the most expensive diamond bracelet for women is associated with royalty. Wallis Simpson, the wife of Edward VIII of Great Britain, had a Cartier bracelet with hundreds of white diamonds and other gems. Its price at auction? Over 5 million dollars in 2010.
Types of diamond bracelets
Like other kinds of jewelry, diamond bracelets come in many shapes, types, and sizes. Here are a few options if you want a diamond bracelet.
Wrap bracelets
These are a type of bracelet that wraps around your wrist. Typically, they do not have a clasp on the ends. Rather, the bracelet is put on by wrapping the end around your wrist like a coil until the wrist goes through the entire bracelet. These have the look of a cuff or series of small bangles but are essentially one piece.
Cuff bracelets
If you want a one-piece real diamond bracelet, check out the cuff. These are a single piece that wraps around your wrist, but they have an opening at the back. In order to put one on, you squeeze your wrist through the opening. Designs can be quite heavy and thick or could be a dainty diamond bracelet if thin enough. Usually, the bracelet can be adjusted easily due to its malleability.
Bangle bracelets
Bangles are best known for being a circular design with no clasp or opening in the back. In other words, they're like an oversized band ring or hoop earring. With bangles, you have to squeeze your wrist through the center. Bangles are often stacked together to create a chic and elegant look.
Link bracelets
If you've ever worn a watch with a non-stretchy metal band, chances are, you've worn a variation of a link bracelet. These are bracelets where multiple pieces of metal interlock to form a chain. Sometimes the links are joined with pins like you normally see with a watch or men's real diamond bracelet. In other situations, the links form a more traditional chain. Another form of a link bracelet is a diamond bar bracelet.
Tennis bracelets
For many of us, the term "tennis bracelet" is nearly synonymous with diamonds. Originally referred to as in-line bracelets, these are composed of identical links containing stones. Some include larger amounts of precious metals. The number of diamonds varies based on the length of the bracelet, the size of the diamonds, and the amount of gold in each link. First released in the 1920s, the gold diamond tennis bracelet is still popular.
Choosing the right diamond bracelet
Before you begin choosing a diamond bracelet, it is important to know how much you want to spend. Prices vary widely: a dainty diamond bracelet in sterling silver can cost a few hundred dollars, but that yellow gold diamond tennis bracelet with 10 carats or more is going to be tens of thousands. We've even heard of bracelets going for a million dollars plus with gold or platinum settings.
Style recommendations
Make sure that the style of bracelet matches the person who will wear it. For instance, a real diamond bracelet men's will likely be a cuff or a link style. These tend to have clean lines and minimalist styling. However, a men's diamond tennis bracelet isn't unheard of. In this case, you might consider smallish diamonds in larger links of gold or silver.
For women, there are more options. If she is a fan of simple, yet elegant styling, then consider a women's diamond tennis bracelet. For the romantic, think about a trendy rose gold diamond tennis bracelet. Romantics might enjoy something like a diamond bracelet, maybe one with a heart motif. We recommend looking at the kind of jewelry that she wears and choosing something that would match or complement her personality and jewelry collection well.
Tips about bangles
Bangles have a wide range of styles and sizes. To choose the right one, you should consider the overall weight of the piece. If she doesn't like something too heavy or showy, go for a thinner one.
Fit
With bracelets, it is important to know what size the wearer needs. For instance, experts recommend you choose a length that will not be too loose on the wrist. You don't want it to fall off, so it should rest slightly on the top of your wrist (towards your fingers) when standing. At the same time, you need the bracelet to be a little bit loose so that it does not pinch the skin.
The "right price"
To make sure you're paying the right price for your bracelet, you need to consider a number of factors.
Be sure to use a reputable retailer or jeweler.
Consider the average price for diamonds of the stated quality and size.
Ensure that the same diamond or gemstone specifications are used throughout the bracelet.
Know that the price will vary based on quality, metal type, and the amount of workmanship required.
Bracelet prices vary drastically. Check out similar style bracelets to get an idea of a fair price. A diamond heart bracelet will probably have a different price point than the white gold diamond tennis bracelet. Diamond bracelet prices depend on the type of stones, the amount of stones, and the metal setting. Gold plated jewelry is a more budget-friendly setting versus on the high-end, which are platinum metal settings.
Diamond Bracelet Care
Now that you've brought a yellow gold diamond tennis bracelet home, you need to know how to care for it. Generally, you don't want to wear it during vigorous exercise or activities that require a lot of arm or hand movement. As good preventative care, you should also have the prongs inspected periodically to avoid losing your stones.
Diamond Bracelet Cleaning
Cleaning with running water and patting it dry on a soft cloth will help with daily buildup. Or, purchase a jewelry cleaner from the store. It should be labeled as safe for gemstones and your metal of choice. Along with a gentle bristle brush, this method can also remove dirt and grime. If these techniques don't work, consult a trusted jeweler.
FAQs
How to tell if a diamond bracelet is real?
A simple test would be to breathe on the diamond and wait to see if it forms a fog. Ideally, the condensation shouldn't stick to the surface of the diamond because this gem is a good conductor of heat. If the fog stays for a few seconds on the diamond, then it is probably fake. To know for sure whether your diamond bracelet is real, we would recommend getting the piece checked by a professional jeweler.
What is the best occasion to gift a diamond bracelet?
You can gift a diamond bracelet on various occasions like a birthday, anniversary, graduation, Mother's Day, Valentine's Day, Christmas, or any other milestone that deserves a sparkle! Diamonds are also the birthstone for those born in April; thus, a diamond bracelet will be a lovely birthstone jewelry gift for this occasion too.
What is the average carat weight of a diamond tennis bracelet?
The total average carat weight of a diamond tennis bracelet can be anywhere between 2 to 8.
What is the best metal for a diamond tennis bracelet?
This entirely depends on your personal choice. However, platinum is a great choice for a diamond tennis bracelet since it is extremely durable, hypoallergenic, and looks quite classy as well.
Should I get a lab grown diamond tennis bracelet?
Yes, a tennis bracelet adorned with lab diamonds is a great choice. Lab created diamonds are eco-friendly and also cost approximately 30% less than regular diamond prices. Since they are optically, chemically, and physically the same as an earth-mined diamond, you get more value for your money.