Diamond Tennis Bracelets: A Guide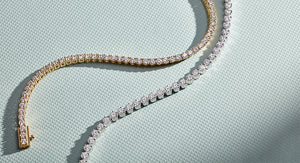 There's no question that a diamond tennis bracelet is a classic piece of jewelry. With its simple, clean line and major sparkle, even an economical one exudes elegance. Perhaps that is why Megan Markle, once known for her understated jewelry, has been spotted wearing a 3-carat diamond tennis bracelet. In other words, they're simply irresistible. Here's what you need to know about them.
TABLE OF CONTENTS
Origins of the Term
Originally developed in the 1920's, a diamond tennis bracelet used to be called an "in-line" or "eternity" bracelet. These bracelets are a simple design that incorporates a large number of identical narrow links to look the same all the way around the bracelet. There's only one irregularity for the clasp. These classic pieces of jewelry carried that name for around 50 years.
In 1987, the term "tennis bracelet" emerged by accident. Tennis player Chrissy Evert was playing a heated match, and she was wearing one of those bracelets. At some point in the game, the clasp on the bracelet broke. Evert called for a time out so she could recover the bracelet. Later, she would refer to the piece as her "tennis bracelet" and the term stuck. Since then, the women's diamond tennis bracelet has remained fashionable.
Tennis Bracelet Styles
Although most of us think of a tennis bracelet as a bunch of round brilliant cut diamonds with a minimal setting, this is just one kind. In fact, there are many more gold diamond tennis bracelet options available.
Setting Types
Whether you want a men's diamond tennis bracelet or one designed for women, there are three setting types to choose from.
First, there's the classic prong setting. Here, prongs hold each diamond in place, allowing for more light to come in through the side of the gems.
Next, bezel settings are a band of metal that goes all the way around the edge of each diamond, giving a symmetrical look.
Finally, a channel setting is one which holds the gem on two sides, with the other sides being open.
Metal Options
While the white gold diamond tennis bracelet is probably the most popular, it isn't the only option. For one thing, you'll need to choose between a 14k yellow gold tennis bracelet and one made with 10 or 18k gold. Then, you have the same karat options for a white gold diamond tennis bracelet. Rose gold and platinum are available, as well. Budget gemstone bracelets might be made of sterling silver.
Diamond Size and Number
While the most popular diamond tennis bracelet is normally considered to be a straight line of white diamonds, there is a lot of difference between bracelets. For instance, you can make a bold statement with a 5 carat diamond tennis bracelet, but smaller models might have a fraction of a carat.
Likewise, the number of diamonds can vary considerably. Inexpensive models will often use clusters of tiny diamonds to make a larger link with more sparkle. Likewise, a men's diamond tennis bracelet might have large metal settings for a chunky look. Another great option for men is a black diamond tennis bracelet.
Buying a Tennis Bracelet
With all these choices, it is easy to get overwhelmed when buying a tennis bracelet. Generally speaking, we advise that you always start with a budget in mind. This will help you stay focused on other factors, such as style, that will help you find the perfect one.
Choose a Jeweler Carefully
Nobody wants to get cheated by an unscrupulous jeweler, or be intimidated by one that wants to sell the most expensive thing on the shelf. In order to avoid these issues, pick a jeweler with a record of listening to the customer. He or she should consider your budget and style constraints, then recommend bracelets that are suitable. Make sure they have a decent return policy, as well.
Metal and Diamonds are Key
When choosing your women's diamond tennis bracelet, there are two major factors in both pricing and quality. These are the metal chosen and the diamonds. Most importantly, make sure that the jeweler is using certified diamonds. This means that there should be a grading certificate for each diamond in the bracelet. One exception is if the diamonds are tiny, called melee diamonds.
Next, check out the gold quality. 10kt white gold or 10kt yellow gold will cost less than 14kt or 18kt, and from a jewelry perspective each has different advantages. 10kt gold is harder and will scratch less. On the other hand, 14kt to 18kt is the fine jewelry standard. If you go with a 14k white gold or 14kt yellow gold diamond tennis bracelet, you will get a good balance between quality and value.
Pricing
When buying a tennis bracelet, there is a huge difference in pricing. Options range from a few hundred dollars up to tens of thousands. For instance, you might find a 10k gold diamond tennis bracelet with tiny diamonds for less than a thousand dollars. On the other hand, for a high-end option a ten carat baguette diamond tennis bracelet would cost tens of thousands. Such a choice would be fit for royalty. At With Clarity, our diamond bracelets range from $1,150 to $3,250. Choose a bracelet with a total of 2 carats or upwards to 7 carats for plenty of sparkle.
As a general rule, there are three things that affect pricing within the same manufacturer. These are the diamonds chosen, the gold chosen, and the style. With diamonds, each of them is priced according to the 4C's. Gold is priced according to quality and weight. Finally, there's the style of bracelet. With style, the big factor is workmanship.
Using your Budget Efficiently for a Diamond Tennis Bracelet
If you want a bigger diamond tennis bracelet for the price, you can try two things. First, get lesser quality materials. That would mean cheaper diamonds or a lower carat of gold. However, there's another option: going with lab diamonds. Lab diamonds have identical physical and chemical qualities as mined diamonds, but they are at least 30% cheaper for a comparable stone. By choosing a lab diamond tennis bracelet, the savings can be significant.
Sizing
Finally, you need to know the proper size for your lab grown diamond bracelet. Experts say that the bracelet should be big enough to fit loosely on your wrist where it meets your hand. Put the bracelet on, and then insert your finger between the bracelet and your wrist. If you can do it without the bracelet feeling tight, then it's perfect. Your jeweler can adjust the bracelet if necessary. Or, you can order the correct length.
Most people wear a diamond tennis bracelet on their left wrist. However, left handed people typically do the opposite. The trick is to wear it on your non-dominant hand where it will get less wear-and-tear. Also, feel free to wear more than one at a time: a lot of celebrities have been seen stacking bracelets! Choose multiple bracelets with the same style, or with a different one. Also consider mixing gold tones.
Tennis Bracelet Care
Choose a mild jewelry cleaner, or mix some dish soap in warm water.
Let the bracelet soak, then use a toothbrush to dislodge the dirt.
Rinse, and let dry flat.
You should be careful about showering with your bracelet, however.
You should be careful about showering with your bracelet, however. Doing so risks dislodging your diamonds or loosening the clasp, both of which can result in loss or an expensive repair. Wearing it everyday is OK, just be sure to have a jeweler check the prongs periodically.
Lab Diamond Tennis Bracelets vs. Natural Diamond Tennis Bracelets
Lab diamond tennis bracelets and natural diamond tennis bracelets look identical in sparkle and shine when factors like cut, clarity, color and carat weight are held equal. When purchasing a tennis bracelet, work with a jeweler who is reputable and uses only high quality diamonds that are consistently matched to achieve a flawless look for your bracelet.
Lab diamond bracelets can be much more affordable than natural diamond tennis bracelets as lab diamonds are generally about 30% the cost of natural diamonds. While the price of precious metals like gold or platinum will still be high, your choice of lab or natural diamonds can make the difference in the final cost of your tennis bracelet.
A benefit of choosing lab diamonds could be that you're able to get a bracelet with a higher carat weight. In terms of natural diamonds, you'll be purchasing a jewelry gift that is more traditional and can be considered a heirloom.
FAQs
What is a tennis bracelet?
A classic piece of jewelry, a tennis bracelet has a symmetrical pattern of diamonds connected by metal. In other words, it is an "eternity" bracelet.
Why is it called a tennis bracelet?
The origin of the tennis bracelet is one for the books. While playing a heated tennis match, Chrissy Evert's clasp on her bracelet broke, calling for a time out. As time passed, she referred to the piece of jewelry as her "tennis bracelet", which was how the term came about.
How much is a tennis bracelet?
At With Clarity, our diamond bracelets range from $1,150 to $3,250 depending on the size of the diamonds that you have selected, metal type, and style. Tennis bracelets with lab diamonds will definitely be less expensive than natural diamonds.
How to wear a tennis bracelet with a watch?
It is advisable to wear your tennis bracelet slightly above the watch and try to not let your jewelry scratch your watch or vice versa.
Can you wear a tennis bracelet everyday?
Yes, you can wear a tennis bracelet every day. It is flexible enough for you to be able to carry out your daily chores with it. Just make sure the clasp is secure and the bracelet is not coming into contact with harsh chemicals, abrasives or anything that could scratch the metal.