What is an Engraved Ring?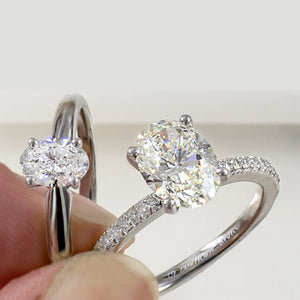 An engraved ring is a thoughtful way to turn jewelry into a true sentimental piece. Ring-engraving is a time-worn tradition, with origins often attributed to the inscription of romantic poems in jewelry of the medieval European courts. Whether you need engraved promise rings, an engraved wedding band, or engraved rings for couples, adding a message for just the two of you turns your jewelry into something truly irreplaceable.
There is no creative limit to what you can engrave on a ring. Some ideas include popular wedding ring engraved quotes such as "I love you" or "To have and to hold." If you desire something more personalized, consider a significant date (e.g. birth or wedding dates), a special location (e.g. G.P.S. coordinates), name engraved rings with names or initials (e.g. S.K. & A.T.), or any combination of the three. We recommend sticking within about 15 characters (since a band only has so much space).
TABLE OF CONTENTS
Engraving Metals and Special Gemstones
Engraving Metals
Although not all metals can be engraved, most metals popularly used in jewelry--such as gold, silver, and platinum—are engravable. However, metals with a rough surface are nearly impossible to engrave because the rough texture competes with the engraving. In addition, metal used in jewelry is often plated. And while most plated metal surfaces can be engraved, it's important to ensure that your jewelry has high-quality plating, as engraving can damage poor-quality plating.
Engraving Special Gemstones
Jewelry can be engraved any time, either during or after purchase. If the jeweler is unable to do ring engraving, they should be able to direct you to an engraver. Some world-renowned grading labs, like the Gemological Institute of America (GIA), also perform special gemstone engraving. If you're not partial to the idea of inscribing a visible message, consider engraving the message on the gemstone itself. The GIA can laser-inscribe a microscopic message or graphic on the diamond, creating a special hidden message privy to just you and your partner. A laser-inscribed message also serves as a foolproof identifier in case your jewelry is ever lost or stolen.
Engraved Promise Rings
If you're not quite ready for an engraved wedding ring or diamond, consider an engraved promise ring. Promise rings are traditionally given before the engagement as a promise of future commitment. Promise ring engraving ideas include quotes such as "To the moon and back" or romantic lyrics from favorite songs such as "Truly, Madly, Deeply."
Engraving Cost and Care
The cost of ring engraving typically depends on the number of characters in the inscription, the type of font, and the engraving technique (i.e. by machine or hand). Although machine ring engraving is less expensive, hand ring engraving adds a special hand-forged feel. For diamond engraving, the cost often varies based on the carat weight of the diamond.
Similar to any piece of jewelry, engraved rings require a little love and care to keep in sparkling condition. It is often advised to take off your ring when bathing, cleaning, or applying makeup as the chemicals in cosmetics, hairsprays, lotions, bath products, and household cleaning products may tarnish jewelry or create a film that dulls its shine. Outside of household dangers, extended exposure to chemicals found in swimming pools can also discolor your ring.
In addition to avoiding certain products, take the time to proactively care for your ring! Clean your jewelry with a soft cleaning cloth at the end of each day and do a deep clean once a week with warm water and some mild soap.
Re-engravement
If you're hesitant about getting a ring permanently engraved, keep in mind that engravings on solid metals such as gold or silver can be buffed out and re-engraved. However, if you are considering re-engraving a piece of jewelry, ensure that the ring is solid gold or silver, and not plated, as any metals with plated surfaces cannot be re-engraved. Buffing plated surfaces will remove the plating and expose the core metal, rendering it incapable of being engraved.
Cost of Removing Engraving
When it comes to the cost of removing an engraving, the price typically depends on the style of ring engraving. While machine ring engravings are fairly easy to polish away, engraving done by hand takes a bit more effort, as the metal needs to be filled in. This difference is mainly due to the depth of the engraving.
Engraved rings are unique and heartfelt pieces of jewelry perfect for any couple. An engraved wedding ring for her is a romantic option if you're looking for a personalized way to express your love!
For any questions about ring engraving, contact us by phone at 1(844)-234-6463 or email at service@withclarity.com. Our Live Chat is available during business hours Monday - Friday, 10 AM - 5:30 PM ET.
Ring Engraving Ideas
A lyric from a meaningful song
Your name or initials
A word/phrase that expresses permanence: Forever, Always, or For Eternity
The classic: Love or I love you
A significant date: like when you first met, or the engagement or wedding date
An inside joke
A reference to your favorite TV show or movie
GPS coordinates (a hit with long-distance couples)
FAQs
How much does ring engraving cost?
The cost of ring engraving typically depends on the number of characters in the inscription, the type of font, and the engraving technique. Some jewelers, like With Clarity will include engraving as a complimentary service as part of the purchase.
Can you resize an engraved ring?
An engraving will have to be redone post resizing as the metal is heated causing the engraving to alter in appearance. Post a resizing, any ring or wedding band will be reengraved to mimic the original look.
Can all metals be engraved?
Although not all metals can be engraved, most metals popularly used in jewelry--such as gold, silver, and platinum—are engravable. Although, it might be difficult to engrave some metals based on their surface and texture or the way accent diamonds are set within it.
Can all ring styles be engraved?
Most ring styles with enough metal surface can be engraved. However, it may not be possible to engrave certain styles like eternity bands that have more accent diamonds.
What to engrave on a ring?
A vast majority of things can be engraved in a ring, which could be a significant date, Your name or initials, monograms, funny phrases, a reference to your favorite TV show or movie.