Finding the Perfect Diamond Statement Earrings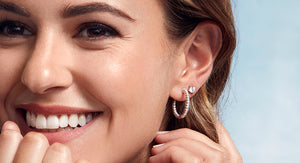 You're headed out of town or to a special event. You have your perfect outfit, shoes, and hairstyle all ready to go. But what about jewelry? The perfect pair of diamond statement earrings completes any look.
TABLE OF CONTENTS
What Are Statement Earrings?
Statement earrings are any pair of earrings that make someone stop and say, "Wow!" They catch people's eyes and make your entire outfit come together. Usually, statement earrings are the biggest and most spectacular part of an outfit or jewelry set.
Are Statement Earrings in Style?
The answer to this is always yes! As long as you're confident in what you're wearing and you do it with grace and a smile, your pair of statement earrings is going to add the perfect touch to your outfit and make you look completely put together.
What's the Best Way to Wear Statement Earrings?
There are a few great ways to wear statement earrings. The most important factor is to let them be seen. You'll want to wear your hair up or pulled back so that your jewelry isn't hidden. If you like to wear your hair down, try pulling one side back or wearing it behind your shoulders so that your jewelry isn't covered. Your earrings shouldn't be overshadowed by anything else, either. For example, if you're getting married and have chosen bridal statement earrings, then you'll want your necklace to be delicate.
Statement earrings can add personality to a simple outfit, one that is monochrome or without a pattern, for example. They can also coordinate with what you're wearing — if your clothes for the event are jewel-toned, your earrings could have small stones of the same hues.
Choosing When to Wear Statement Earrings
Your signature pair of statement earrings can be worn day or night — whenever you need that extra something to pull your look together.
Daytime looks can range from a sleek pantsuit with a pair of diamond statement studs or even jeans and a nice t-shirt with your favorite stones peeking out from your hair.
Night-time gives you even more leeway. Throw on some dangly earrings that move while you're dancing or add a pair to your favorite snazzy romper for a date or an outing with the girls.
Which Type of Gems Are Best for a Pair of Statement Earrings?
If you've been researching jewelry lately for a pair of statement diamond studs you've probably come across the options for lab-grown or natural diamonds. Which ones are best to choose for your jewelry box, and what are the benefits of both types?
Natural diamonds are just that — naturally grown and mined from the Earth. These diamonds are rare; the way they're procured makes them quite expensive and highly sought-after. Lab-grown diamonds have high demand, too, though. Since they are lab-grown, they are environmentally friendly and 100% conflict-free. Lab-grown diamonds also have all the different characteristics of natural diamonds, such as color, cut, clarity, and carat, so no two lab-grown (or natural) diamonds are ever the same.
If you're looking for other gems for your next statement pair, though rubies, emeralds, or topaz all have a "check-me-out" gleam to them. They even look great paired with diamonds!
The Finishing Touch
When you put in your earrings, you want to step back from the mirror and say, "Yes! That's it!" Whether they're everyday diamond statement studs or dangling bridal statement earrings (or something in between), a unique pair can bring your entire look together.
FAQs
What are statement diamond earrings?
A pair of statement diamond earrings stand out with any outfit. They effortlessly draw attention and finish off an outfit.
What are some tips for choosing the right statement earrings?
Choose a pair of earrings that you'll feel comfortable in. You'll also want statement earrings that will go with a few different outfits that will be appropriate for various events so you get plenty of use out of them.
How should I wear statement earrings?
Your outfit should accentuate your jewelry, not hide it! Wear a top or dress that is going to have the color, cut, or wear your statement earrings with your hair up or down, as long as the pair is visible. You can wear them with a toned-down outfit for a bold earring look or coordinate them with the color of your clothes.
What earrings should I wear with a statement necklace?
If you've chosen a statement necklace, you'll want earrings that are simpler, such as small diamond studs. That way the attention stays on the necklace, and the earrings are the perfect stylish addition.
What should I wear with statement earrings?
Usually, a delicate but complementary necklace goes well with statement earrings. You can wear a small coordinating hairpin or choose other jewelry or clothing colors that complement your statement earrings.