Guide to Commitment Rings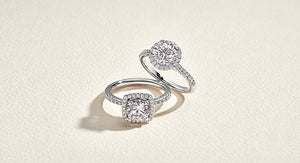 For centuries, rings have been given to acknowledge the meaning and commitment relationships. Whether marriage is in the future or not, some couples exchange commitment rings to demonstrate their love and devotion. Keep reading to learn more about commitment rings including ring etiquette and design options.
What is a Commitment Ring?
You give a commitment ring to a loved one when you want to demonstrate your loyalty and commitment. Commitment rings have a couple of different meanings. Some are given as pre-engagement rings much like a promise ring. Some couples don't plan on getting married so they exchange commitment rings to signify their everlasting love for one another. These can be given at any point in the relationship–each couple's relationship timeline is different!
Commitment Ring Etiquette
Exchanging commitment rings can be as simple or extravagant as you want. One of the most important aspects of giving a ring is what you'll say when giving a ring. You'll want to speak from the heart when giving your love a commitment ring. If you're worried about what to say, you can write it down ahead of time (it will be a cherished keepsake later).
There isn't a right or a wrong way to wear a commitment ring. Some choose to wear the ring on the ring finger on their left hand, some put it on a necklace, and others prefer to wear the ring on the right hand. It's a personal preference. If the couple marries in the future, some people move the ring from the left hand to the right hand.
Some couples both wear commitment rings, especially if they don't plan to marry, while other couples only have one person wear a ring. Each couple can make their own "rules" for the rings and determine the meaning of them.
Designs and Styles
Commitment rings can be as simple or elaborate as you want. Usually the rings are not as extravagant as engagement rings. Instead, couples select rings based on preferences and budget. Here are some popular designs for commitment rings:
Diamond solitaire ring: Classic and sparkly, a solitaire ring makes a lovely commitment ring. It's a familiar design can be simple with a single stone or embellished with accent diamonds or gemstones.
Eternity ring: An eternity ring features gemstones or diamonds set on a band that goes all the way around the finger. The band's circular shape symbolizes everlasting love because it doesn't have a beginning or an end.
Three-stone ring: This meaningful ring represents the past, present and future of their relationship. This can feature diamonds, gemstones, or a mixture of the two.
Commitment Ring Metal Options
If you're thinking about getting a commitment ring, observe what type of metal jewelry your loved one wears. Some people like certain metals and others have to select particular metals based on skin sensitivity. Review the following common metal options:
Yellow Gold: You likely own some yellow gold jewelry. It's a popular metal that's great for someone with a classic sense of style.
Platinum: Although it's more expensive than other metals, it's hypoallergenic and a great option for those with skin sensitivities. This shiny, silvery-white metal is ideal for someone with a sophisticated sense of style.
White Gold: This metal offers a similar silvery-white look to platinum, but it's more affordable.
Rose Gold: This metal features a warm, pinkish tint that's ideal for someone with a modern sense of style.
Diamond Options
In addition to selecting which committee ring design, you'll also need to decide if you'd like lab-made diamonds or natural diamonds. Lab-made diamond commitment rings are a great choice for those who want an eco-friendly, ethically-sourced stone. Additionally, lab-made diamonds are budget friendly and offer the same brilliance as natural diamonds because they have the same chemical composition, optical properties and physical features as natural diamonds.
Commitment Ring Considerations
As you browse commitment rings, keep the following points in mind:
If you think you'll get engaged or married in the future, select a commitment ring design that could be stacked or compliments future rings.
A unique way to personalize your commitment ring is to get it engraved.
Keep comfort, quality, and wearability in mind as you choose your ring.
Research the brands you're considering to make sure that it's reputable and offers easy returns in case you are dissatisfied or have issues.
Purchase earth-mined or lab-created diamonds that are GIA or IGI certified.
Determine your budget prior to shopping and stick to it.
Consider your loved one's likes and dislikes before you purchase a commitment ring.
FAQs
On which finger should you wear the commitment ring?
Most choose to wear their commitment ring on their ring finger on the left hand, but some choose to wear it on their middle finger or other fingers for comfort. If the couple marries, some move the commitment ring to the right hand.
What is the difference between a promise ring and a commitment ring?
Promise rings and commitment rings take on the meaning that the couple gives it. These vary from being a commitment for life, a token of love, or a promise to one day get married. Some couples don't want to get married, so the commitment ring represents lifetime loyalty.
Does commitment ring mean you'll never get married?

There are no rules for a commitment ring. Instead, it's the meaning the couple determines for the rings. Some couples want to get married in the future while it's not something everyone wants.
Can any ring be a commitment ring?
Yes, any ring can be a commitment ring. You can select something traditional or think outside of the box and go with something more whimsical or unique.