Guide to Prong Settings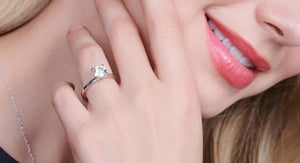 Once you carefully select your design and stone, the last thing you'd want to happen is for a prong to break causing your beautiful center stone to fall and disappear. Prongs provide security for the gorgeous gemstones that adorn your jewelry. You might not be aware, but there are a variety of prong options depending on your preferences and the size of the stone that you want to keep secure. Keep reading to learn about your prong options and how they compare.
Prong settings have existed since the 19th century. However, they didn't become well known until Tiffany & Co. perfected them. In 1886, Tiffany introduced a prong setting that gave the illusion the stones were floating above the wearer's finger rather than being largely encased by metal. Prongs are important because they keep your expensive stones secure, especially in engagement rings.
TABLE OF CONTENTS
Types of Prong Settings
A prong setting, also referred to as a claw setting, cradles the diamond in the jewelry's setting. Before the diamond is set, the prongs stick up vertically from the base. After the gemstone is aligned into place, the rails of metal are notched and burnished firmly around the gemstone to fully secure it.
Here are some of the prong options:
Rounded: Round prongs are popular to use in engagement rings. They're secure and discreet, but allow the diamond to sparkle while keeping it firmly in place.
Pointed claw: A pointed prong gives a claw-like appearance, much like the name of this style. Pointed prongs are sleek and elegant.
Flat tab: The tab gives a distinctive look, and it's also referred to as the square or "tab" prong style. Although it's not as popular as a round or claw prong, this squared off prong can add a unique touch to the right ring design.
Double prong: Double prongs have either a rounded or pointed appearance. They give the illusion of slimmer claws and are often used in split shank designs.
V-Tip prong: V-tip prongs (like those pictured above) secure and protect the corners of diamonds that come to a point or points such as princess, pear and marquise shapes.
How to Choose the Right Prong Setting
You have a few factors that will help you decide which style of prong. Each has a different look, so your personal preferences are important. Next, consider your lifestyle. If you're active, work with your hands, or rough on jewelry, then you'll want more secure prongs to protect your jewelry. The size of the gemstone will impact your prong selection. The bigger the diamond, the more durable the setting needs to be-perhaps a six or eight-prong setting. Security needs to be balanced with the idea that more prongs will block some of the light that enters the stone. In the same way, the proportion of the prongs need to be appropriate for the gemstone. A smaller gemstone would look odd with too many prongs that overpower it.
How to Care for Your Prong Settings
There are ways you can protect your prongs from being damaged:
Avoid doing anything strenuous like yard work, lifting heavy boxes, or cleaning with your ring on. Heavy, hard objects can break the prongs and knock the stone loose.
Take off your ring before you exercise. Hand weights and other exercise equipment can bang against your ring and can bend the prongs out of shape.
A couple times a year, have a jeweler inspect your ring to ensure your stones are holding the stones in place and the prongs aren't worn down.
Another way you can protect your jewelry is by periodically looking at the prongs. If you notice that a prong is short, bent, or broken, it's best to take it in and get it repaired right away. Another warning sign is if your center stone isn't sitting level. This could mean that the prongs aren't tight enough around the diamond and it's time to have it examined and repaired.
Wrapping Things Up
Prongs play an important role in your jewelry. They keep you stunning gemstones in place, and if you spend thousands of dollars on a center diamond, you want to make sure it's safe and secure. Now you know that you have different prong looks that can impact the look of your ring, and you can choose from rounded, pointed claw, flat tab, v-tip, or double prongs. Consider your personal preferences, lifestyle, and size of the stone before selecting the prongs.
A platinum six-prong setting is the most durable because the sturdy prongs are less likely to chip when they're hit. Some stones even have eight-prong settings but these are more likely used with larger gemstones that require extra prongs.
FAQs
Is four or six prong better for an engagement ring?
An engagement ring with six prongs holds the gemstone more securely in place. If a prong accidentally breaks off in a four-prong setting, the center stone can easily fall out (and get lost). If a prong breaks in a six-prong setting, it's more likely that the center stone will stay in place.
Is a claw prong ring safe for everyday wear?
Are claw prongs secure? Claw prongs are considered secure. They cover less of the diamond with their tapered ends, and they're more secure as they reach farther onto the diamond. As a result, they're considered safe for everyday wear.
Which prong setting is the most durable?
A platinum six-prong setting is the most durable because the sturdy prongs are less likely to chip when they're hit. Some stones even have eight-prong settings but these are more likely used with larger gemstones that require extra prongs.
Choosing a selection results in a full page refresh.
Press the space key then arrow keys to make a selection.