Halo Earrings to Love Forever (No. 3 is Our Favorite!)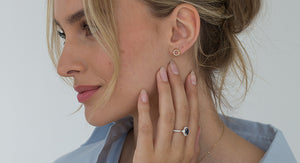 When it comes to earring designs, the options can be overwhelming. However, there is one style that remains a timeless classic - the halo. Halo earrings have captured the hearts of jewelry enthusiasts with their stunning beauty and exquisite craftsmanship. In this article, we will explore the allure of halo earrings and present our top five picks that are truly worthy of being loved forever.
But first, let's delve into what exactly defines a halo earring. A halo setting involves a center gemstone or diamond surrounded by smaller stones, often forming a circle or a floral shape. This design creates a mesmerizing effect, enhancing the brilliance and size of the center stone while adding a touch of glamour.
Halo earrings can feature either diamonds or gemstones, depending on personal preference. The choice between the two is largely a matter of individual style. While diamonds offer a classic and elegant look, gemstones add a pop of color and personality to the earrings. Whichever option you choose, the halo setting elevates the overall aesthetic and creates a captivating piece of jewelry.
So, what makes halo earrings so popular? One reason is their versatility. Whether you're attending a formal event or simply want to elevate your everyday style, halo earrings are a perfect choice. They effortlessly transition from day to night, adding a touch of sophistication to any ensemble. Additionally, the halo design allows for endless customization possibilities, making each pair unique and reflective of personal taste.
Now, let's shine the spotlight on our top five halo earrings that are sure to steal your heart:
Halo earrings are a must-have for anyone who appreciates classic and stylish diamond jewelry. Their timeless appeal, versatility, and endless customization options make them a favorite among jewelry enthusiasts. Whether you opt for lab-grown or natural diamonds, halo earrings are a symbol of elegance and sophistication that will be treasured forever.
FAQs
Are halo earrings expensive?
Halo earrings can range in price depending on factors such as the type and quality of the gemstones or diamonds used, the metal setting, and the overall design.
What is more stylish - halo or solitaire earrings?
Both halo and solitaire earrings have their own unique style and appeal. Solitaire earrings feature a single center stone, emphasizing its beauty and simplicity. On the other hand, halo earrings add a surrounding layer of smaller stones, creating a halo effect that amplifies the center stone's brilliance and creates a dazzling display.
Are halo diamond earrings good for everyday wear?
Halo diamond earrings can certainly be worn on a daily basis. However, it's important to consider factors such as the size and weight of the earrings, as well as the setting style. Opting for smaller halo earrings or those with a comfortable and secure setting can make them suitable for everyday wear.
Are halo earrings still popular?
Yes, halo earrings continue to be popular among jewelry enthusiasts. Their timeless design, versatility, and ability to enhance the appearance of the center stone make them a sought-after choice.