Lab Diamond Bangle Guide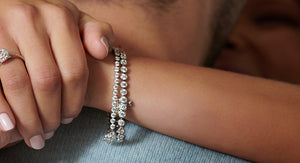 Bangles and bracelets are available in a variety of metals and styles. Bangles are rigid, round pieces of jewelry without a clasp, while bracelets are flexible and have a clasp. The set shape makes bangles easier to slide on your wrist and take them off whether you're wearing one or stacking a few. Because they don't hug your risk, bangles also are more noticeable because they're bigger.
TABLE OF CONTENTS
Popularity of Lab Diamond Bangles
You can find bangles in a variety of looks, from simple, plain metal bangles to gemstone embellished designs. Diamonds are the most popular choice for gemstone bangles, and lab-created diamonds continue to be sought after for the following reasons. They're:
Optically, chemically and physically the same as earth-mined diamonds
Ethical and conflict-free
Available in a variety of shapes and cuts
Affordable compared to earth-mined diamonds
Available in multiple carat weights
Certified by reputed institutes like IGI and GIA based on the 4cs (carat,clarity,color,cut)
Why are lab diamond bangles so popular? They can be worn by everyone, they're a versatile piece of jewelry and come in a variety of options. No matter your jewelry preferences, you can find a bangle that matches your style–simple and classic to completely-embellished with lab diamonds. You can find styles that work for the office, designs for a date night or more dramatic bangles for a special occasion. Plus, you can wear bangles alone or stacked to create your own unique look.
Bangle Designs
Here are a few of popular lab diamond bangles:
Flush Set Lab Diamond Bangle: Lab-created diamonds are periodically set along the entire bangle so that they sit flush with the bangle's surface. This is a versatile, comfortable, and lightweight piece that can be worn every day for all occasions. It looks good stacked or worn alone.
Lab Diamond Heart Bangle: This delicate, lightweight bangle features four stacked hearts embellished with lab diamonds. It's comfortable and versatile enough to be worn every day–whether it's for work or a night out. It can be worn alone or stacked.
Single Line Lab Diamond Bangle: Diamonds set around the entire bangle provide eye-catching sparkle along with versatility. Think of this as a rigid diamond tennis bracelet. It's slightly heavier than simpler bangles because of the diamonds. Wear this alone for work or a night out, and stack it for even more of an impact. This is a stunning piece for a special occasion as well!
Metal Options
Along with finding a style that works for you (or for your loved one), you'll also need to select the metal for the bangle.
Yellow Gold: This metal is best for someone who has a classic sense of style. It's strong, durable, and classic, and typically is in 14K.
Platinum: If you're looking for a hypoallergenic option with a classic, sophisticated look, then platinum is an ideal choice.
White Gold: 14K White gold is a popular choice because it's a nice alternative to platinum, that offers a radiant silvery-white shine.
Rose Gold: This 14K metal has a warm, pinkish tint and has grown more popular recently. As a result, it's great for someone with a modern sense of style.
Sterling Silver: Sterling silver is more affordable than the other metal options and offers a high, silvery shine.
Helpful Hints
As you shop for lab diamond bangles, keep the following points in mind:
Ensure bangles have certified lab diamonds. You want to make sure the diamonds you buy are certified and not an imitation diamond.
Measure your wrist or your loved one's wrist to determine the correct size for the bangle. While most bangles don't have a clasp, some might have a hinge or a gap to help put the bangle on.
Keep your budget in mind and pick the metal and style accordingly, as this feature affects both the appearance and cost of the bangle.
For gifting, consider the person's personal style preference in mind. Observe what type of metals and styles of jewelry they wear most often.
Pay attention to how and where you're storing your bangles so they don't get damaged.
Buy from a reputed brand that offers easy returns and exchange if you're dissatisfied with the product or have an issue.
FAQs
What is the difference between a bangle and a bracelet?
A bangle is rigid, round shaped and made of various types of metal. Traditional bangles are a closed circular design without a clasp closure. They don't hug the wrist, typically are larger and therefore make a statement. On the other hand, a bracelet may be made from an array of materials and is a flexible piece typically closed by a clasp.
Are bangles in style?
Bangles are a classic piece of jewelry that offers plenty of options. You can wear them for all occasions, wear alone or stacked for more of an impact. Simple or embellished, bangles look amazing!
Are lab diamonds real diamonds?
Lab grown diamonds provide consumers with a "real" diamond that shares the same chemical composition, optical properties and physical features as natural diamonds. Lab diamonds are considered real diamonds, and offer consumers a more affordable, ethically-sourced diamond option.
Can you stack bangles?
Yes! Bangles look great worn alone or stacked depending on the look that you want. They're a versatile piece of jewelry that goes with everything, and easily go from work to date night. A few stacked lab diamond bracelets look amazing for special occasions.