Natural Diamond Bangle Guide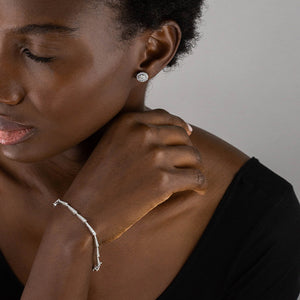 The sparkling allure of a diamond bangle bracelet makes it a jewelry box staple. But with so many different styles and designs, how do you find the right one for you? This guide will help you select a natural diamond bangle that complements your style and taste. Natural diamonds are the traditional choice for any diamond jewelry or engagement rings. If you're looking for jewelry that will stand the test of time and be an heirloom, natural diamonds are the way to go.
TABLE OF CONTENTS
What is a Bangle?
A bangle is a type of bracelet that women typically wear. It is a circular band of metal that is rigid and round. Bangles cannot be adjusted to fit different-sized wrists. Often they do not have clasps, which allows them to be put on and taken off easily (unlike bracelets).
Bangles are usually made from gold, silver, or platinum. They can be plain or decorated with diamonds, gemstones, or other embellishments.
Types of Bangles
There are many different types of diamond bangles to choose from. Some of the most popular styles include:
Plain Metal Design
These bangles are made from a single metal, such as gold or silver. They can be polished or matte in finish.
The widths of these bangles vary, so you can find one that is as thin or as thick as you like. Bangles sizes range from extra small to extra large, with the most common purchase a regular size bangle that fits most women's wrists.
Gemstone Embellished Design
These bangles feature gemstones set in the metal. The stones are usually round or oval. Natural diamonds are the most coveted.
Popular shapes that diamond bangles are set in include:
Round (most popular)
Princess (2nd most popular)
Cushion (3rd most popular)
Oval
Emerald
Asscher
Pear
Marquise
Diamond Bangles
Availability
There are a variety of versatile designs that the diamond bangle possesses. You can find bangles that are partially or fully embellished with diamonds.
Multi-Purpose
Diamond bangles can be worn when working at the office, for an occasion or for daily as well. Depending on the size of the bangle, you can wear the bangle as often or as little as you like. Combine multiple pieces, bracelets, and bangles to create a uniquely personal look that works for you. Diamonds are an everlasting addition to your jewelry collection and a great investment. Natural diamonds are a traditional and classic choice that will retain their value over time.
Popular Diamond Bangles Designs
The designs of diamond bangles vary greatly. You can find bangles that are plain or adorned with gemstones. The most popular designs include:
Multi-Row Diamond Bangle
This design features multiple rows of diamonds set in the metal. The diamonds are usually round or oval. Typically you should wear 1-3 bangles of this style at a time. They tend to be heavier than other styles—a great addition to a romantic night out.
Partially Diamond Embellished Floral Style Bangle
This bangle features a metal band with a floral motif. The flowers are usually adorned with round or oval diamonds. This style is very elegant and dainty. Due to its light and comfortable fit, it is perfect for special occasions or as an everyday accessory.
Wave Pattern Diamond Bangle
This bangle features a metal band with a wave pattern. The waves are usually adorned with round or oval diamonds. The wave pattern diamond bangle is popular for those who want a more subtle and understated look. This type of bangle is also very comfortable to wear. Great for everyday wear or special occasions.
Bangle Styling Options
The options for bangle bracelets are endless. You can find bangles made from various metals, including gold, silver, and platinum. You can also find bangles embellished with diamonds, gemstones, or other materials.
Platinum
Platinum is another popular metal for bangles. Platinum is a beautiful metal that has a white luster. It is also very durable, making it a good choice for active people who tend to wear their jewelry often. An added benefit is the hypoallergenic nature and sophistication it portrays.
Percentage: Usually 95%-95%. 
Preferred For Bangles: Many choose white gold over platinum because it is cheaper.
White Gold
White gold is a beautiful alternative to platinum. White gold has a similar white luster but is not as expensive. White gold is also a good choice for active people who tend to wear their jewelry often.
Percentage
9K-37.5%
10K-41.7%
12K-50%
14K-58.3%
18K-75%
22K-91.7%
24K-99.9%
Preferred For Bangles: 14K and 18K (good range of price and value) 
Most Popular: 14K and 18K
Rose Gold
Rose gold is a popular choice for those who want a unique look. Rose gold has a pink hue created by adding copper to the metal. Rose gold is also a good choice for someone who has a modern sense of style.
Percentage: 14K rose gold is 58% gold and 42% alloyed metals while 18K rose gold is 75% gold and 25% alloyed metals. 
Preferred For Bangles: 18K (higher-quality). 
Most Popular: 14K (more economical).
Top 6 Tips When Buying a Bangle Bracelet
When you are ready to purchase a bangle bracelet, you should keep a few things in mind. Here are the top 5 tips for buying a bangle bracelet:
Measure your wrist to determine the correct dimension for your bangle.
Keep budget in mind and pick the metal accordingly. Your budget will determine both the appearance and type of bangle.
Remember the person's style preference when buying a bangle as a gift.
Pay attention to storage. Most bangles come with a box or pouch to store them in. If not, purchase one to keep your bangle from getting scratched or damaged.
Always buy from a reputable brand that offers easy returns/exchange if you're dissatisfied with your bangle.
Ensure that you discuss diamond quality in terms of color, cut and clarity for the diamonds that will be set on your bangle. Be sure to check that they will all match and have consistent quality.
FAQs
What is the difference between a bangle and a bracelet?
A bangle is a type of bracelet typically wider and does not have a clasp. A bracelet is usually thinner and has a clasp.
Can you stack bangles?
Yes, you can stack multiple bangles on your wrist. This popular trend allows you to mix and match different colors and styles.
Which is the best metal for a diamond bangle?
There is no best metal for a diamond bangle. It depends on your personal preference and budget. However, 14kt or 18kt gold are often the best options as they are sturdy and will hold the diamonds securely.
On which hand should you wear a bangle?
You can wear a bangle on either hand. However, switch hands if you find your bangle is getting bumped a lot on your dominant hand.