Necklaces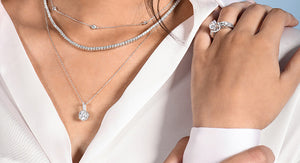 With Clarity's necklace collection includes a broad range of designs that are perfect for daily wear or for any occasions. Combining metalwork with diamonds, our collection has a style that will flatter the tastes of any wearer.
Necklace Styles
SolitaireSolitaire pendant styles consist of a single gemstone held on a precious metal chain. Designs are available in a single or double bail. Single bail has a single metal fastener that attaches the pendant to the chain. Double bail has two metal hoops that hold the pendant on the chain. These styles can be crafted with lab diamonds or natural diamonds.
Solitaires can come in a variety of shapes. The most common shapes are round, princess, cushion and oval. Choosing the right shape is a matter of preference. Round is the most common as it is the most faceted shape and typically emits the most sparkle. Princess is a common shape as well and has an elegant appeal with its perfectly symmetrical square shape. Many prefer to purchase diamond solitaire necklaces as even with minimal design, the sparkle is intense and alluring. Other gemstones can also have beautiful appeal for those who prefer a color and sparkle. With Clarity ensures that each diamond that is used to craft pendants is chosen with care to optimize for color, sparkle and saturation for an eternally beautiful piece of jewelry.
Halo Halo necklace styles have a single central gemstone surrounded by smaller gems. This style is a beautiful choice to wear everyday or for special occasions. Halo necklaces can be crafted with various different center gems. Most common are round, oval, cushion and princess. Commonly, center gemstones are surrounded by smaller accent diamonds. Alternatively, a larger center diamond can be surrounded by small accent diamonds. This creates the effect of a larger pendant. More contemporary halo styles can include various diamond shaped designs that surround the center gem. Halo pendants can look good in a variety of shapes and colors. To ensure durability, halo necklaces are crafted in 14kt white or yellow gold.
Classic Classic necklace styles encompass a broader range of popular necklace styles that are well-liked by many. These necklaces include designs like hearts, keys, clusters, and journey pendants that have come to represent certain occasions like Valentine's Day, birthdays and anniversaries. For example, heart, love knot and key shaped pendants incorporating rubies and diamonds are popular choices for Valentine's Day. For anniversaries, journey and infinity pendant can convey the depth of your love and relationship. Other beautiful styles include cluster pendants, which have a cluster of gemstone or diamonds that come together to look like a larger gem or diamond. Ruby, sapphire, and diamond can be used to craft these classic styles.
Contemporary Contemporary necklace styles encompass newer styles that are also popular choices for women of all ages. They can include spirals, interlocking circles and other designs that incorporate intricate metalwork with gemstone accents. These necklaces are the perfect additions to any wardrobe and are versatile. Moreover, these unique designs can be the perfect gift for any occasion. With Clarity crafts these timeless designs in 14kt white and yellow gold.
---
Necklace Metals
14kt White Gold
A versatile and durable option, 14kt white gold is an alloy crafted of 58% pure gold and other metals. With a silvery white shine, this metal is the perfect complement to all gemstones and diamonds. It brings out the alluring sparkle from any colored gemstone. All 14kt white gold jewelry is rhodium plated to add a layer of durability and shine. It is not recommended to craft jewelry from metals lower than 14kt as they are not durable and can lose their luster over time.
14kt Yellow Gold
Warm and traditional, 14kt yellow gold pairs well with any gemstone or diamond. 14kt yellow gold is made with a combination of pure gold, copper and silver. It is a strong metal that can withstand daily wear. It is also malleable enough to be crafted into a variety of designs. With it's warm golden hue, this metal looks lovely against all skin tones.
14kt Rose Gold
Trendy and romantic, 14kt rose gold is a popular choice for pendants and necklaces. It has a glowing pinkish hue as well as the shine of gold. It pairs well with gemstones like ruby and emerald. Many also choose this metal as it is symbolically conveys love. Rose gold is an alloy that is made with pure gold, copper and other metals. It is a unique choice that complements all skin tones.
Platinum
A platinum pendant is a durable and beautiful choice. If being worn regularly, platinum can withstand scratches and wear and tear exceptionally well. It does not need to be rhodium plated as it already has durability and a glowing silvery finish. Platinum is the perfect choice for diamonds and other precious gems like emerald, ruby and sapphire. It is a heavier metal and more dense than gold. Platinum is also a hypoallergenic metal comprised of 95% platinum and 5% iridium making this the right choice for those with any allergies.
---
Gemstones
Diamond
Diamonds are an eternal favorite when it comes to crafting necklaces. Lying close to the heart, diamond have a fiery sparkle that is the perfect addition to a daily outfit or for evening wear. To bring out the sparkle of this gemstone, round and oval are the most popular shapes for solitaire or halo styles. Princess and emerald shapes are regal and elegant. Shapes like pear, and marquise are also unique romantic choices. Whether worn individually or as part of a larger necklace design diamonds are a durable and everlasting gem. For long-term wear, diamonds are the optimal choice.
Emerald
Emeralds with their lovely green hue are a striking and handsome choice for gemstone necklaces or pendants. Whether set in an emeralds by the yard design, within a solitaire or larger design, the unforgettable green of this gemstone is a perfect gift. When choosing emeralds to set in necklaces, place importance on choosing optimally colored emeralds that are even in tone and saturation. While emeralds are almost always included, we take care to choose those that have no distracting inclusions.
Ruby
Ruby gemstones are chosen for their romantic red hue. They are chosen for their deep color and sparkle. All natural rubies do have some inclusions, only synthetic rubies are without inclusions. With Clarity selects only all natural rubies and ensures that the inclusions do not inhibit the sparkle of the gemstone. The more intense the tone, hue and saturation of the ruby, the more valuable the gem. Rubies have a primary color which is red and a secondary color that can be purple or pink. With Clarity selects rubies that have the optimal blend and exhibit a fiery red color. Typically, yellow gold is a good complement to the red color of the ruby and can neutralize any undertones of purple. Ruby also looks beautiful in white gold and paired with diamonds as well.
Sapphire
Sapphire gemstones are a royal navy blue color that is rich in sparkle. After diamonds, these are among the next most popular gemstones. While sapphires are available in a variety of shades, the most common shade is blue. Sapphires are a 9 on the mohs scale of hardness, only diamonds are harder. This means that they are durable and perfect for everyday wear. Sapphires are considered desirable when they have a rich blue hue and lack many visible eye-inclusions. Almost all sapphires have been heat treated to improve color and minimize inclusions. With Clarity takes care to choose sapphires that have the optimal blend of value, blue hue and sparkle as well as minimal inclusions. Sapphires look beautiful alone or even when paired with diamonds.
Amethyst
Amethyst is a royal purple color and an exceptional choice for necklaces and pendants. It looks beautiful paired with diamonds or by itself. Amethyst has a transparent quality meaning that it lacks any eye-visible imperfections or inclusions. This ensures that the shine and sparkle is unhindered. The more intense the purple hue of the amethyst, the more valuable the amethyst. Amethyst is a great gift for any occasion and can also be gifted for those that have birthdays in February.
Blue Topaz
Blue topaz is an icy blue color and a beautiful choice for a pendant or necklace. Because of it's striking hue this gemstone is sure to stand out and make a statement. Blue topaz is among the most popular blue gemstones. Because the gemstone is transparent, the sparkle of the topaz is uninhibited. A larger blue topaz looks beautiful set as a solitaire. The icy blue is also complemented well by diamonds. The optimal metals to set blue topaz in are 14kt white gold and 14kt yellow gold.
FAQs
How to clean a necklace?
Cleaning a necklace is easy with dishwashing liquid and warm water. It is helpful to soak your jewelry in this for about 5 minutes and then gently clean it with a soft toothbrush. You can then air dry or towel dry with either a paper towel or regular cloth. Ensure that you are only using cleaning solutions that are matched correctly with the metal and gemstone type that you own to avoid discoloration and damage.
How to untangle a necklace?
Unclasping the necklace helps to begin with. You can untangle a necklace with baby oil or olive oil to lubricate the necklace before patiently unraveling the knot. Use tweezers to grasp the necklace and work through the twists.
How to layer necklaces?
Layering necklaces should be a fun and enjoyable way to express your own individual style. A combination of different necklace styles and metals always manages to catch the attention, but there is no hard and fast rule when it comes to building your own stack around your neck. Start with the shortest necklace on top and work your way as your add longer necklaces at the bottom.
What does a pearl necklace mean?
Pearls attract good luck and wealth and are symbolic of wisdom. They also offer protection and exude a calming effect while looking like an elegant accessory to upgrade any look.
How to tell if a necklace is real gold?
Testing a necklace to tell if it is real gold is easy. You can soak your necklace in a glass with white vinegar and if there is a change to the color, then it suggests that the gold is of lesser purity. You can also scrape the necklace against a testing stone or ceramic plate to see if it leaves a gold mark or trail, suggesting the authenticity of the metal.