Guide To Pearl Necklaces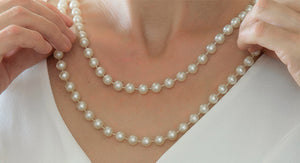 A pearl necklace is a classic addition to any outfit and can elevate your look from simple to stunning. They can be found in various gems, with a pearl necklace being one of the most sought-after options.
A pearl necklace is made up of pearls grown in oysters. Cultured pearls are those that have been cultivated by humans, while natural pearls are those that have formed completely on their own. There are many types of pearl necklaces, each with its own unique pearl necklaces meaning.
But with so many different pearl necklaces available, it can be difficult to know where to start when shopping for one.
This guide will help you learn about the different types of pearls and the best ways to wear them. We'll also share tips on choosing the right necklace for your outfit and skin tone. Let's get started.
What Are Pearl Necklaces, And Where Do They Come From
Pearl necklaces have been around for centuries and are seen as classic jewelry pieces. Pearl necklaces can be made with different pearls, including freshwater, Akoya, Tahitian, and South Sea pearls.
The most popular type of pearl necklace is the strand necklace, a string of pearls worn at different lengths. Pearl necklaces are also popular because they can be worn with various outfits, from casual to formal.
They can be a great addition to any jewelry collection and are a must-have for any fashionista. They are often given as gifts for special occasions, such as anniversaries, graduations, or birthdays.
Pearl necklaces are also a popular choice for bride's maid's gifts and come in various price ranges, so it is important to find one that fits your budget.
Different Types Of Pearls
Akoya Cultured Pearls: Akoya cultured pearls are some of the world's most beautiful and coveted freshwater pearls. They come from pristine waters in Japan and China, where experts carefully manage the oysters that produce these pearls. Akoya pearls are round, smooth, and lustrous with a deep luster.
They can be found in various colors, including white, gray, pink, yellow, light purple, and medium purple. They make an elegant pearl necklace for women or a stunning pendant to wear on a chain or necklace.
South Sea Cultured Pearl: The South Sea Cultured Pearl is the most beautiful type of pearl. The pearls are harvested from a specific area in the South Pacific Ocean and have been cultured for centuries. These pearls are unique because they are round and have a smooth surface. They are perfect for necklaces because they look elegant and sophisticated.
Tahitian cultured pearls are some of the most beautiful and unique pearl necklaces. They come in various colors, including blue, pink, green, and yellow, and they have a special luster that is not found in other types of pearls.
The Tahitian cultured pearls are also known for their size and shape. They are usually very large, round, and perfectly shaped. Some people prefer Tahitian cultured pearls to other types of pearl necklaces because they believe they look more elegant.
Freshwater cultured pearls are the newest craze in pearl necklaces and pearl pendants. These pearls are grown in freshwater lakes or rivers without being exposed to pollution or chemicals. The result is a natural, untreated pearl that is brighter, more colorful and has a crisper texture than traditional cultured pearls.
Some of the most popular freshwater cultured pearl necklaces include pearl choker necklaces, pearl pendants, and layered pearl necklaces.
This necklace features a long strand of freshwater cultured pearls linked together with a gold chain. The pendant can be either a single freshwater cultured pearl or a layered collection of smaller freshwater cultured pearls.
Another popular freshwater cultured pearl necklace is the layered gold and pearl necklace. This necklace features a long strand of freshwater cultured pearls linked together with a silver chain. The pendant can be either a single freshwater cultured pearl or a layered collection of smaller freshwater cultured pearls.
Types Of Pearl Necklaces Styles
Pearl Choker
A pearl choker necklace is perfect for showing off your feminine side. A pearl choker is a great choice if you're looking for a statement piece or want to add a little sparkle to your outfit.
You can find pearl necklaces in many different styles and colors, so there's sure to be one that suits your personality and style. Plus, they make a great gift idea for anyone special in your life.
Pearl Solitaire Pendant with Diamonds
This beautiful necklace is made of high-quality pearl and diamond materials and is perfect for women who love delicate and elegant jewelry. The pendant features a single diamond set in an elaborate filigree design, giving it a stunning look that will make you stand out from the crowd. Add this pearl necklace to your wardrobe today and enjoy its unique beauty every day.
Single Strand Pearl Necklace
A single-strand pearl necklace is a perfect way to show your pearls off without having to wear a lot of them. This type of necklace can be worn with anything from a casual outfit to a more formal dress. You can also add a diamond necklace to create an extra special look.
This classic pearl necklace is perfect for any occasion. The strand of pearls is accented by a single diamond, making it sparkle and shine. The necklace is crafted of sterling silver and fastens with a spring-ring clasp.
Pearl Station Necklace
This beautiful necklace features a single freshwater pearl on a dainty gold chain. The perfect piece to add a touch of elegance to any outfit, the Pearl Station Necklace is a must-have for any jewelry collection.
Whether you wear it on its own or layer it with other necklaces, this necklace is sure to become a staple in your wardrobe. So versatile and chic, the Pearl Station Necklace is a must-have for any fashionista.
Metal Options Available For Pearl Necklaces
Yellow Gold
For someone with a classic sense of style, yellow gold is the perfect material to use when crafting pieces that will stand the test of time. This precious metal has a natural elegance, making it a popular choice for jewelry and other accessories. While silver is often seen as the traditional pearl color, yellow gold gives these precious objects a softer, more feminine appearance.
Platinum
Platinum is becoming a popular metal for jewelry and other luxury items because it is both hypoallergenic and sophisticated. This precious metal has a very low reactivity to other metals, so it can be used in products that contain other metal components.
This makes platinum a great choice for items that need to be delicate or sensitive, such as wedding rings and earrings. Additionally, it is a relatively rare metal, making it more valuable overall.
White Gold
What if you could replace platinum with white gold as the material of choice for wedding rings, earrings, and other jewelry? White gold offers a radiant silvery-white shine, a great alternative to platinum. Plus, it's less expensive than platinum and doesn't tarnish.
Rose Gold
The color rose gold has recently become popular as a material for jewelry. It has a warm pinkish tint that is great for someone with a modern sense of style. This color is versatile and can be used in many different styles of jewelry.
Sterling Silver
Sterling silver, often called pearl metal because of its luster and high shine, is becoming a more affordable option for people looking for a precious metal alternative to gold and platinum. While it doesn't have the same color range as other metals, sterling silver is versatile and can be combined with other materials to create unique jewelry pieces.
Tips on Choosing a Pearl Necklace
When it comes to picking out the perfect pearl necklace, especially Women's pearl necklaces, there are a few things you'll want to keep in mind. First, consider the occasion. Is this something you'll be wearing every day or just for special occasions? If you plan on wearing it every day, you'll want to choose a more simple and classic style. If it's for special occasions, you might want to go for something a little more elaborate.
Next, think about your budget. Pearls can range in price from a few hundred dollars to several thousand, so it's important to set a realistic budget before you start shopping.
Finally, take the time to try a few different styles before making your final decision. Pearls can look very different when they're worn, so it's important to see how they'll look on you before you buy them. By keeping these things in mind, you should be able to find the perfect pearl necklace.
Where to Buy a Pearl Necklace
When choosing the perfect pearl necklace, there are some things to consider. First, the style should be considered. There are many different styles to choose from, including choker necklaces, long necklace lengths, and dainty earrings.
Second, the budget should be considered. Some pearl necklaces can cost a lot of money, but they are worth it, while others are more affordable.Third, it is important to ensure the pearl necklace is from a reputable company. There have been reports of some companies selling fake pearls. Please buy your pearl necklace where a customer has the option to return it for a full refund/exchange if dissatisfied with the product.
What Kind Of Pearls Are In Style?
There are many different types of pearls, but the most popular ones are Akoya pearls, South Sea pearls, and Tahitian pearls. These three types of pearls are typically used in high-end jewelry because of their rarity and beauty.
Akoya pearls are the most classic type of pearl and have a very elegant look. South Sea pearls are the largest type of pearl and have a very luxurious look. Tahitian pearls are the most exotic type of pearl and have a unique look.
What Type Of Pearl Is The Most Valuable?
The most valuable type of pearl is the South Sea pearl. These pearls are the largest and rarest type of pearl, making them the most expensive..
Tahitian pearls are also very valuable because of their unique color and exotic look. Akoya pearls are the most classic type of pearl and are also quite valuable.
What Is The Best Length For A Pearl Necklace?
The best length for a pearl necklace depends on the type of pearl. Akoya pearls are typically used in necklaces that are 16-18 inches long.
South Sea pearls are usually used in necklaces that are 20-24 inches long. Tahitian pearls are typically used in necklaces that are 24-30 inches long.
Which Metal Best Suits Pearls?
The best metal for pearls is gold. Pearls have a soft texture and need a strong and durable metal. Gold is also a classic metal that has a timeless appeal. Silver can also be used with pearls, but it is not as strong as gold and does not have the same classic appeal.
How To Care For Your Pearl Necklace
A pearl necklace is a truly luxurious and timeless piece of jewelry. If you're lucky enough to own one, it's important to know how to care for it properly. Here are some tips on how to keep your pearl necklace looking its best:
● Keep your pearl necklace away from direct sunlight, and store the pearl necklace in a dry and cool place.
● Keep it in a soft cloth pouch or jewelry box when you're not wearing your pearl necklace.
● Avoid contact with harsh chemicals, cosmetics, and perfumes.
● Clean your pearl necklace regularly with a soft, damp cloth.
● Have your pearl necklace professionally inspected and cleaned every few years to ensure its longevity.