Proper Necklace Length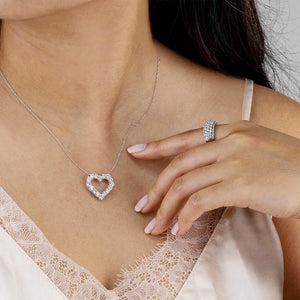 Many people base their desired necklace length solely on their specific preference in chain fit, length, and/or collage of outfits. However, did you know that in many cases, when you choose your necklace based on these factors, you're actually putting a damper on the jewelry's natural radiance and craftsmanship? Believe it or not, the chain length has a great deal to do with the overall appearance of the necklace, and can be critical to the quality you get out of your jewelry.
TABLE OF CONTENTS
Examples of Matching Length/Pendant Style Necklaces
Need a little visual aid to find your properly measured necklace style? We have a list of necklaces that can show you what we mean!
Gemstone Solitaire - usually hung on a more delicate chain, and most commonly worn on special occasions. The typical chain length, therefore, would be somewhere between 18-36 inches, for maximum exposure.
Halo Pendants - paired with chains that are more durable than most dainty and delicate ones. These necklaces are preferred by women looking for an everyday wear type of necklace, and would match best with 16-24-inch chains.
Contemporary- includes all newer or more modern pendant styles, such as intertwining circles (halos), religious symbols, stars, or even monograms. Contemporary pendants are usually purchased as everyday or frequently-worn jewelry pieces, and would be best served by chains anywhere from 16-24 inches in length.
| Length Name | Size |
| --- | --- |
| Choker | 14" / 16" |
| Princess | 18" |
| Matinee | 20" / 24" |
| Opera | 30" |
| Ropes & Lariats | 35" |
The Four Main Pendant Types
Listed below are the four main pendant types. These can be found in just about any size for various necklaces, and sometimes in combination with other pendants.
Metal Pendant

Metal pendants don't rely on diamonds or other flashy gemstones. They are intricately crafted from yellow or white gold, as well as other durable and lovely metals, with eye-catching detail and delicate designs that need no extra "bling." Initials, engraved notes, circles/halos and hearts are common metal pendants on the market.

Solitaire Diamond Pendant

While the most popular diamond solitaire necklaces usually have either princess or round cut diamonds, you can find solitaire pendants in any diamond cut known to man. The simplicity of the pendants gives them a grace and beauty that needs nothing more than the brilliance of the single diamond to attract attention, and capture the heart of the lucky lady who wears it.

Pearl/Colored Gemstone Solitaire Pendant

Like the diamond solitaire, this pendant style only has a single gemstone. Everything from rubies, sapphires, and even black and white pearls may be found on these delicate solitaire pendants, and the stone's cut depends on which is best and most appropriate for accentuating the stone's facets and brilliance.

Diamond and Gemstones Pendant

This pendant combines beautiful gemstones with brilliant white or naturally colored diamonds. You can find diamond and gemstone pendant necklaces with either elaborate, brightly shining styles, or with elegant and simple designs. Tri-stone settings are a popular design for these pendants, but no setting or style is impossible.
Other Tips to Consider Regarding Necklace Length
Take a look at yourself in the mirror when choosing your necklace length. Jewelry is (almost) all about appearance, and the way it looks on you is crucial to the way you feel about it. After all, you aren't buying a necklace for yourself that looks amazing on your sister, right?
Your neckline, face shape, and body type affect the way necklaces look on you. For example, if you have a wider neck and a shorter body frame, a choker might look something like a dog or cat collar on you, and wearing it will quickly lose its appeal. Likewise, for the more swanlike necks, longer chains will elongate them more, and both your neck and the necklace placement will appear awkward and misshapen.
Take your outfit into consideration. Do you wear primarily low-cut or V-neck tops, or will you be wearing one for a specific event? Then, you will most likely need a 14-inch collar style necklace chain. Looking for a more general-wear, goes-with-everything style? The 16-inch "choker" or an 18-inch "princess" style is probably better suited for you.
As with any major purchase, when in doubt, don't hesitate to ask questions, research and try on things! If you have something in mind, but not too sure about it, get started by filling out our form below.
FAQs
What is the ideal necklace length for a solitaire pendant?
Depending on the look and style you are going for, the ideal necklace length for a gemstone solitaire pendant would be around 18 to 36 inches.
Can a solitaire diamond pendant be found in any diamond cut?
Yes! A solitaire diamond pendant can be found in a variety of cuts and shapes and in an assortment of designs.
How long is a 20-inch chain?
A 20-inch necklace will usually fall a few inches below your collarbone and is ideal for clothes with a low neckline or an extremely high one.
What pointers should I keep in mind while choosing the necklace length?
The most important factor is perhaps the neckline of your outfit. If you're not sure, which one will look best, simply try on the piece and assess if it complements your outfit and if you're comfortable with the way it looks, then take a call. For best results, try on multiple pieces with different lengths and pick the one you like the most.