What to Look for In Jewelry You're Considering for Christmas Gifts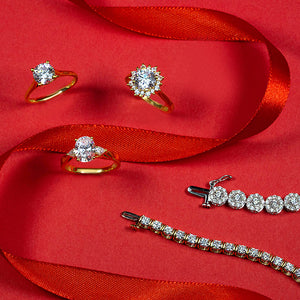 While rings are often saved for celebrating the sacred exchange of vows, the holiday season allows for more flexibility, and creativity, in choosing the perfect jewelry for her Christmas morning. Although a classic in the Christmas gift guide, xmas jewelry is a perfect way to surprise someone, as jewelry is often reserved for loved ones such as a mother, wife, sister, daughter, or anyone close to your heart. It's hard to do wrong with an exquisite Christmas necklace, earrings, or even Christmas jewelry sets!
TABLE OF CONTENTS
Types of Christmas Jewelry Gifts
Although beautiful, diamonds can be daunting as Christmas gifts if neither of you are ready to be engaged. If you have your heart set on diamonds, consider diamonds in the form of Christmas earrings or necklaces. A heart-shaped Christmas necklace is an elegant and popular way to say "I love you."
Fortunately, there is a wide variety of gemstones, opening up a multitude of options outside of diamonds. Christmas earrings or necklaces featuring a gemstone corresponding to her birth month can be a thoughtful personalized Christmas jewelry idea. Or, for the holiday season, consider Christmas themed jewelry with gemstones such as rubies or emeralds.
In addition to choosing the perfect jewelry for Christmas, knowing when, where, and how, can be an equally formidable task. Many people look for a Christmas jewelry sale by shopping on Black Friday. But keep in mind that a hectic, crowd-crazed day may not be the best time to leisurely browse a jewelry section.
But above all, start early. Prevent a stressful holiday season by avoiding the Christmas Eve shopping rush. And if ordering online—order early! A safe and timely delivery by Christmas morning can go a long way to showing your love.
How To Choose Christmas Jewelry
Another important thing to keep in mind is the personality and the style of the wearer. While a gift is always appreciated, it can make the wearer especially happy if the gift matches their sensibilities and tastes. A sleek necklace. may be the perfect choice for someone that enjoys wearing a statement piece and does not have your children that will pull on the jewelry. A pair of earrings is a great fuss free gift that can be worn by her day or night. Solitaire studs are a classic choice that will please anyone. Or if you know she would appreciate something unique, try something like dangling or cluster earrings. If you're looking for a true statement piece, try a gemstone ring.
FAQs
Is jewelry a good Christmas present?
Yes, fine jewelry is an excellent Christmas present. We highly recommend picking versatile designs, like a diamond solitaire pendant or colorful gemstone studs that can be worn all year round.
How to choose Christmas jewelry?
You should choose Christmas jewelry, keeping in mind the personality and style preference of the wearer. Match their sensibilities and tastes so they can make the most of the gift. For example, a glamorous person will love a pair of statement diamond dangle earrings, while someone with an understated sense of style will like a simple yet sophisticated pair of diamond or gemstone studs.
Can I order jewelry online as a Christmas gift?
Yes, you can order jewelry online but ensure that you place the order much in advance to avoid any last-minute rush.
Can I gift gemstone jewelry as a Christmas gift?
Yes, colorful gemstone jewelry is a popular option for Christmas gifting. Depending on the wearer's preference and your budget, you can take your pick from a variety of sought-after gems, such as tanzanite, sapphire, emerald, ruby, and aquamarine.