Necklace vs Pendant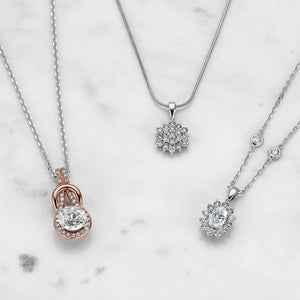 While pendant necklaces may seem self-explanatory, there is actually a distinct difference between a necklace and pendant. Necklace is the umbrella term for any type of jewelry that is worn around the neck. While a pendant is a specific type of necklace that features a charm that hangs from the metal chain of the necklace. This charm can be anything from diamonds to gemstones, in either solitaire or cluster forms.
Diamond Pendant Styles
Diamond pendant necklaces come in a variety of styles such as solitaire, halo, classic, and contemporary.
Diamond Pendant Styles: Solitaire
Diamond solitaire pendant necklaces are made up of a single gemstone held on a precious metal chain. Solitaire pendant necklaces are also available in a single or double bail. Single bail styles secure the pendant with a single metal fastener whereas double bail styles feature two metal hoops. While gemstones for solitaire pendants can come in a variety of shapes, the most popular shapes are round, princess, cushion and oval. 
Diamond Pendant Styles: Halo
While the diamond solitaire pendant necklace is perfect for someone searching for a dainty and delicate addition to their collection, the diamond halo pendant necklace calls a bit more attention. Diamond halo pendant necklaces feature a single central gemstone--most popularly round, oval, cushion and princess cuts--surrounded by smaller gems. If you can't decide between a gemstone or diamond necklace, diamond halo pendant necklaces allow you to have both. Diamond halo styles are a great option for those looking for a visually larger pendant. More modern diamond halo pendant necklaces styles feature various diamond shaped designs that surround the center gem.
Diamond Pendant Styles: Classic
Outside of the specific solitaire and halo diamond necklace pendant styles, classic necklace styles encompass a broader range of gemstone and diamond pendant necklace designs that are loved by many. These necklaces can include designs such as keys, clusters, and hearts. Many of the necklaces in this group represent specific occasions (like Valentine's Day) and anniversary/wedding anniversary milestones. For example, heart, love knot, and key shaped designs incorporating diamonds are popular choices for Valentine's Day. While journey and infinity gemstone and diamond pendant necklaces are often chosen for anniversaries because of their representation of the infinite journey of a couple's love.
Diamond Pendant Styles: Contemporary
In addition to the traditional diamond necklace pendant styles, contemporary styles encompass newer designs that are suitable for all ages. The unique designs you can see in this style include: different variations of love knots, infinity signs, key designs, and interlocking circle pendants. Although different from the usual necklace choice, these do still remain versatile enough for timelessness and everyday wear.
Advice When Buying A Diamond Pendant Necklace
When purchasing a diamond pendant necklace, consider important factors such as:
While factors such as size and quality may be determined by budget, certain designs--such as halo pendants--are great choices when looking for a larger piece. When considering usability and shape, keep in mind the cut of your gemstones or diamonds. Round cuts are often more durable because they do not have sharp corners that can chip and become caught on fabric. But when it comes to factors such as design, always trust your personal taste. If you need some guidance, contact us by phone at 1(844)-234-6463 or email at service@withclarity.com. Our Live Chat is available during business hours Monday - Friday, 10 AM - 5:30 PM ET.
Diamond pendants are a gorgeous choice to celebrate any special moment, and versatile enough to wear everyday. 
FAQs
How to clean a diamond pendant?
Cleaning a diamond pendant is easy. First, soak the diamond pendant in a gentle soap and water solution for about twenty minutes. Next, remove it from the solution and use a soft-bristled toothbrush to clean any remaining dirt. Lastly, dry it with a soft cloth before safely storing it. If you're unsure about cleaning your diamond pendant at home, then take it to a professional.
What's the best occasion to gift a diamond pendant?
A diamond pendant can be gifted on any special occasion, including a birthday, anniversary, graduation, Christmas, Hanukkah, Valentine's Day, or even a bridal shower. Diamond is the birthstone for April to celebrate friends; therefore, a diamond pendant will be a fantastic choice for friends and family members born in this month. It can also be a traditional gift for the 60th wedding anniversary.
What is the difference between a lab grown and natural diamond pendant?
The only difference is the type of diamond used in the pendant. One is born inside sophisticated labs and the other under the surface of the earth. But besides this, both a lab diamond and an earth-mined diamond are optically, chemically, and physically the same. It is important to note, however, that lab grown diamonds do not require mining so they're approximately 20% to 40% more affordable than earth-mined diamonds. At With Clarity, we offer lab diamonds certified by IGI, and natural diamonds certified by GIA.
What is the best size for a solitaire diamond pendant?
The completely depends on your preference and budget. Generally, for an everyday pendant, most people opt for 0.25 to 1 carat diamond. You can opt for a diamond that is above 1 carat for special occasions and moments when you need that extra sparkle.
What is the best metal for a diamond pendant?
The best metal for a diamond pendant is 14kt or 18kt gold because it is durable, sturdy and will not easily corrode, rust, or tarnish. Depending on your look and preference, you can opt for yellow gold, white gold, or rose gold. If your pocket allows it, you can also opt for platinum, which is hypoallergenic, durable, and beautifully complements the brilliance of diamonds.