A Guide to Creating Custom Wedding Bands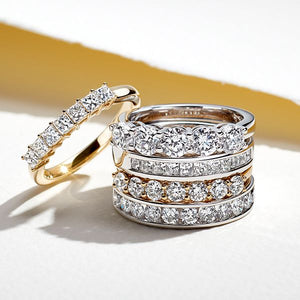 The Ancient Greek philosopher, Plato, explored the idea that love makes us whole again. Marriage is a celebration of this union, proclaiming your love for your significant other. This special moment equally deserves unique wedding bands.
Therefore, you should not just pick up a set of bands from the next available jeweler. Instead, it would be best to choose personalized bands that capture your story and have sentimental meanings. This post gives you a step-by-step guide on how to go about this process.
Choosing a Band Style
Your engagement ring should be considered when choosing a wedding band. A shadow or curved wedding band conforms to the shape of the engagement ring. This option is best if you always prefer to use both rings together. The flush style is better if you want a band you can wear separately.
When it comes to men's wedding bands, the band's profile and the shape are key factors to consider. Think of this as a spectrum between a flat and a domed ring. Domed is a more classic and timeless look, while the flat is more modern and contemporary. Halo, concave, and flat-sided are between this spectrum.
A Plain or a Diamond-Embellished Band
You also get to decide between a plain wedding band and a diamond wedding band. The plain wedding band is a more classic look for a man's wedding band. Although, bands embellished with diamonds are becoming a popular choice for men. Your partner might need a few diamonds in hers or decide to leave it plain to draw more attention to the engagement ring. These diamonds can range from certified lab-created diamonds to natural diamonds.
You may also decide to use a texture or finish, hammered, stardust, sandblast, coarse matte, fine matte, and mirror.
Width
Personalizing your bands allows you to choose a width that compliments your hand and finger size.
Thin: 1-3mm
Midrange: 4-6
Wide: >6
For men, between 3 1/2 to 5 mm wide is considered ideal; this is the size of two nickels stacked next to each other. However, there is a need to match the engagement ring and the wedding band's width for women.
Choosing the Right Wedding Band Metal
Suppose you have to pick the perfect metal for your custom wedding bands. In that case, it'll probably be vibranium, but that only exists in the Marvel universe. There are several options available to you. First, we have precious metals, like yellow gold, white gold, platinum, and palladium. And alternative metals like titanium, silicon, and wood.
1. Platinum: is the rarest and most durable of precious metals; its white shine is forever. However, it is also the most expensive option for wedding bands.
2. Yellow gold: this is the color associated with the traditional wedding bands. It is easy to repair and polish.
3. White gold is an alloy of yellow gold, palladium, and silver plated with rhodium. It is an increasingly popular choice for men's wedding bands. Although the silvery sheen does wear off, there may be a need to re-plate.
4. Rose gold: this is a popular choice for women's wedding bands. It is an alloy of gold and copper. Some erroneously perceive it as a pinkish color associated with femininity.
What is the difference between 14k and 18 karats gold?
The karat of a gold ring is the measure of the gold in it. 18K gold means it contains 75% gold and 25% alloyed materials. On the other hand, 14k gold contains 58% gold. The amount of alloyed materials in 14k gold makes it stronger and more durable. If you work with your hands and have an active lifestyle, a 14k wedding band might be ideal.
Determine Your Accurate Ring Size
Now, you need to measure your ring size accurately. Many jewelers offer this option online or even in the store. But other options affect your ring fit.
The band's profile plays a role in how it fits your finger. The traditional cut, which has the curved inner edge, sits just slightly off your finger. However, the D-shaped profile sits flush on top of the finger; this gives it a tighter feel than the traditional profile. This difference should be considered when sizing your ring. Also, the width affects the fit; a wider band like 6mm will feel tighter on your finger than a thin one. You should therefore seek out a jeweler that offers free resizing policies.
Personalize Your Experience
You and your partner may decide to add additional sentimental values to your wedding bands. These could be in the form of engravings of messages on the inside of the rings or additional gemstones. Creating your own bands grants you this opportunity.
Next is choosing the metal for the design you have in mind taking your budget into account. You could argue this should have come first, but oftentimes it's easier to narrow this down once you have a style in mind.
Reasons why you should customize your wedding band
Customization gives you full control over all the aspects/features of the final product. Since you'll be wearing this for the rest of your life, you should have control over how every aspect of it is produced.
You will end up with something personal and unique. Customizing your engagement ring is also a beautiful way to showcase your effort and sentiments behind the decision-making of every feature/design element.
If overspending is an issue, customization helps you stay well within your budget while still creating a band you'll love.
How to Start Creating a Custom Wedding Band
You should present your research and design to a jeweler who will translate your dreams into reality. You can also use a jeweler that permits you to build your wedding bands online. First, however, you should choose one that offers a home preview to have a feel of the product before you buy it.
Here are some tips to keep in mind when buying a custom wedding band.
Take your partner's likes and dislikes into consideration before making the final decision.
Work with one of our certified gemologists to get the right information about pricing,
It would be best if you started looking early. The process of custom wedding band making takes about 20 to 25 days. This process could be longer if you want engravings. So to avoid any last-minute rush, give your jeweler enough time to work.
The Takeaway
All of the points discussed have implications for your final product. But, do not forget to have fun while choosing your wedding band. At Withclarity, we pride ourselves on making beautiful jewelry pieces. We would love to help create the perfect wedding band for you. Ones you can wear with the confidence that no one else has anything like it. Schedule a consultation with one of our experts to assist you in creating your custom wedding bands.
FAQs
Is it necessary for a couple to have matching wedding bands?
Historically, wedding bands are made in matching pairs to symbolize the partnership. However, there are no rules that say the bands must match nowadays.
Which is the best metal for a wedding band?
The best metal varies based on perceptions. For example, gold is the most common and classic look for a wedding band; however, titanium might be the best choice if you are allergic to gold.
Should the engagement ring and wedding band have the same style and metal?
The classical choice is choosing a similar band to complement your engagement ring. Although no rule says it must be the same, you can also mix the color to create an aesthetically pleasing contrast.
How much does a custom ring cost?
The cost depends on the ring metal and style, whether or not there are embellishments of diamonds. However, the average cost is $560 and $1,400 for men and women.