Men's Wedding Bands Width Guide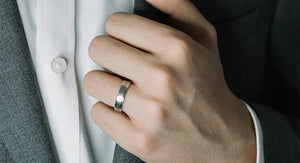 Choosing your wedding band should be just as fun and precise as selecting the engagement ring. When couples are out shopping for wedding bands, these top three things come into mind: what metal to choose, should it be plain or embellished, and what size you will get. However, many people don't consider the width of their ring bands.
TABLE OF CONTENTS
Selecting the Correct Width
The average wedding ring band is approximately 6mm to 8mm. This entirely depends on the finger and hand size of your man. So when you're browsing wedding bands, start with a 6mm and adjust where needed. If he's already wearing a ring or other jewelry, base the width off of that. If he's new to wearing jewelry, perhaps try on a few styles to see what resonates well with him, before making your final purchasing decision.
For some time now, the width of the man's wedding band has been considered more masculine, but today, men are looking for comfort and style over "masculinity," so below, we've provided you the importance of wedding band widths and what types there are.
Narrow Wedding Bands
They are often times recommended for men with a ring size under 9. They typically run between 2mm and 6mm. Men with smaller hands or skinnier fingers may prefer these mainly because you would not want the ring to overpower your man's finger and look lost. Wedding bands that are 6mm or thinner are typically less expensive as they take less metal to produce. Narrow bands are also less noticeable on the hand, so they work well for a man who is not looking for showy jewelry pieces. However, if he is looking for something that mixes metals and finishes or incorporates accent diamonds on the band, the narrow band may not be able to accommodate for that.
Wide Wedding Bands
They are recommended for men with a ring size of 9 or larger, which is typically 6mm or wider. Men usually have larger hands, or they really want their ring to stand out on their finger. Since wider wedding band widths use more precious metal quantities, they will be more expensive. Note that when considering a wide wedding band width, you should talk with your jeweler about the natural shape of your finger because wider bands are often tighter than narrow ones, and you wouldn't want to be uncomfortable! Wide bands are better in terms of showcasing accent diamonds or various shapes and sizes and can also show different stacked finishes and metal types, if he's looking to stand out from the crowd.
Best Width's for His Lifestyle
There are so many stunning rings for men that it can be daunting to choose just one, but to narrow down the options, the best place to start is to think which type of ring is appropriate for your man's career.
Handypersons & Construction Workers are constantly working with their hands, so they need to ensure they have a comfortable and durable band. Narrow widths might work best for them since it could be easier to move their fingers. Also ensure the fit is snug, and comfortable. In most cases accent diamonds are not a good idea as they can become loose if he is working with his hands a lot. Finally, opt for a finish that will be easy to maintain. Etchings and engravings may also become worn over time, so be mindful of the maintenance the ring may require.
Athletes and Trainers live a very active lifestyle, so they will probably want a wedding band width that isn't going to slip off during workouts and training. Something simple and subtle will do the trick! Choose a single metal and something that stays on easily.
Doctors and Healthcare Providers have to be clean as possible for their patients, so they tend not to carry a ring unless it isn't protruding and bulky. A simplistic and sleek wedding band would suit them much more than a thicker and bulk style. Something that will not interfere with hand washing, glove wearing and the work that has to be done with patients is ideal.
The career isn't the only factor, but it is one of the most important ones to consider when choosing the perfect wedding band for him. Consider his hobbies, how careful he is with jewelry and other belongings, or if he will be taking his ring off regularly or keeping it on.
Flat Fit Vs. Comfort Fit
The traditional fit where the band's interior is completely flush against the finger is also known as the Flat fit. On the opposing side, the comfort fit is a modern style designed to be rounder than the flat fit resulting in less pressure placed on the finger, therefore easier to slide off over bigger fingers and knuckles. The flat fit looks a bit more modern and contemporary, but is not as smooth and easy to wear on a daily basis- it does take some getting used to. In any case, it makes sense to choose something that he will love wearing and showing off and something that is an extension of your commitment to one another.
FAQs
How wide should the wedding band be?
If you are shopping for a wedding band, there are two widths to consider: Narrow and Wide. You can choose between 6mm and 8mm. Most men choose bands that are at least 4mm wide, although, Narrow bands tend to be less expensive than wide bands too.
What is the standard width of a men's wedding band?
The standard width of a man's wedding band is approximately 6 mm to 8 mm.
What are the benefits of a thin wedding band?
Choosing a thin wedding band over a wider one has many benefits, but the best one would have to be the comfort ratio to the size of your fingers and hand.
What are the benefits of a thick wedding band?
If you have larger hands and thicker fingers, a wide wedding band is often more comfortable to wear.
How much does a men's wedding band cost?
This really depends on how much you want to spend on a wedding band, what metal you choose, and if you want embellishments such as diamonds or gemstones. You could be looking at $100 up to $2,000.