Wedding Bands vs Anniversary Bands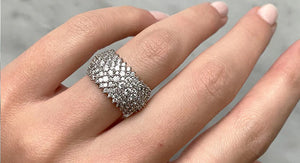 What is an Anniversary Ring?
An everlasting commitment such as your marriage needs to be commemorated with a sparkle. Anniversary rings symbolize your eternal love and hold a very special place in your heart as well as your fingers. A memento of your love and the longevity of your relationship, anniversary rings are a beautiful way to celebrate your love together. But what does it symbolize? It is a great reminder of the joy and milestones you have accomplished as a couple. Women's anniversary rings have become an integral part of their daily ensemble and are known to bring a smile to their faces (Yes, we have seen you smile).
The design of an anniversary ring or an anniversary band is a simple band with many diamonds or gemstones offering a radiant sparkle. Or it could be one without any stones at all. But of course, as is your relationship unique and beautiful, there are a wide variety of designs available today. From vintage anniversary rings to classic styles, anniversary band styles available today are versatile and absolutely trendy. Another sparkling way to say you care, anniversary rings or anniversary bands are a lovely and meaningful purchase.
It usually is reminiscent and reflective of you both as a couple and aims at personifying the emotions behind your relationship. While some give an anniversary ring on their first year anniversary, it is common to see a 5th anniversary ring, 10th anniversary ring, and of course the 25th-anniversary ring. With a variety of anniversary band styles available today, take an extra moment to find one that is truly you and your partner.
Celebrate the success of your marriage with an anniversary ring from our page or go ahead and design your own anniversary band to show her how special she is! For a personal touch, you can opt to design your own anniversary bands. Customization options can include choosing diamond carats weights, shapes, and even quality types depending on the jeweler you work with. Commonly chosen shapes for custom anniversary bands include round, oval, and emerald. If you're looking for something specific in terms of shape, With Clarity can customize style on-site to accommodate unique trending shapes like emerald and pear. In the majority of cases, most customers will choose to match the metal of their engagement ring be it platinum or gold. For a refresh, others choose a contrasting metal like warm yellow gold or rose gold. This can be an easy style choice if wearing the anniversary ring on the right hand or replacing the engagement ring stack altogether!
Reach out to us about our custom jewelry services or if you have any questions about lab grown and natural diamond studded anniversary band options.
Types of Anniversary Bands
Generally, a traditional anniversary ring features gemstone or diamond accents. You can also opt for a solid platinum or gold band. If you are looking for a classy anniversary gift for your wife, there is nothing like a beautiful ring to commemorate the occasion. Many modern couples celebrate their wedding anniversary by exchanging beautiful and luxurious anniversary bands.
Women's anniversary rings are available in a large variety of designs, from ornate designs to plain gold bands. Men's anniversary rings usually feature birthstones, diamonds, gemstones, or a solid design. In all cases, the taste of the wearer is the primary determinant of the style and look of the band.
Wedding Bands vs. Anniversary Bands
When comparing wedding bands vs. anniversary bands, the biggest difference is that you don't have to wear the anniversary ring on your ring finger. Many people engrave a loving or congratulatory inscription on the ring to make it unique. Unless you want, anniversary rings don't have to replace your wedding bands. Couples can wear them as an extension of their wedding rings.
These rings usually feature a traditional band styling, but you can choose embellishments according to your taste or budget.
Some may also choose to stack their engagement rings, wedding bands and an anniversary band all together for a full and sparkling look. The best way to ensure that she's happy with the look of her stack is work with the same jeweler that created the wedding and engagement rings to ensure a seamless fit and cohesive look. If worn separately or on the right hand, the anniversary ring can be more creative, larger or embellished with additional features.
Wearing Bands and Rings Together
Wearing an anniversary and a wedding band together is quite popular. However, many women and men may choose to wear it on a different finger of the opposite or the same hand. In simple words, there is no right or wrong way to wear an anniversary band, and you can wear it according to your preferences.
Mixing and matching metals or designs makes it easier for both men and women to wear both rings together. If your wedding ring has a channel setting, a three-stone setting, or a four-prong setting, you can get the same setting for your anniversary bands.
Replacing Your Wedding Band with an Anniversary Band
Replacing wedding bands with anniversary bands is becoming a popular trend among contemporary couples. Over time, our interests and style preferences change. That's one reason you may want to replace your wedding ring with a beautiful anniversary band.
If you don't want to replace your wedding bands, here are a few ideas:
Wear your anniversary ring with your wedding ring.
Upgrade your original wedding band. For example, you can add more stones or replace smaller stones with bigger ones.
Wear the anniversary band on another finger.
While there's no rule of thumb, most people wear their anniversary ring on the ring finger of their right hand. That way, the anniversary ring stands out without overshadowing your wedding ring.
History of Anniversary Bands
For centuries, rings signify commitment, love, and fidelity. The Western traditions of anniversary or wedding rings go back to ancient Greece and Rome. Rings were once a part of marital dowry but later became a symbol of fidelity. The current exchange of rings derived as part of Christendom from the European traditions in the Middle Age. The anniversary band is an extension of this tradition as it solidifies the commitment and the strength of the marriage and relationship.
Anniversary Band Styles
Here are some popular designs and types of anniversary bands that you can choose according to your anniversary:
A Gold band featuring diamonds: 1st anniversary
Sapphire: 5th anniversary
Platinum or Palladium rings featuring diamonds: 10-year anniversary rings
Ruby rings: 15th anniversary
Emerald, Yellow Gold, or Rose Gold rings: 25th-anniversary rings
Although these are popular choices for anniversary bands, you can choose any metal or stones according to your partner's preferences or your budget. With Clarity also has a selection of other diamond gifts that would work well for any anniversary.
Anniversary Band Customization Options
As an anniversary band is an addition to her jewelry collection, she may enjoy the fact that it has additional customizations and details that reflect your love story.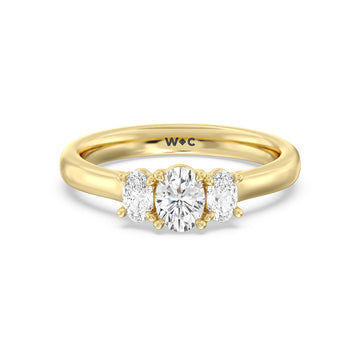 When you are buying anniversary rings for her, the best way to upgrade a wedding ring or customize an anniversary ring is to choose a three-stone design. The stones can be as per your budget or the taste of your partner. Such rings feature a triple twist band or three-tone stones, symbolizing love, friendship, and fidelity. Three stone rings are also a beautiful way to reflect the past, present and future of your relationship. Commonly, round or oval diamonds are chosen for three stone rings. You can also create something edgy and unique using princess diamonds. In all cases, ensure that you work with a gemologist and jeweler to choose diamonds that match each other well in terms of style, size and quality.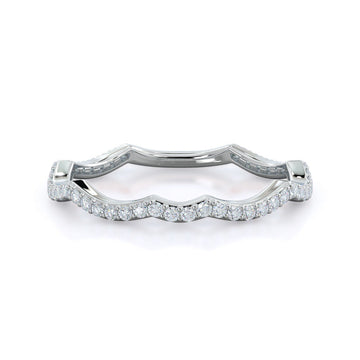 Eternity designs are another popular choice to profess your love on this important milestone. Choose an eternity anniversary band featuring precious stones or diamonds. These rings symbolize your eternal love and commitment that deepens the bond you share with your spouse. Customize to create a half-set or full-set eternity anniversary band. Eternity diamond bands are famous to have all around sparkle and shine. Commonly, round diamonds are used to create the look that circles the ring finger.
There is nothing like a vintage design to celebrate your anniversary in style. Traditional platinum or gold rings, embellished with precious stones or diamonds, make the perfect anniversary gift for your partner. You can customize your wedding or engagement ring to create a vintage design. Vintage, art deco or ornate looks are beautiful as they celebrate the unique taste of the wearer and also add something different to her jewelry collection.
Anniversary Gifts by Year
Most couples wait for their marriage to get at least ten years old before choosing an anniversary ring. But, you can buy your partner an exquisite anniversary band to celebrate your first, second or third anniversary. After all, it is a celebration of your love together, isn't it?
You can also choose to get an anniversary ring for renewing your wedding vows on your first or tenth anniversary. More often than not, anniversary rings are given to commemorate the 5th anniversary, 10th anniversary, 20th anniversary, or even the 25th anniversary. Thus, it is common to see a 5th-anniversary ring, 10th-anniversary ring, and of course the 25th-anniversary ring.
Simple and sturdy, the first anniversary is celebrated with a gold ring while the 5th-anniversary ring is said to be studded with a sapphire to symbolize harmony and peace in the relationship. Diamonds are generally a popular gift for the 10th anniversary but are beautiful as a gift for any year that you choose to gift them. Rubies are usually given as a 15th-year anniversary ring while emeralds are said to mark the 20th anniversary together. As everyone also knows, the 25th-anniversary ring usually has silver but some couples choose to get a vintage anniversary ring to mark this momentous occasion. The 30th year together calls for the beauty of a pearl-studded anniversary ring while the fiery red ruby makes a comeback for the 40th anniversary. 50 years of being together with the love of your life call for the ultimate as your golden jubilee is as good as it gets! We suggest rose gold to lend an ethereal feminine beauty to an anniversary band that is so deserving of this stupendous milestone!
Anniversary Bands for Daily Wear
Of course, it is a great idea to wear your anniversary ring every day. If you do choose to do so, make sure it is comfortable and durable, and keep this in mind while picking an anniversary band. Simpler anniversary bands will make it easy for you to go about your daily routine without so much as feeling something on your finger.
It would be nice to consider and discuss lifestyle options such as the nature of her job, her hobbies, or any instruments and sports she plays frequently with your partner. Avoid rings with sharp protrusions if she loves knitting or sewing, playing sports, or cooking. If you're factoring this into your purchasing decision, be sure to ask her opinion or a family or close friend's opinion. This will help you decide what will work well for her on a regular basis.
With Clarity offers an amazing collection of rings for both men and women. Explore more to find out about our beautiful ring designs.
FAQs
What is an anniversary ring?
An anniversary ring is a jewelry accessory to celebrate your wedding day. You can choose an anniversary band for your first, fifth, or tenth wedding anniversary. Choose a band based on her style and lifestyle. Be sure to have her hands measured again to ensure a proper fit.
How much should you spend on an anniversary ring?
The decision of how much to spend on your anniversary ring entirely depends on your budget or preferences. You can choose an anniversary band from $200 to $5000 or even more if you're creating something custom with larger diamonds. Premium metals like 18kt gold or platinum can also increase the cost.
What finger do you wear an anniversary ring on?
Generally, people wear anniversary rings on the ring finger of their right hand. However, the wedding band, engagement ring and anniversary band can also be stacked together on the left ring finger.
Does your anniversary ring replace your wedding band?
You can either replace your wedding ring with a new one or update it to create a unique anniversary ring.