Guide to Choosing Unique Anniversary Bands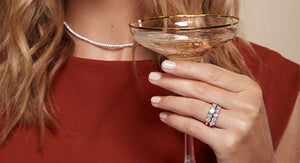 Every relationship has a beautiful story and within that story are milestones. These milestones might represent when your story first began or when you first realized you would spend your lives together. Whatever that milestone may be, it deserves to be recognized and celebrated. If you have an anniversary with a special someone coming up, consider looking for a unique anniversary band to commemorate the milestone together.
Choosing anniversary bands that are unique and beautiful can be tricky but it's not impossible. The first step is to decide if you want to get bands that are the same or different. If you are getting bands that are the same, there are many aspects of the bands that can make them similar and yet unique.
TABLE OF CONTENTS
Choosing The Perfect Diamond
The best place to start is to decide on the diamond. This may seem overwhelming but it is also the fun part! The diamond is the show stopper of the bands and deserves to be chosen carefully.
The first big decision is choosing where that diamond came from. Do you want something that is natural and earth-mined or do you want something that is a bit more ethical and eco-friendly? Lab grown diamonds are much more affordable than naturally mined diamonds so keep that in mind when picking the bands.
While natural diamonds are rare and luxurious, the lab grown diamonds do have some benefits. Lab grown diamonds often have fewer flaws because they are carefully created in perfect laboratory conditions. They are usually brighter and can come in unique colors and shapes as well.
If this isn't a major milestone, maybe consider a lab grown diamond to save on money to splurge on the next big anniversary.
The Perfect Diamond Cut
You and your partner are as unique as a diamond, and so is your relationship. Choosing unique anniversary bands for both of you should not be a quick decision. Take time to figure out what each partner likes so that the bands can reflect their unique personalities and personal preferences.
The cut of the diamond is one of the most underrated aspects of any band but when it comes down to it, it is the most defining aspect of the ring. For example, if you are into a more classic and timeless style, maybe consider a round brilliant cut diamond. This is popular because it is so simple and yet so classic.
If you feel like stepping away from classic and want something a bit more unique, consider an oval, pear, or Asscher cut diamond. These are very unique cuts of a diamond but are still incredibly beautiful.
We couldn't forget to mention the emerald cut. The emerald cut is a lot like marquise cut, it is unique but still has a sense of class. These two cuts could be a great middle-ground if you can't decide. Once you have decided on a cut, it is time to decide on channel sets.
Channel Setting
Channel sets in an anniversary band can make the band what it is. A channel set in a ring is a type of setting where small gemstones are placed perfectly in a uniquely cut channel.
Channel settings are a great way to make a band unique as the channel can be a straight line all away around the band that looks very modern or it can be wrapped in a bow tie for a classy and timeless look.
The benefit of a channel setting is that the diamonds are held and protected from anything that could harm them if they were protruding. They won't get snagged on your clothing or lose stability over time. They also make the anniversary band sparkle with all of the extra gemstones.
The only real downsides are that they require more time and effort to maintain as the channels can trap dirt and grime. If you end up breaking or fracturing a gemstone or a channel, it will be more expensive and difficult to repair.
Choosing The Right Metal For Your Anniversary Band
The next most important step in choosing any anniversary band is the metal. Metal choice can completely alter how the final product looks and it should be considered just as important as the diamond cut.
The metal choice not only affects the overall appearance, but the price, and the comfort. Keep in mind that some people are more sensitive to certain metals than others and the last thing you want is to wear a ring for your anniversary that is causing you an allergic reaction. Sometimes there is nickel in gold and if you or your partner are sensitive to nickel, consider using hypoallergenic platinum.
This is a great option if you were looking for a white gold band but are sensitive to nickel. It is also incredibly durable allowing you to wear the ring on all occasions rather than just on special occasions. Platinum has an overall more muted and foggy appearance rather than the lustrous look of white gold.
Yellow Gold vs White Gold
The main difference between white gold and yellow gold is the overall appearance as one is yellow and one is more similar to silver. The overall look of white gold is lustrous while yellow is luminous. However, white gold is mixed with white metals such as nickel and yellow gold is mixed with yellow metals like copper.
Yellow gold is the most classic option. It has a vintage feel to it and can make an amazing option for an anniversary band. However, white gold is a bit more casual when it is toned down. Adding certain details to white gold can give it a vintage feel but overall it is much easier to pair with different gemstones.
There is not much of a price difference between white or yellow gold as it contains the same amount of gold. However, platinum is much more affordable and should be considered if you are looking to save a bit of money.
Best Gold Choice For Anniversary Bands
If you have decided to go with gold anniversary bands the next important choice is the karat. 14k and 18k gold are the two most popular choices when deciding on the precious metal for your anniversary band.
The main difference between the two is the percentage of gold in the metal. 18k gold means it contains 75% gold and 25% alloy metals while 14k gold is made up of only 58% gold. The alloy metals could mean silver, copper, nickel, or palladium.
If you are stuck between the two, consider price first, and then decide if this anniversary is a big one or just a smaller milestone. If it is a smaller one consider 14k for these bands and save the 18k for the next big anniversary.
Tips to Keep in Mind When Buying An Anniversary Band
Last but not least, when you are looking at anniversary bands be sure to pay attention to the jewelry you wear on a day-to-day basis. If you are planning on mixing the anniversary band with your wedding band or another piece of jewelry, try to match the metals so that they blend well.
If you are mixing metals, try to keep the tones as similar as you can. Yellow gold and rose gold will work better together than white gold and yellow gold.
Once you are ready to purchase the anniversary bands, be sure to choose a reliable source that has a good return policy if there are any issues with the product. The final step is to ensure the diamonds you buy have been certified by GIA, IGI, or other reputable and renowned institutes.
FAQs
What is the purpose of an anniversary band?
The purpose of an anniversary band is to commemorate an important milestone in the relationship
Does an anniversary band replace the wedding band?
The anniversary band does not necessarily replace the wedding band, but joins it.
What is the difference between a wedding and an anniversary band?
An anniversary band is a wedding band but it is just given on the date of an anniversary rather than a wedding day. You don't have to wear it on your wedding finger, and it doesn't have to feature stones if you just want a solid band. All the details are up to you.