How To Buy Engagement Rings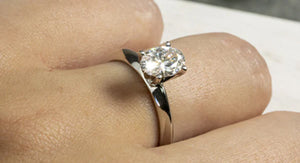 Buying an engagement ring is about understanding the various components of the ring, what will match her tastes and what is the style that falls within your budget. It is also about understanding when is the best time to buy, and how to pick the optimal combination that has both value and appeal.
Timing
Buying an engagement ring is a process that requires some time and consideration. After all, this ring will be a celebration of one of the happiest moments in your life and will be a piece of jewelry that is worn lifelong. Give yourself at least two to three weeks to make your considered purchase. This will give you enough time to learn all about the diamonds or gemstones, ring styles and sizing. Once you have understood all the essentials, it should take a jeweler about 2 weeks to complete and deliver the ring to you. And then, the only other element is to plan for the proposal.
Short on time? Try preset rings
If you are on a time crunch, we reccommend a preset ring. Briefly, a preset ring is one that's already finished when you order it. In other words, the diamond and setting are previously selected, and the ring is assembled. The ring is ready to ship and ready to wear upon arrival. Generally, there is little or no customization allowed other than the selection of ring size. Though at With Clarity, we give the option to add a personal engraving on your preset ring.
Steps To Making the Right Choice
Buying a ring can be overwhelming if you think about all the components at once. However, use this step by step guide to work your way towards your purchase.
Step 1: Determine Your Budget
While many say you must spend 2 or 3 months salary to purchase a ring, this ballpark is by no means a rule. Spend exactly only how much you feel is comfortable for you. There are ways to maximize and get a beautiful ring within nearly any budget, if purchasing from the right jeweler.
If purchasing a diamond ring, a large portion of your budget will be dedicated to finding the right diamond. The remaining portion of the budget will determine the ring style and metal. If you or your significant other are very particular about the ring style or look, you can start there. If not, we recommend understand which diamond shape and size are optimal.
Step 2: Understand Ring Styles
Engagement rings come in many styles and collections. If you already know that they prefers a simple solitaire, classic halo, or unique split shank style, you can work to find the best style within that. If you don't have any hints or preferences to go by.
Observe and research a bit to understand what type of ring might match your partner's personality. If they wear minimal jewelry, prefers streamlined and simple clothing, then they may appreciate a beautifully crafted solitaire or classic ring with the focus on a larger, higher quality diamond. On the other hand, if they prefer a bit of sparkle and size, then a halo style might be more suitable.If their jewelry preferences and clothing tastes are vintage inspired, opt for a braided or woven ring style. They will fall well in line with daily attire. You know them best and can probably determine what they would love.
When it comes to gemstones, sapphire and ruby are the top choices. Many choose to research both online and in-stores jeweler locations. While shopping at a jewelry store is the traditional route, shopping online gives you added benefits like more selection, lower prices and easy customization options.
Step 3: Set a Proposal Date
Have an understanding of approximately when you would like to propose. Having a date in mind will ensure that you give yourself enough time to research, select and shop without panicking. It will also ensure, that you do not confuse yourself by being overly selective, leading to a drawn out decision making process. Treat buying an engagement ring like any other timed goal you would have in life. This will enable you to methodically get the best ring possible.
Step 4: Vet The Jeweler
Now that you have an idea of what you may be looking for after doing a bit of research, it is important to ask all the right questions to your jeweler. This will ensure that you get the most value for your money and that your jewelry will remain beautiful for a lifetime. Any reputable jewelry will offer you GIA or IGI certified diamonds, pure precious metals, appraisals, a return and lifetime warranty policy. If a retailer makes these clear upfront, you can be sure that your purchase is secure. If they do not, don't hesitate to ask. It's important to have peace of mind before making this purchase. Learn more about choosing the right jeweler.
Step 5: Order the Ring
Once you've finalized your options, it may help to have a second opinion. If you truly want to keep it a surprise then by all means complete the purchase yourself. However, if you're comfortable ask a close family member or friend for their advice to ensure that the purchase you're making is the correct one. If you feel comfortable, shop with your significant other. Like all other important decisions in life it helps to know what your significant other thinks.
FAQs
Do engagement rings have to be diamond?
No, engagement rings do not have to be diamond. While diamonds are traditionally the most popular choice for engagement rings, there are no hard and fast rules regarding the gemstone or design of an engagement ring. The choice of stone and design largely depends on personal preferences and cultural traditions.
How much is a diamond engagement ring?
Diamond engagement rings can range from a few hundred dollars to several thousand dollars or more, depending on factors such as the size, quality, and design of the diamond. High-end or luxury diamond rings can cost tens of thousands or even hundreds of thousands of dollars. It's important to consider your budget and personal preferences when choosing an engagement ring.
Should I buy a lab grown or natural diamond ring?
If budget is a primary concern and you prioritize sustainability and ethical sourcing, a lab-grown diamond ring might be a suitable choice. If you value the tradition and rarity of natural diamonds and budget is not a primary concern, a natural diamond ring might be preferable.
Who should pay for the diamond engagement ring?
Traditionally, the person proposing marriage is responsible for purchasing the engagement ring. However, in modern times, there is no hard and fast rule about who should pay for the diamond engagement ring. It ultimately depends on the couple's preferences, financial situations, and cultural or personal norms.