With Clarity vs. James Allen: Understanding the Difference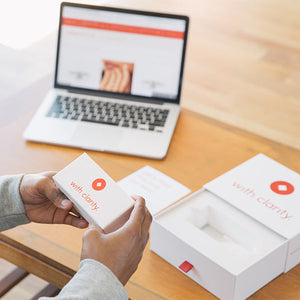 When it comes to shopping for fine jewelry, there are many retailers from which to choose. Among the two you will come across online are James Allen Jewelry and With Clarity. From men's wedding bands to custom diamond jewelry, With Clarity goes above and beyond to provide top-quality products at unbeatable prices - and that's only the beginning.
In this article, we'll compare James Allen and With Clarity to show you all how With Clarity stands apart from the competition. Read on below to discover why With Clarity should be your go-to retailer for all your fine jewelry needs.
TABLE OF CONTENTS
Excellent Quality, Reasonable Prices
One of the first things you'll notice about With Clarity is its availability of high-quality products at surprisingly reasonable prices. With over 100 years of combined jewelry knowledge and passion, the experts at With Clarity know how to source the finest materials and use them to create affordable yet stunning jewelry. And knowing that you're getting a high-quality item when online jewelry shopping is key, especially when you're spending your hard-earned money. In the image below, you'll see With Clarity's pricing versus James Allen's.
James Allen vs. With Clarity
| | 1 ct Lab Grown | 1.5 ct Lab Grown | 2 ct Lab Grown | 2.5 ct Lab Grown | 3 ct Lab Grown | 3.5 ct Lab Grown |
| --- | --- | --- | --- | --- | --- | --- |
| With Clarity | Starting at $859 | Starting at $1,377 | Starting at $1,462 | Starting at $2,442 | Starting at $2,705 | Starting at $3,895 |
| James Allen | Starting at $859 | Starting at $1,840 | Starting at $3,290 | Starting at $3,790 | Starting at $6,460 | Starting at $8,670 |
As you can see, when shopping for diamond jewelry at With Clarity, you'll get a better deal on larger stones, making it easy to get exactly what you want without sacrificing due to your budget. As one of the first eCommerce stores to provide only 100% lab-grown diamonds online, overhead is reduced, and the savings are in turn passed on to the customer. Furthermore, since these stones are lab-grown, they are additionally 100% conflict-free!
From engagement rings to wedding bands and everything in-between, the team at With Clarity works hard to not only give you confidence in your purchase but also to ensure that the shopping process is as convenient and enjoyable as possible. So, as you can see, With Clarity cares about quality, affordability, and the customer experience above all else. That's why you'll find so many positive With Clarity reviews.
Home Preview
Are you nervous about finding the perfect engagement ring? If so, we can't blame you - it's an undeniably stressful albeit exciting time in your life. Luckily, With Clarity takes jewelry online shopping to the next level by allowing you to try out engagement rings before committing to one in particular. That way, your partner can try it out at the office and out on the town to make sure it's the perfect fit. But how does it work?
All you have to do is follow a few simple steps and before you know it, you'll have lab diamond jewelry from With Clarity at home to try out in your daily life. First, take the time to build your Home Preview box by choosing two rings, their shape, metal, and stone size. Next, your partner will have 3 days to wear the rings, snap photos, and decide which is the right ring for them. Once you've returned the rings, you'll go online and make your decision, customizing the ring of your choice to finalize your perfect ring.
Consultation with Diamond Experts
Buying lab diamonds is a big deal. Not only because of the money you're spending but also because of what these stones represent. At With Clarity, they understand the seriousness of this pursuit. That's why they provide free consultation opportunities with trusted diamond experts. Even if you're nowhere near the showroom in NYC, you can still take full advantage of this from the comfort of home.
Simply check out our diamond search to determine which diamonds can be viewed in-person and online. Next, decide when is the best time to view these stones and schedule it accordingly. When it comes time for your consultation, you'll meet with a senior gemologist to discover more about your diamond selections.
Genuine Customer Care
At With Clarity, customer care and satisfaction are everything. With a commitment to sustainability and transparency, our experts are standing by to answer any questions you might have. Additionally, our design experts have an eye for recommending the perfect custom diamond jewelry for your big day. In short, with helpful guidance available regarding both lab-grown and natural diamonds, the experts at With Clarity are there to help in any way they can.
Simply visit our contact page to speak with an expert via phone, online chat, or email. In the end, you will find With Clarity reviews top James Allen reviews in terms of customer service that truly cares.
There's Value in Customer Service at With Clarity
| | Returns | Shipping | Warranty | Financing | Resizing |
| --- | --- | --- | --- | --- | --- |
| With Clarity | 100 days | Free shipping | Lifetime manufacturer's warranty | With Clarity Credit Card and Affirm | Within 30 days of purchase |
| James Allen | 30 days | Free shipping | Lifetime manufacturer's warranty | James Allen Credit Card | Within 1 year of purchase |
Why Should You Shop at With Clarity?
While James Allen rings and other jewelry items are undeniably beautiful, With Clarity possesses certain characteristics that James Allen simply does not. For starters, With Clarity's lab diamond jewelry is crafted with a focus on sustainability–something on which the company was founded. Beyond sustainability and a commitment to non-conflict diamonds, With Clarity makes it a point to provide a transparent shopping experience that has ultimately resulted in the hundreds of 5-star With Clarity reviews found online.
Recently featured as one of the fastest-growing diamond companies in the country, our bottom line is creating diamond jewelry that promotes an unforgettable, everlasting memory in the customer's heart and mind. And since we're rated A+ with the BBB, it's easy to see how much our customers mean to us. In the end, it is your needs that matter most, which is why we offer customized lab diamond jewelry for an array of occasions. And with the help of expert gemologists and designers, you know you're getting a unique, gorgeous piece of jewelry every time.
Finally, shopping at With Clarity is never difficult or confusing thanks to their easy-to-use customization features and easy access to the experts. If you find your questions are not answered after finishing this blog, there are several ways to conveniently contact us with any questions or concerns.
For questions regarding our policies on warranties, insurance, returns, and more, click here.
For more specific inquiries, feel free to email us service@withclarity.com.
Or call us at (844) 234-6463.
FAQs
Is With Clarity a trustworthy brand?
Not only is With Clarity a trustworthy brand, but we are also well known for our quality products and unbeatable customer service. So, when you shop With Clarity, you can rest assured that your needs will be taken care of and expectations surpassed.
What kind of diamonds does With Clarity sell?
With Clarity makes an array of luxurious, show-stopping jewelry including earrings, tennis bracelets, men's wedding bands, gemstone rings, and more. With over 100 years of combined expertise, they use both natural and lab-grown diamonds to create many affordable, high-quality styles and designs.
Does With Clarity have certified diamonds?
With Clarity is happy to provide only 100% certified diamonds.
Is engraving free at With Clarity?
Everything at With Clarity from the engagement rings and wedding bands for women to our men's wedding bands and gemstone rings is available with free engraving. Simply find something with up to 13 characters and we've got you covered.